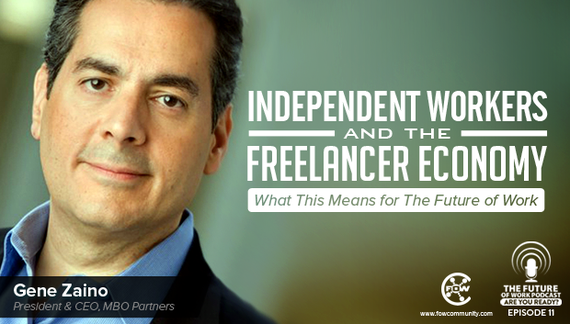 The one stat you need to know
The 4th annual 2014 MBO Partners State of Independence in America workforce study reports a growing headcount of 17.9 million "solopreneur" independent workers -- or those who regularly work 15 hours or more per week as independents, with most working more than 35 hours per week. This is up 1.2 percent from 2013 and 12.5 percent from the base year of 2011. This growth, which is more than 11 times higher than the 1.1 percent growth in the overall U.S. labor force during this four-year period, demonstrates the continued, structural shift toward independent work.
What this episode is about and why you should care
Today, approximately 30 million workers in America are considered to be independent workers, that's almost 10 percent of the population and this number is expected to grow quite a bit. Long term and life-time employment is dead so we are seeing businesses and "employees" shift towards a new way of working. This need breed of independent worker values being their own boss, autonomy, and flexibility. A recent study by Oxford Economics found that 83 percent of executives are actually going to be increasing their investment in the contingent workforce over the next few years. It's easy to scale, manage, and fill skill gaps when needed. Not to mention it gives people the opportunity to work with top talent and companies from around the world. But what impact will this independent workforce have on how we think about employees and organizations? How will this new type of worker impact the future of work?
In this episode I talked to Gene Zeno, CEO and founder of MBO partners, a leading business platform that helps independent consultants succeed. They offer services that support the freelancers in tax handling, expense, benefit, payment and contract management with direct vendor access into enterprises. We cover quite a bit in this podcast, enjoy!
What you will learn in this episode
What does the freelance economy mean for the businesses? What does it means for us as employees?
What is the state of freelance economy in America and the world
How to define a solopreneur, an independent worker, or a side-giger
What role does government regulation and policy play in the freelancer economy?
How will our traditional idea of employment change?
Is long-term employment realistic?
How are companies changing the way they think about work and are they shifting to more task and project based styles?
What should organizations be thinking about when it comes to the freelancer economy?