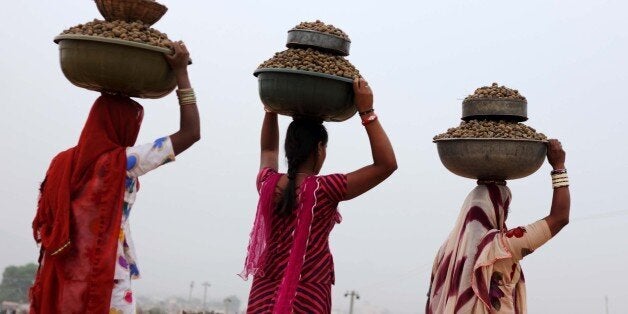 BHUBANESWAR, India, Nov 3 (Thomson Reuters Foundation) - For almost a decade, the 45-year-old Indian housewife suffered beatings at the hands of her businessman husband who relentlessly demanded more dowry money after their marriage.
Like many victims of domestic violence, the mother of two hid the bruises on her battered body and kept quiet -- scared of her husband, mistrustful of the police and worried what her family and neighbors would think.
"It all started in 2005. He started torturing me for money both physically and mentally. He used to strike me with wooden sticks, punch me and kick me," said the woman, who did not wish to disclose her name.
"I did not go to the police station because there was every chance my husband would find out about it," she said.
But in September, a local newspaper story about a new ATM-type of machine -- located in the heart of her city -- where women could anonymously report crimes, spurred her to take the first step towards ending the abuse.
At the booth, located next to a real bank machine, she recorded her testimony through an inbuilt microphone, describing the years of violence she had endured.
Soon after, she received a call from the police and within days, her husband was arrested and charged with dowry torture and harassment.
She is one of a small, but growing number of women in the eastern city of Bhubaneswar in Odisha state who are breaking the culture of silence that surrounds crimes such as domestic violence, dowry abuse and rape by using the Instant Complaint Logging Internet Kiosk (iClik) which began operating in January.
The iClik is the brainchild of Joydeep Nayak, head of Odisha police's human rights unit, who came up with the idea after the high-profile gang rape and murder of a 23-year-old woman aboard a Delhi bus in December 2012.
The case drew attention to the rising numbers of cases of violence against women in India. It also highlighted the fear of social stigma that surrounds such crimes, allowing perpetrators to act with a sense of impunity.
"The case was actually the genesis for the whole thing. In India you will hardly find a woman going to the police station. If you have to empower the women (to report crimes), then iClik is a solution," Nayak told the Thomson Reuters Foundation.
"The iClik has been receiving around five complaints daily and most of them related to sexual harassment," he added.
Reports of crimes against women in India such as rape, dowry deaths, abduction and molestation increased by 26.7 percent in 2013 compared to the previous year.
There were 309,546 crimes against women reported to the police last year against 244,270 in 2012, according to the National Crime Records Bureau.
Crimes included rape, kidnapping, sexual harassment, trafficking, molestation and cruelty by husbands and relatives. They also include crimes in which a woman was driven to suicide as a result of demands for a greater dowry payment from her husband or in-laws.
Women's rights groups say the figures are still gross under-estimates of the reality, as women are often too scared to come forward.
Developed jointly by the Odisha police and the state-run Odisha Computer Application Center, the prototype machine - with its inbuilt microphone, scanner, camera and printer - operates 24 hours a day and in English, Hindi and Oriya languages.
There are three ways to lodge a complaint at the iClik - by sending an email, recording a voice message or by scanning a written complaint. This is immediately transmitted to Bhubaneswar's police control room for investigation.
Nayak says having the iClik next to an ATM works well as there is power backup and a security guard already at the booth. In addition, women can use the excuse of going to the bank to lodge their complaints privately and safely.
Given iClik's success, Nayak has plans to roll out more such kiosks across the city. Police in other Indian cities such as Bangalore have also expressed interest in the machines.
The woman who had suffered a decade of beatings now works as a social worker at a local charity. She says iClik not only saved her from her husband's assaults, but also helped her escape social stigma, as no one knows that she herself reported the crimes.
"For women like me, who cannot go to the police station, for fear of further trouble and social ostracism, iClik is a great relief," she said. "I have told many women and girls to use the machine." (Writing by Nita Bhalla; Editing by Ros Russell)
Calling all HuffPost superfans!
Sign up for membership to become a founding member and help shape HuffPost's next chapter