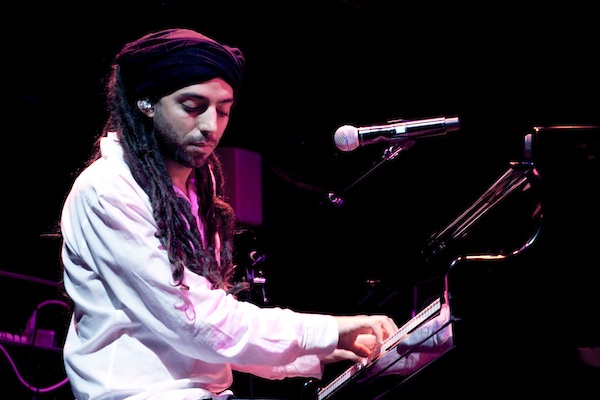 Photos and Words by Alex Cullen for IRISCAPE Productions
In 2008, Grammy-winning recording artist India.Arie took a trip to Israel. While there, she asked people she met, "Who is the most talented and interesting musician in Israel?" Everyone had the same reply: Idan Raichel.
"I got a phone call from a stranger," recounts Mr. Raichel, "and the guy said 'I am here, in Tel Aviv, with India.Arie and she wants to meet with you.' I assumed it was a crazy fan and hung up the phone. I couldn't believe that he was telling the truth."
Three years later, the two artists are in the process of collaborating on a record, Open Door, which will be released on in the summer of 2012, and are on a world tour that began with a performance at the Nobel Peace Prize concert in Oslo, Norway.
The night I spoke with Mr. Raichel, he and India.Arie were in Boston, preparing to perform to a sold out crowd at the Berklee Performance Center. Their 7-piece band is a mixture of musicians from both artists' groups.
Collaboration is comfortable territory for Mr. Raichel. Since he began The Idan Raichel Project in 2002, the Project has featured more than 95 artists from 15 countries. The Project's first record went triple platinum, selling over 200,000 copies, and the New York Times selected the album as one of the top world music releases of the year.
Mr. Raichel began his career as a session musician in Israel, playing keyboard. At age 23 he started writing songs and recording them with his friends at his home studio in his parent's basement. He hoped these tracks would help him make a name for himself as a producer and composer. He decided to call the record The Idan Raichel Project because, says Raichel, "If I had called the album just Idan Raichel, people would have thought that I was the main voice on all of the songs. I wrote, arranged, and produced them, but they were performed with other vocalists and musicians. We are not a group. It's something in between."
He describes his music as the sound of the "Israeli streets." He draws on the ethnic range of sounds, languages, and instruments of the immigrant population of his homeland to create music that fuses Israeli pop with world music from West Africa, Latin America, and India. While the majority of his lyrics are in Hebrew, his songs also feature Arabic, Amharic, Swahili, Spanish and Creole Portuguese.
"The highest complement that I have ever received," says Mr. Raichel, "was when someone told me, 'I've never been to Israel but I think Israel sounds like you."
The Idan Raichel Project was the first group to bring Arabic music to the Israeli mainstream. Israel's army radio station (ARABIC), the most popular in the country, played their song "Azini (Comfort Me)" which featured Mira Awad, a Palistinian singer. He laughs, "It would be like if Beyonce would collaborate with a singer from Al Queda."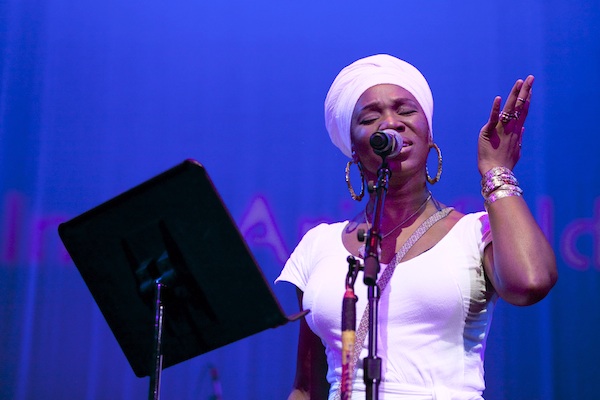 Three hours before the show, Mr. Raichel is dressed in baggy grey sweats -- his signature long black dreadlocks hang loosely over his shoulders. He is standing at the back of the stage digging through suitcases of wrinkled clothes -- "I was in a rush at the laundromat," he explains -- looking for his in-ear stage monitors.
"Sometimes (on tour) I carry a few things that remind me of home, but I don't have specific items that I have to have. I am not attached to things. That's why I'm not upset if we lose luggage somewhere. The only thing that I'm attached to is my passport."
One item he is carrying is the new Paul Simon record, So Beautiful Or So What. He says that he admires Paul Simon's musical diversity, "He (Paul Simon) made a conscious choice to do something new. He could still be doing Simon and Garfunkel, but one day he decided not to call Garfunkel and he flew off to Africa to find Ladysmith Black Mambazo. 18 months ago, I decided that I didn't want to do another Idan Raichel Project right away. I wanted to travel and explore new things."
Along with working with India.Arie, Mr. Raichel has been collaborating with Malian guitar legend Vieux Farka Toure, son of Ali Farka Toure -- one of Africa's most famous musicians. The two plan to release a record in the coming year. Other plans include continuing to perform with other bands as a keyboard player -- "just as a player, not with my name in lights next to theirs." Touring with other bands allows him to see how their band works: what problems they have, how they travel, their living conditions and their per diem. "If you think of music like a restaurant," says Raichel, "I started as a waiter and worked my way up to owning a restaurant. Now, I want to start over as a waiter."
Mr. Raichel heads downstairs to his dressing room to prepare for the show. He changes into a loose white shirt and wraps his dreadlocks in a black wrap. In contrast to a rock and roll pre-show of drugs and booze, the crew and performers eat healthy food and sip hot tea. There is talk of nutritional yeast, Whole Foods, and handmade jewelry. Mr. Raichel takes a plate of rice, salad, and salmon into his dressing room.
"I wrote the most famous songs from the Project very fast, in just a few minutes. Bo'ee. Manachar. I don't even remember writing them. To me, the most important songs are songs that after hundreds of years become public domain. Something like 'Let It Be' from the Beatles.
I think that four hundred years from now kids will sing this in churches, but there is a good chance that John Lennon's name will be forgotten. Some songs will live for thousands of years. It doesn't matter who wrote it."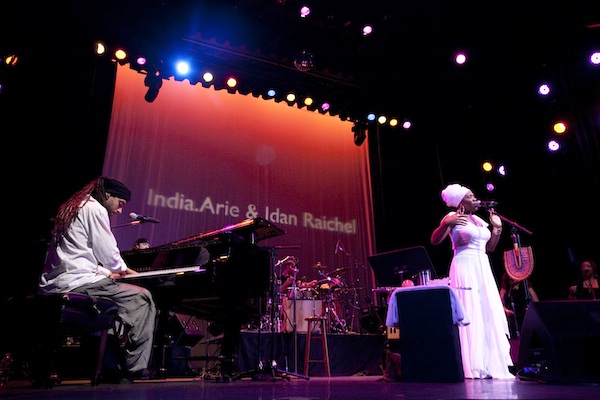 Upstairs the sold out hall is filling up. People are folding their umbrellas and finding their seats, anticipating a show that will shift easily from neo-soul to Middle Eastern fusion. Raichel pauses while reviewing the list of songs they will perform, "Everything that we decide to do is also a decision not to do something else. This year, I looked up and realized that all my best friends are married with 2 kids. There are many artists that forget balance and at age 65 are running from venue to venue. Their roots aren't really established and they don't have someone to call at the end of the concert. I really enjoy this but I miss balance."
Whatever doubts Mr. Raichel carries with him, his comes alive on stage. He sits -- facing the band -- behind a glossy black piano and conducts the group with ease. The crowd roars when Indie.Arie introduces him. He gives a nod and a smile and then starts to play.
Recent News: The Idan Raichel Project recently released an app for the Apple store. The free app features music, video, and photography of the Project and allows users to remix 3 of their songs. Visit http://www.idanraichelproject.com/en/
Related
Popular in the Community