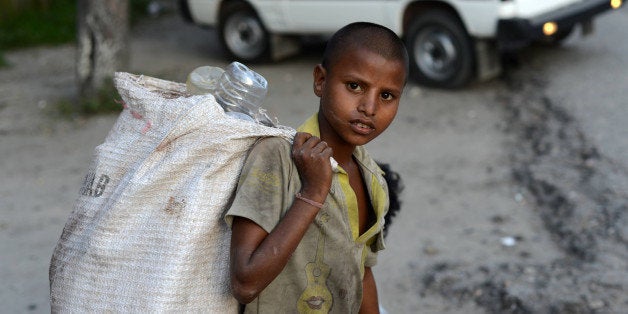 But activists fear that those numbers could jump even higher after an amendment passed last month loosened the restrictions on the Child Labour Prohibition Act, The India Times reported.
The amendment allows children to work in "family enterprises" after school hours or during vacations. But those enterprises account for a whole host of work options, including helping family toil in fields and forests and getting involved in domestic work, carpet weaving and matchbox making.
While the justification behind the amendment was to engender an "entrepreneurial spirit" among children, advocates say it will just unravel years of progress for underserved kids and allow business owners to benefit from cheap labor.
"All our campaigns to end bonded child labour, starting from the 1980s, will go up in smoke," Shamshad Khan, head of the Centre for Rural Education and Development Action, told India Times. "Schools will be emptied out and poor children…will be back to working in sheds and makeshift factories that will all go by the nomenclature of family enterprises."
The risk of kids dropping out of school to work is of particular concern, considering that education has proven to be a key deterrent to child labor, a recent International Labor Organization (ILO) report concluded.
Since 2000, the number of child laborers has dropped by one-third, according to the ILO, but India isn't following that same pace.
A recent report released by Child Rights and You found that child labor dropped by a mere 2.2 percent over the last decade. According to those estimates, it would take more than a century for the country to wipe out the issue.
To finally break the vicious cycle, the ILO is calling for improved access to quality education.
Specifically, the organization is pushing for free, compulsory education for all children, at least until they reach the minimum age for employment and providing opportunities for children who were forced to work and missed out on their education.
The organization is also urging the international community to spruce up failing schools where impoverished kids are subjected to overcrowded classrooms, untrained teachers and schools that are a preclusive distance away.
"It is clear that the persistence of child labour remains a barrier to progress on education and development," the ILO wrote in a statement. "If the problem of child labour is ignored or if laws against it are not adequately enforced, children who should be in school will remain working instead."
Calling all HuffPost superfans!
Sign up for membership to become a founding member and help shape HuffPost's next chapter
BEFORE YOU GO
PHOTO GALLERY
World Day Against Child Labor 2015