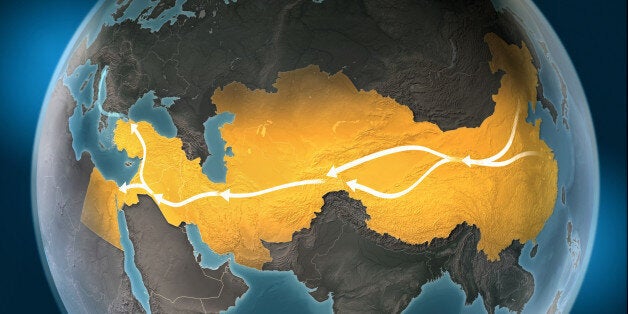 One of China's most ambitious economic and foreign policy projects is the so-called "One Belt, One Road" initiative, also referred to as the Silk Road Economic Belt and the 21st Century Maritime Silk Road. It aims to connect the disparate regions in China's near and distant neighborhood through a massive program of infrastructure building. It's President Xi Jinping's personal project, and some Chinese analysts have dubbed it "the number one project under heaven."
The initiative has received mixed reactions throughout the region, with division most pronounced in the Indian subcontinent. China's quasi-ally Pakistan regards the initiative (estimated to be worth around $46 billion for the country alone) as a game-changer.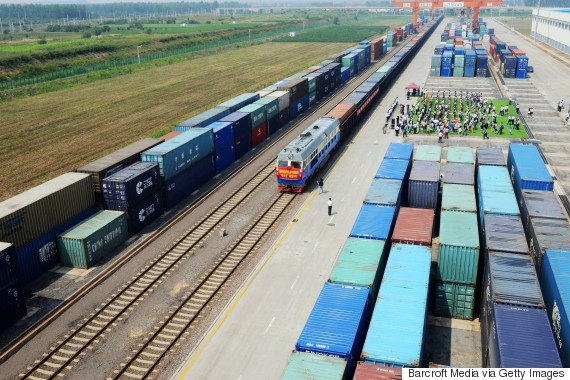 Several Chinese cities started regular freight trains to Central Asia and Europe as China revives the Silk Road. (Feature China/Barcroft Media via Getty Images)
However, some Indians view Beijing's ambitious program of infrastructure building very differently. It would be a gross understatement to say Delhi is concerned about China's "One Belt, One Road" initiative. Having spent a week in India talking to security analysts, international relations experts and business leaders, the opinions I heard suggest antagonism with Pakistan and strategic distrust with China could be significant impediments to India's involvement.
The official Indian position is, however, of considerable caution. During the inaugural Raisina Dialogue, a conference on geopolitics and economics, India's Foreign Secretary Subrahmanyam Jaishankar regarded connectivity as having "emerged as a theater of present day geopolitics," without mentioning China.
When Britain and Russia jostled for influence in Central and South Asia during 19th and 20th centuries, it was referred to as the "Great Game." China's expansion into the region has already been referred to as the new "Great Game." Jaishankar clearly sees China's effort to build roads and bridges as instruments of Beijing's intention to build influence in its neighborhood. This is on top of his comments at last year's The International Institute for Strategic Studies Fullerton Lecture in Singapore, where he said the "One Belt, One Road" initiative was China's own unilateral effort and that India would not commit to buy-in without significant consultation.
At the heart of India's reluctance to embrace Beijing's promise of road building and connectivity is strategic mistrust. The country is wedged between two nuclear-armed neighbors and has fought wars against both in the last 60 years. The historical baggage of the 1962 war still looms large in India's imagination. During the brief war, Beijing inflicted a crushing defeat on the unprepared Indian army. The founding father of the Indian republic, Jawaharlal Nehru, was physically and mentally broken by the experience.
Both countries are still dealing with the legacy of that war. Though Beijing has resolved most of its land border issues with neighboring Russia, Pakistan and Afghanistan, India remains an exception. It appears China is no hurry to settle this boundary with Delhi.
Pakistan also looms large in any discussion about "One Belt, One Road." Sameer Patil, a researcher from Gateway House: Indian Council on Global Relations, argues that the China-Pakistan Economic Corridor is the key reason why Delhi is hesitant to embrace the initiative. The proposed corridor (expected to connect Kashgar with the Port of Gwadar in Balochistan) runs through Pakistan-occupied Kashmir and Gilgit-Baltistan; both are considered by Delhi to be Indian territories. When India agreed to join the Asian Infrastructure Investment Bank, the government specifically pushed for a provision in the charter of the bank "that requires project financing in disputed territory to have the agreement of the disputants."
The current strategic mistrust between Delhi and Beijing will make it very difficult for Indian policymakers to accept the 'One Belt, One Road' initiative in its present form.
Indian analysts are also concerned about a lack of operational detail. A researcher from the respected Observer Research Foundation told me it is impossible for China to expect presumptive endorsement from India without showing them an operational blueprint. This lack of detail is a major problem for Chinese policymakers who are keen to market the initiative. President Xi announced the ambitious program at the end of 2013 but after nearly three years we have not yet seen any detailed operational plan. Christopher Johnson, from the Center for Strategic and International Studies in Washington, says "One Belt, One Road" is more sweeping vision than operational blueprint.
However, a paucity of specific information is making some Indian researchers wonder whether the whole project is just a game of deception. In a seminar I attended during my visit, Professor Jabin Jacob from Institute of Chinese Studies in Delhi posed the question of whether China's lack of a detailed plan after three years could be considered disingenuous.
The current strategic mistrust between Delhi and Beijing will make it very difficult for Indian policymakers to accept the "One Belt, One Road" initiative in its present form. Rajni Bakshi, a senior Gandhi Peace Fellow from Mumbai's Gateway House, has argued that Beijing has to co-design the new Silk Road with India for it to have any chance of success. If the Chinese government wants to address the trust deficit and get a larger buy-in from Indians, it will have to engage Delhi in designing and implementing "One Belt, One Road."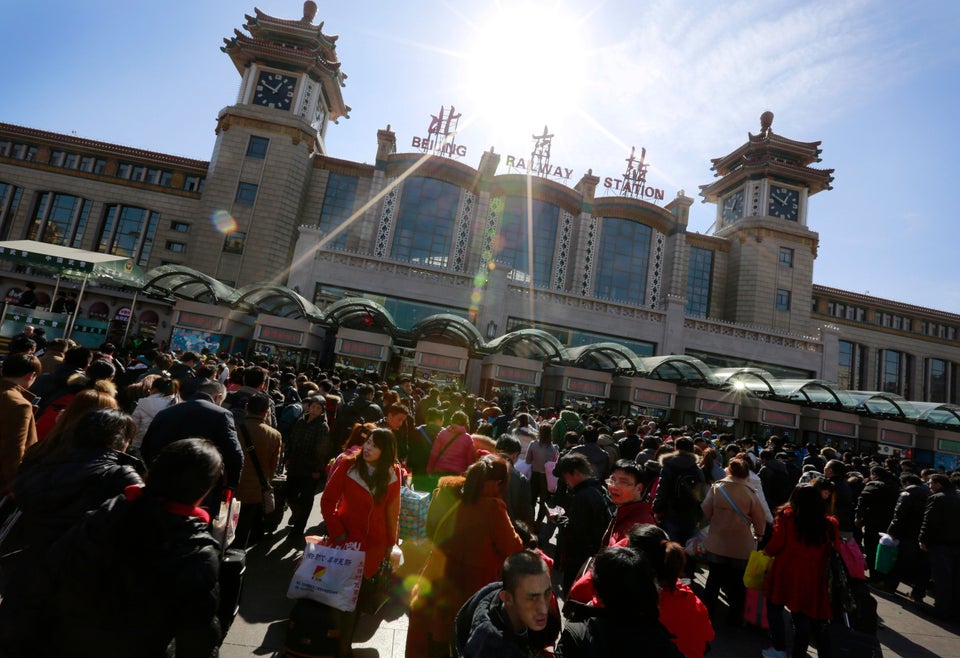 New Year Migration
Related
Popular in the Community