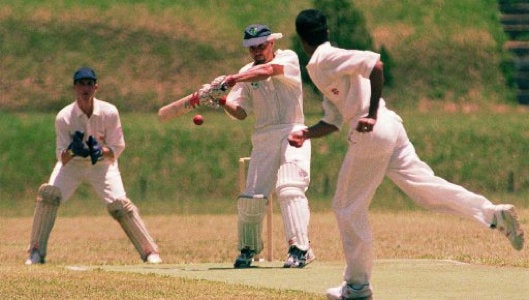 The most intimate team to its fans, the cricket brand of the common man, CSK, triumphs the kitsch of Bollywood and the pursestrings of India's rich to be the most valuable IPL cricket team.
Most of the greatest sports brands today are American: Nike (sportswear), Super Bowl (sporting event), Tiger Woods (sports personality), ESPN (sports channel), and the New York Yankees (sports club). At least with the list of world famous sports clubs, a new one from the Third World needs to be included.
India has a long-standing love affair with a game called cricket, a quintessentially British sport played as "creckett" in the sixteenth century, and popularized by the British Empire in the subcontinent since early 1800s. Today, three in every 10 TV commercials will carry a cricketing theme or endorsed by India's cricket heroes. In the new millennium, cricket went through an overhaul, truncated to 20 overs a side and a result could be gotten in three hours -- about as long as a baseball game -- right for an evening's Hulk Hogan-style entertainment. Playing the role of a patriarch, the Board of Cricket Control in India, muscled its power to trample Indian Cricket League (ICL) calling it unlicensed and banning many international players, and borrowed many ideas from the first T20 World Championship hosted by South Africa to form its own glitzy version, the Indian Premier League (IPL).
The IPL was set up to imitate the franchise model of American sport -- a very cosy family business. And even if India's biggest film stars and richest hard-nosed tycoons who own many of these cricket clubs continually crave for the spotlight on themselves, the effulgence of IPL seized every cricket lover's attention, and was subsequently appraised at a whopping $3.7 billion by Brand Finance, a London-based consulting firm that specializes in brand valuation. India's rising middle class embraced this hit-and-giggle version that was devised by England in 2003, as a way of reviving interest to its county cricket after five straight years of failing attendances. With this new acquired brand of T20 cricket, India's city-based franchisees had truly come of age with one clear winner: Chennai Super Kings (CSK).
From a branding perspective, CSK, declared as the most valuable IPL franchisee (again valued by Brand Finance, London), began to differentiate itself, and amply benefitted from the high level of identification of power symbols and a sensory palette of unique visual, verbal, and digital expression. As a veteran in branding and specializing on consumer insight and technology, I'd award CSK full marks in every facet of the complex branding process, especially the potential to build equity by capitalizing on the emotional relationship it shares with CSK fans who derive strength and a sense of identity from their affiliation with their team.
Branding experts may brood about the lack of poetic ingenuity in having two kings and two royals among the handful IPL teams. Some may assume that the CSK brand name was partly inspired or downright inherited from the defunct Chennai Super Stars. The "king of the IPL jungle" symbolism traces back to Pallava dynasty who combined the iconic lion emblem with other symbols like the Swastika, Srivatsa, and the Trisula in their copper plate seals. The descriptor "super" -- Tamils' overused fuzzword -- everything is "super" from morning coffee to their favorite cinema star.
While every IPL team is adorned in a variant of blue- or red-colored jersey with gaudy silver or gold streaks, the CSK cricketers refresh the eyes in bright yellow. A roaring lion is used as a visual symbol, and Chepauk, the home of CSK, is referred colloquially as the lion's den.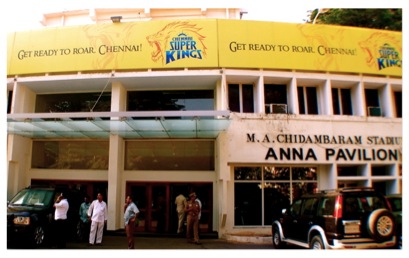 Brand Attribute and Value:
For brand success the product, or in this case the entire gaming experience, needs to be perceived as quality-laden, providing adequate value for money. While non-cricketing attributes matter in IPL, the success of a sports club depended chiefly on the core competitiveness of cricket players, i.e., their abilities. CSK's winning consistency in the short history of the IPL has transformed a brand into a cultural phenomenon: five times in the playoffs (including IPL 2012), three-time finalists, twice winners of the IPL crown, and once winning the Champions League in 2010.
CSK is the only team that does not cast light on its owners. Instead, it has cast light on the authentic game it plays. You can see it when CSK is on: the camera is on its players -- not on the owner's snooty family. When pursestrings become visible, you know that a sports brand is in peril because it isn't lit by its cricketing splendor, but ignited by the vulgar stare of money. Other bells and whistles in the three-hour extravaganza, such as a percussionist drumming a dancing beat alongside the outsourced cheerleaders still colorfully prevail.
Organizational Attributes:
Barring CSK, all IPL teams hired local players to only fire them in player auctions in American corporate style; for instance, there is no sense of "Bengaluru" in Royal Challengers; even their all-conquering son, Rahul Dravid, was imperturbably relinquished to play for the namesake, the other Royals. A cricket player performs three roles in the IPL: functions as a member in the squad, if selected plays for the team, promotes the brand, and endorses as the primary spokesperson. If team owners rule with an iron rod and let their players go off in a merry-go-round, the fans tend to switch their loyalty, resulting in fan alienation that the clubs may have avoided in the first place. Brand confusion is very evident with Deccan Chargers' fans: they cheer for Adam Gilchrist who plays now for Kings XI and their club travels as vagrants from Vizag to Cuttack.
CSK did not do different things; it only did things differently. CSK kept the same team roster for the most part in the five years IPL has been in full-swing. The traditional value of developing the best local talent was continued as the bulk of the side, including Murali Vijay, Ravichandran Ashwin, Srikanth Anirudha, and Subramaniam Badrinath, and Yo Mahesh moved up through Tamil Nadu cricket. The highest wicket-taker in the world, Muttiah Muralitharan, a Tamil, was only forced to let go after a competing IPL team outbid CSK.
It is the only franchise that invested $5 million to revamp on its creaking infrasturcture and increase seating capacity to 50,000; today Chepauk boasts of quad conical geometric form roof and bright yellow-colored stands. There definitely is a sense of belonging and empathy with which CSK has been branded.
Customer Internalization:
Just as how Chelsea F.C. is a play thing for Roman Abramovitch; IPL teams may very well be a play thing for the highfaluting businessmen. Not Chennai. CSK exudes a persona of a people's brand, while other teams depend on a Bollywood ring master to goad its fans inside and outside the playing field. With any sports team brand, the fan's internalization process is very elemental, and in this digital age, CSK fans are taking their favorite team right to the streets via social media outlets. If you don't know that CSK fans are the most appreciative cricketing audience in the world, you need to drop an e-mail to the former Pakistani opener, Saeed Anwar, or ask someone from the Pakistan cricket team of 1999 who did a lap of honor. CSK fans, like their team, are a cog in the machine. This sense of "we" is pivotal in any sporting culture, and this sense of fan inclusivity is evident in the myriad videos on social media channels made by CSK fans for CSK fans (featured below is one made in San Francisco, CA, going viral right now on YouTube as this article is written).
CSK as an innovator initiated a few novel schemes be it the Mongoose bat in 2009 or their catchy "Whistle Podu" and "Raise your Hands" jingles to seduce fans worldwide. Last year, CSK fans broke into the "Whistle Podu" song and dance at Landmark, a book store chain in Chennai, proving that promotion today is democratic in the digitized world of social media and viral videos.
The restaurants and bars are riding the CSK wave by offering their guests CSK-styled menu (see below Park Sheraton's Cricket Mania Menu).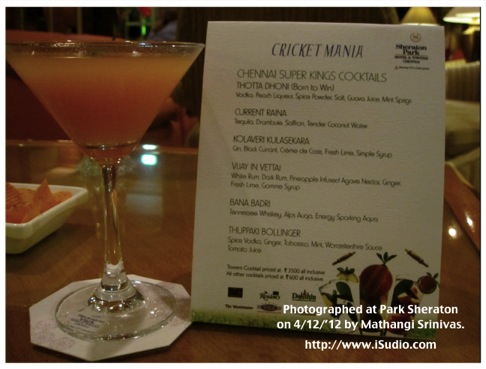 In the past five years since IPL's inception, CSK has about 1.5 million (consolidated) fans on Facebook; the New York Yankees have about 5 million. But, the Yankees were established back in 1901 -- CSK only in 2008. CSK legend, Matthew Hayden, has a photostream on Flickr.com posting pictures from the CSK dressing room and cementing ties with CSK fans (search for ID TheHaydenway). CSK continually tweets and keeps its subscribers and fans engaged by giving away awards and rewards, while the players directly promote the CSK summer sports and casual apparel collection online via YouTube videos (see below) fostering a more direct relationship with fan base.
I was in awe when my friend's octogenarian grandmother spent $5,000 and went on her own to Salt Lake City, UT to support the Chicago Bulls in the 1998 NBA finals. She proudly wore the Chicago Red in the road games against Jazz. After almost a decade when I moved to London, England, I realized that the New York Yankees transcended as an icon of the world -- Londoners wore Yankees' merchandise in a similar New Yorker pride -- I've seen many with the NYY logo tattooed in permanent ink. So far, I have spotted a handful CSK fans in their yellow jerseys in New York and New Jersey this season. Scores of CSK fans congregate on groups in social media outlets. For instance, "Second Slip" is the most popular hang-out on Facebook (restricted admission). With the social web democratization, the CSK brand emerges as a sports club of the people by the people and for the people out of all IPL teams. In a few years I am sure to see the CSK's roaring lion logo, tattooed and commodified like the Oakland Raiders or the New York Yankees.
-
Should you wish to connect with the author: @iSudio on Twitter
Popular in the Community