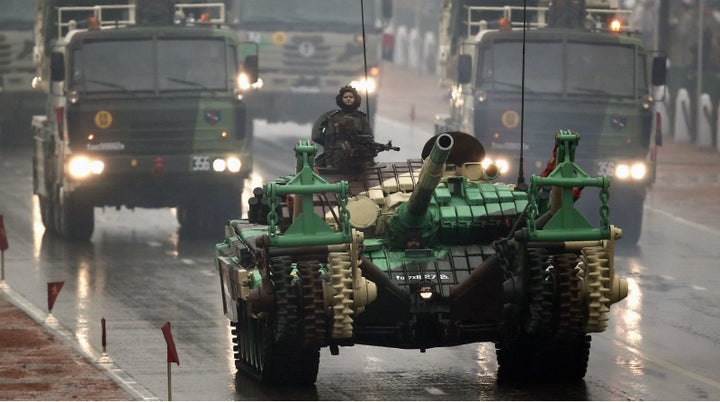 India has broken into the world top-five defense spenders' club.
Asia's third-largest economy spent $50.6 billion in 2016, up from $46.6 billion last year. India now has the fourth-largest defense budget, followed by Saudi Arabia and Russia, according to the 2016 Jane's Defense Budgets Report, released by research firm IHS Markit on Dec. 12. While Russia was at the fourth place last year, in 2016, it slipped to the sixth spot.
The U.S., China, and the U.K. remain the top three, IHS Jane's data shows. The report says that by 2018 India will become the third-largest in the group, surpassing the U.K.
"Procurement spending has been constrained in India over the last three years as personnel costs have increased," Craig Caffrey, principal analyst, IHS Jane's, said in a statement. "However, what we expect to see from 2017 onwards is a military focused on modernization. India needs new equipment to fulfill its modernization drive. Over the next three years, India will re-emerge as a key growth market for defense suppliers."
In 2016, the total global defense spending increased to $1.57 trillion. Here are the 10 nations with the highest defense budgets for 2016:
Since coming to power in May 2014, the Narendra Modi government has laid tremendous stress on ramping up the country's defense facilities. In 2014, India purchased some Rs36,900 crore ($5.57 billion) worth of arms, ammunition, and related goods from abroad. Earlier this year, India also signed a €7.8-billion (around Rs58,000 crore) deal to buy 36 Rafale fighter jets from France.
Under Modi, the government has been looking at increasing the share of domestic manufacturing in defense goods. India spends some 1.8% of its GDP on defense. Of this, up to 36% is spent on capital acquisition.
Calling all HuffPost superfans!
Sign up for membership to become a founding member and help shape HuffPost's next chapter