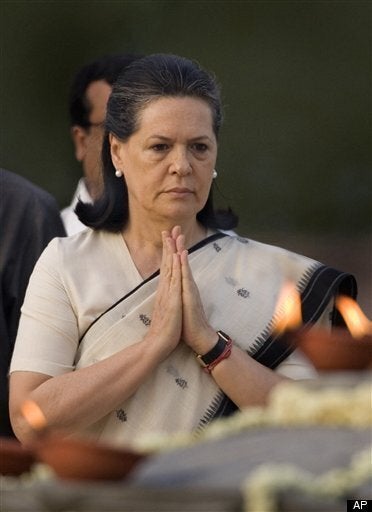 India's ruling politicians and diplomats seem to lead a luxurious life with a plethora of acolytes and servants. The BBC's Soutik Biswas noted from India, "Long, expensive cavalcades carrying ministers and the red and blue beacon bearing cars carrying their minions with party flags painted illegally on their number plates muscling in and out of traffic... glittering political receptions... politicians with a bevy of hangers-on traveling business class." Even the elite security services controversially divert much-needed personnel to VIP protection. In an article called "Why Mumbai's commandos failed," the Times of India stated that, "Commandos are used for protection of VIPs and vital installations, which was not included in their work priority."
However, changes are afoot. The United Progressive Alliance President Sonia Gandhi has commenced an austerity drive amongst her cohort of politicians.
Conscious of the needs of the common man or "aam aadmi" , Sonia Gandhi has called for an austerity charge. Asia Times Online reported that the Congress Party and government hope that 10 percent of government expenses can be diverted to the needy.
India is facing her worst drought in 40 years, with rainfall during the monsoon season 23 percent below average, according to the Indian Meteorological Department.
There are over 300 million in India, out of a population of 1.2 billion, who... eke out a bare existence below poverty levels and lead a life of deprivation - for them one meal a day and basic shelter are a luxury. In such circumstances, traveling economy or staying in a low-star hotel should be seen as the norm rather than a sacrifice. Frugal living was preached and followed by the father of the nation, Mahatma Gandhi, given the living conditions of the masses.
The Congress Party president herself shocked fellow passengers recently by traveling from New Delhi in Mumbai in economy class for a campaign visit.
Her son, Congress Party General Secretary Rahul Gandhi, also stayed with poor families in their village homes during India's recent election. He said at the time that it helped him better understand their needs. Recently he traveled from Delhi to the state of Punjab in an "economy" compartment, eschewing a first class carriage or a helicopter.
But Sonia's austerity push is meeting with resistance. Asia Times Online said,
"Not everybody, of course, is happy with the latest turn of events...At least one minister is supposed to have complained that his girth is such that he cannot fit into economy class seats; one more has spoken about his height being unsuitable to cramped spaces; and another has reportedly said since foreign countries host Indian dignitaries in fine restaurants and hotels, the gesture should be reciprocated in kind."
Calling all HuffPost superfans!
Sign up for membership to become a founding member and help shape HuffPost's next chapter