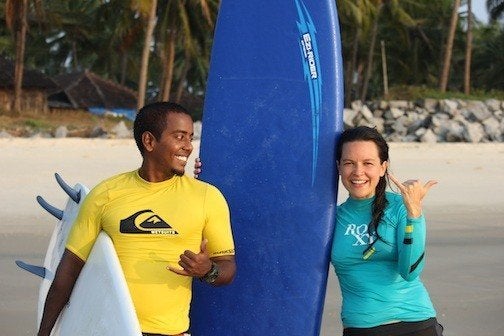 Crying on a plane is a bit of an art form. There I was in row 59 seat F on my way to India sandwiched between a fidgety Indian medical student doing practice exams and an ancient Chinese man who, every seven minutes, did a lap around the plane. Trapped in a cocoon of darkness with no where to turn but to my own head, I played out the details of a recent relationship meltdown. And, for the 15-hour leg from SFO to Hong Kong, snuck my tears in between my one neighbor's laps around the plane and the other's attention to her multiple choice anatomy homework.
Two flights and 30 hours of travel later, I dragged myself through the Mangalore airport and walked out to find a team of noisy taxi drivers: "Hello Madame!" "Where you go Madame?" "Over here, Madame!" I nodded at one with a sweet smile and then kept my eyes closed as he honked and swirved his beat up Toyota down the road to Manipal.
I spent the hour long drive wondering why I had come.
I had decided to take the month to work with my friend Farhana Huq, founder of Brown Girl Surf, to create short films on the first female surfers in India and Bangladesh. And learn how to surf. But when Farhana's Indian visa was not approved because of her mother's Pakistani heritage, this not-so-brown-girl was left to do the first week of the trip alone until our videographer arrived.
I woke up on Thanksgiving morning feeling the weight of loneliness as I waited to meet India's first surfer girl Ishita Malaviya. But when she and her boyfriend Tushar Pathiyan picked me up in their dusty Hyundai surf mobile with their beach dog Marley in the back seat and "Getting Jiggy With It" blasting on the radio, I immediately lightened up. I could sense the adventure I had envisioned unfolding as we made our way through tiny villages to the sea.
Ishita, a 23-year-old Indian beauty who repeatedly uses the word "stoked," and addresses her boyfriend as "dude," is the first woman surfer of India. When she and Tushar, 24, discovered surfing while studying at Manipal University they sold all they could to buy their first board. The couple took turns with one board for two years before raising enough funds to buy more boards and launch The Shaka Surf Club, a school to teach other Indians how to surf.
I hadn't told Ishita and Tushar that I was terrified of surfing when they passed me a soft top long board and invited me to the beach for my first lesson. "Paddle, paddle, paddle, JUMP!!" "Paddle, Paddle, Paddle, JUMP! " they repeatedly cued me as I practiced paddling and popping up in a surf board diagram they etched in the sand. After a dozen practice rounds they deemed me ready for the ocean. I wasn't so sure.
"Oh big wave Caaa-da," they'd yell and send my heart racing as I clumsily flailed arms and legs trying to get in position for it. "Paddle, paddle, paddle," they'd shout as I'd hear the intimidating roar of a wave behind me and, before I knew it, find myself upside down and underneath it.
I spent my first day and several following getting toppled by waves and choked by salt water. My wipe outs left giant bruises on my legs and ribs, and a gash on my knee.
Despite feeling defeated, there was something about my compassionate 20-something drill sergeants that inspired me to want to keep trying. I was moved by their passion for the sport and vision to bring water safety and surf lessons to other Indians, many of whom grow up fearing the ocean and never learn to swim.
Over the course of our first week together, I got to hear Ishita's story of being the only girl in the water when she first learned to surf. How she spent months getting bruised and battered to keep up with the boys. How, despite her parents' initial disapproval, she gave up her plans to be a journalist to teach young people to surf, in particular other Indian girls in a culture that doesn't encourage it.
"I love sharing this with other girls, because I never had anyone to look up to," she told me. And I loved her simple but profound lessons from the sea. "Surfing has taught me how to face my fears," she said. "You learn to not try to control the ocean but to move with it."
Turshar gave up a career in architecture to start the surf school and explained that the sport has taught him to go with the flow of life. One night over some Indian curry I learned that he was born premature and almost didn't survive. When, on his 17th birthday, his dad took him on a pilgrimage to the temple of a Hindu goddess to thank her for his son's survival, Tushar had the opportunity to make one life wish. Then a stocky teenager, he spent the whole 1,400-mile journey grappling with two choices: "grow taller or get with Ishita," his 5'7 high school crush. He blurted out "get with Ishita" when the moment came and has been with her ever since. He remains a content 5'6".
"What's happening with Ishita surfing is that a lot of girls are believing they can do it because
of her," he explained. "It's empowering because the image of a woman surfing in the ocean is a strong one. And that's what other girls want to be."
As I watched Ishita teaching girls as young and 13 how to stand up on waves in a village where others dressed in sarees and burkas curiously watched on, it struck me that, in her own way, this surfer girl is changing the world for women.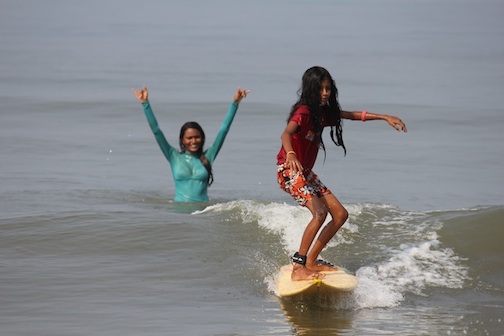 Speaking for myself, as Ishita and Tushar taught me how to surf, the principles and relevance to my own life, particularly in the love department, were hard to ignore. "When you wipe out, don't panic. It only makes things worse," Ishita told me as she watched me desperately squirming my way to the surface.
"You have to tell yourself you can do this. If you rely on what you habitually do when you get scared by the wave you'll never get up," Tushar explained after witnessing my 8th nose dive in a row.
I learned how, even after the worst of wipe outs, to find my breath and protect my battered knee. How sometimes, in life and in love, it's only after repeatedly injuring ourselves the same way that we learn to adopt better form.
I spent my last days in India with a videographer capturing footage for a short film for Storytellers for Good and Brown Girl Surf I can't wait to share. But the best moments of my week were not caught in pictures. They included our car rides out to the beach singing Jack Johnson, Bob Marley and other one-hit-wonder American pop songs. The first time I got both feet on a board for a second and could hear Ishita and Tushar whooping and hollering when I surfaced. The evening we watched for waves on the horizon as a red sun set against clouds glowing orange and waters glistening pink. The day I realized I could let go of all the plans, relationship fears and dialogues in my head because the ocean was there to hold both them and me. That happened to be the same day I stood up for the first time, and surfed.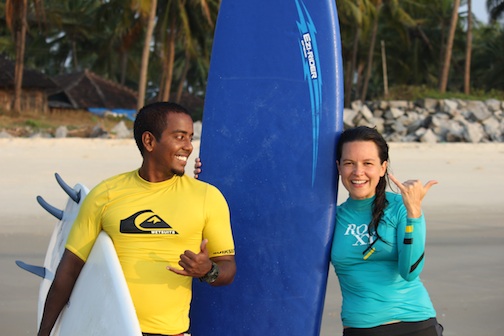 Related
Popular in the Community