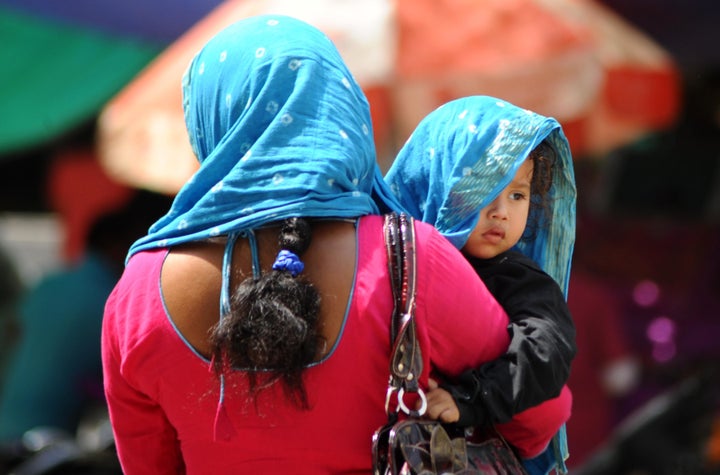 The severe heat wave that stifled India last May caused at least 2,300 deaths across the country. It was, according to Jeff Masters, Weather Underground's director of meteorology, the fifth deadliest heat wave in Earth's recorded history.
"It's not just another unusually hot summer -- it is climate change," Harsh Vardhan, India's minister of science and technology, said last year. "Let us not fool ourselves that there is no connection between the unusual number of deaths from the ongoing heatwave and the certainty of another failed monsoon."
One year later, India is in the midst of yet another suffocating surge of heat. On Friday, the India Meteorological Department (IMD) announced that the country had recorded its hottest temperature ever: 51 degrees Celcius (or 123.8 degrees Fahrenheit). The scorching temperature was taken in the city of Phalodi, in the northwestern state of Rajasthan, on May 19.
The previous national record was 50.6 C (123.08 F), set back in 1956 in Alwar, Rajasthan, according to the IMD. The accuracy of this measurement has been disputed by some experts, however, who claim that the last highest temperature record was recorded back in 1886.
Almost all of India is experiencing higher than normal temperatures for this time of year, the Indian Express reported.
Per the IMD, "severe heat wave" conditions were expected to impact large swathes of the country through the weekend, with temperatures forecast to reach 100 F or more in several states, including Delhi, Haryana, Rajasthan and Uttar Pradesh. Residents in these areas were advised to take necessary precautions to keep cool in the extreme heat.
A national tally of sunstroke-related deaths has yet to be released this year. However, in the southern state of Telangana, at least 300 people have reportedly died from heat exposure since early April. Another 340 died in Delhi over the same period, The Hindu reported. The elderly, the homeless and workers who have to labor under the blazing sun were most at risk for heat-related illness and death.
"It's pretty striking," Astrid Caldas, a climate scientist with the Union of Concerned Scientists, told The Huffington Post about the record-smashing temperatures. "I'm just in shock. I wish it weren't so ... It's the amount by which the records are being broken, not the fact that the record's being broken, that's really striking."
Related
Popular in the Community