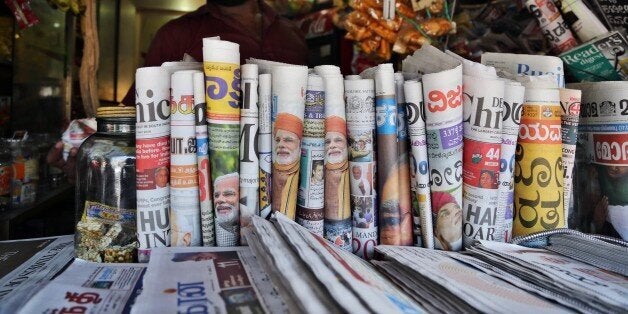 In the current world of media, India stands as an anomaly. While newspapers in the United States have hemorrhaged profits in the past decade, with print-advertising revenues now at their lowest point since 1950, the situation in India couldn't be more different.
The growth of digital and print media, the rise in revenues and the sheer amount of newspapers that circulate daily in the world's second-most populous nation all make for a striking picture. To help understand just how big this boom has been, and indeed why it's happening at all, here's a quick guide to India's complex media world.
As of last year, India had more than 94,000 registered newspapers, according to a recent report by KPMG, an audit and advisory firm. Not only is that an amount that dwarfs the U.S. -- which as of 2011 had fewer than 14,000 registered newspapers -- but it's also a figure that has nearly doubled from just 10 years prior, when there were about 55,000 registered Indian papers.
In the past year alone, revenues for newspapers in India experienced 8.7 percent growth, even as venerated institutions like The New York Times have continued to gut their newsrooms.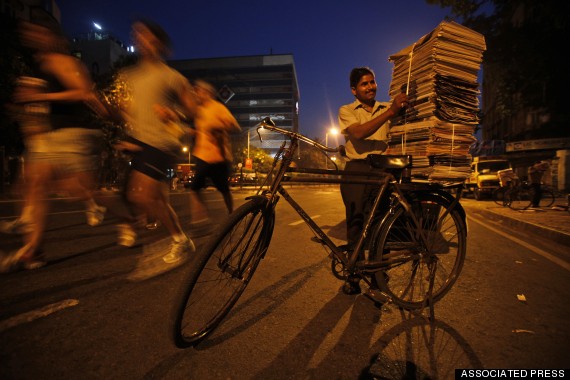 Part of the reason for India's robust print industry is that in many parts of the country, especially the rural regions, Internet connectivity is still a development issue. Only 3 percent of Indians say they have home Internet access, in large part because of a lack of infrastructure.
That's not to say that Indians aren't online -- just that many of them are getting access through wireless connections and mobile networks. According to the KPMG report, of the 214 million Internet users in India, 130 million, or about 61 percent, get access through mobile. The report predicts that mobile users will top 350 million by the end of 2018 -- about 71 percent of what is by then expected to be a total of 494 million Internet users.
In January, The Guardian reported that 225 million smartphones were expected to be sold in India in 2014, with a greater proportion of those going to new users than anywhere else in the world. Those new Internet users may pose a problem for print, but to big media groups moving online, they're just potential customers via a different medium.
A combination of factors have gotten India to this place. The first and most obvious is a growing population that's also increasingly literate. According to a 2012 study by UNESCO, India's literacy rate, which was less than 50 percent in 1990, is projected to be about 71 percent by 2015. That's by no means ideal from a development perspective, but in a country with 1.2 billion people, at the very least it means a dramatic increase in readers.
"When someone is literate, the first thing he or she wants to do is to be able to read a newspaper," Magdoom Mohamed of the World Association of Newspapers and News Publishers told The WorldPost, "and show to the world that he or she reads a newspaper."
Mohamed pointed out that a lot of the media growth seen in India is coming from areas where Internet connectivity is low, and where news media is just starting to penetrate.
"The real growth in media, especially for the print media, is coming from medium and smaller towns in India," he wrote, "where people are getting hooked to newspaper readership."
Vying to attract that growing readership are a number of established newspapers and media groups with a long history of publishing in English, Hindi and other languages. The Times of India, a partner of The Huffington Post for HuffPost India and currently the most widely circulated English-language paper in the world, has operated since the late 1830s. Other publications got their start not long after.
As Ken Auletta noted in a 2012 New Yorker piece, with the increase of literacy and readership in the 1990s and 2000s, these long-standing media institutions developed ways to turn shifting social trends into profit.
Instead of going for subscription money, however, many big newspapers lowered their prices, making their products extremely affordable and offering free delivery. The papers focused on ad revenue instead, selling mass volumes of ad space to companies eager to get their products in front of people's eyes.
Here is where India's newspaper industry diverges from press practices in many other countries. Ad sales have always been a part of the media business, everywhere that media exists. But while U.S. media generally observes a "church and state" distinction between editorial content and advertising, that's not always the case in India.
"Advertorials" -- that is, ads that are styled to look like normal news articles, with a tiny caveat explaining who sponsored them -- are extremely prevalent in Indian media. They're widespread in the U.S., too, though there's a lot of disagreement about how to implement them (and whether they should even be used at all). But some Indian news organizations go one step further. Scandals have erupted over so-called "paid news," in which politicians or brands reportedly paid publications for positive coverage. The Indian government has condemned the practice.
The possibilities for Indian media are enormous, but the industry's rapid growth hasn't come without challenges.
The watchdog organization Freedom House notes that journalists in India face a variety of pressures, from legal action undertaken by the government to violent attacks and killings carried out by extremists, criminals and police. The Freedom House report also expresses concern over recent instances where "the political interests of media owners" have appeared to "compromise the independence of their outlets."
As for "paid news," Freedom House reports there has been a greater attempt to bring accountability to media coverage, with the Press Council of India investigating potential abuses.
India's vast network of newspapers and online outlets provides an incredible means for telling important stories and reaching people across the country. As the country prepares to enter a new era of mobile, digital media consumption, it's a fascinating time to watch how the nature of news will change.
Popular in the Community