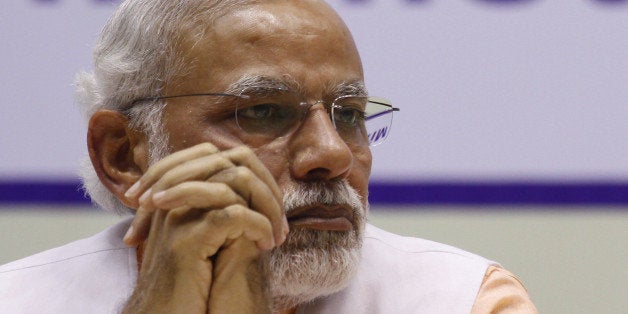 NEW DELHI, Feb 17 (Reuters) - Indian Prime Minister Narendra Modi vowed on Tuesday to protect all religious groups, an apparent response to a series of attacks on Christian institutions in New Delhi fueling concerns that minorities are being targeted by Hindu zealots.
Critics say that Modi's government, which is led by the Hindu nationalist Bharatiya Janata Party (BJP), has failed to protect religious minorities and rein in Hindu extremists emboldened by its election victory last year.
"I condemn all incidents of violence where religious minorities were targeted," Modi told an event organized by the Christian community to celebrate the beatification of two Indians by Pope Francis late last year.
"No religious group can incite violence ... my government will ensure there is complete freedom of faith."
Modi, a self-proclaimed Hindu nationalist, rarely attends events organized by minority communities.
His decision to appear among Christians followed a drubbing for his party in elections to the Delhi local assembly last week, where it won just three of 70 seats, raising concerns that it could face setbacks in other state elections on the horizon.
The poll took place against the backdrop of a clash between police and priests, nuns and parishioners who were protesting over a series of vandalism and arson attacks on churches.
Last week, Modi summoned Delhi's police chief after a sixth attack on a Christian building, but leaders of the community complained that he needed to do more to make them feel safe in a country that enshrines secularism despite its Hindu majority.
About a fifth of India's 1.27 billion people identify themselves as belonging to faiths other than Hinduism.
Religious conversions have become a sensitive issue in recent months after hardliners with links to the BJP said Hinduism was under threat and started a campaign to convince Christians and Muslims to change their faith.
"My government will not allow any religious group, belonging to the majority or the minority, to incite hatred against others, overtly or covertly," Modi said.
Last month, U.S. President Barack Obama pointedly warned during a trip to India against religious intolerance and said the country's success depended on its not splintering along religious lines
Obama made no direct reference in his speech to Modi, who was banned from traveling to the United States for nearly a decade until last year after deadly Hindu-Muslim violence in a state he ruled in 2002. (Reporting by Rupam Jain Nair; Editing by John Chalmers)
Calling all HuffPost superfans!
Sign up for membership to become a founding member and help shape HuffPost's next chapter
BEFORE YOU GO
PHOTO GALLERY
Give Peace A Chance