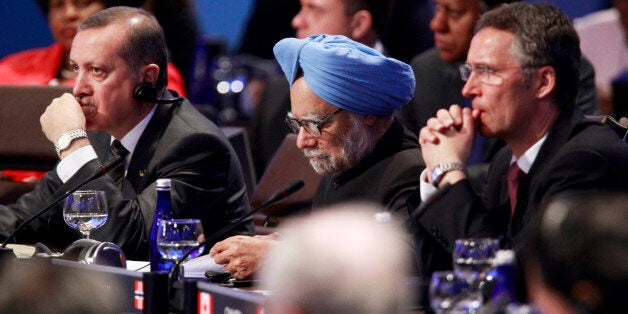 Recent terrorist attacks in Brussels have highlighted concerns about Jihadis endangering Belgium's nuclear safety. Other nuclear-armed countries (including India and Pakistan) frequently targeted by terrorists must also include the safety of their nuclear facilities in the list of threats they must deal with.
Both India and Pakistan live in a neighborhood troubled by growing radical Islamism alongside threats to the security of nuclear weapons. Sharif's absence might make the deliberations of the nuclear summit less intensive in relation to South Asia though the Pakistani delegation will probably still hear about the world's anxiety about Pakistani nukes. Modi, on the other hand, would seek greater acceptance for India as a responsible nuclear power.
The aim of these annual summits is to increase trust amongst countries so that they cooperate in ratifying treaties on nuclear security and prevention of nuclear terrorism, implementing security guidelines with the help of the IAEA, educating and training their personnel and reinforcing facilities and thus building an overall culture that promotes nuclear security.
The Indian nuclear program started off as a purely civilian program. Fear of catastrophic global destruction through nuclear weapons meant that for decades Indian leaders supported global nuclear disarmament. However, realpolitik and the fact that China, two years after the 1962 India-China war, tested nuclear weapons meant that India too needed to build its nuclear weapons potential.
India has an exemplary record with respect to preventing trafficking in materials, technology, and equipment relevant to nuclear security. As yet no case of leakage of materials from India's massive nuclear program, inadvertent or direct, has come to light. Every year since 2002, India has introduced a resolution on terrorism and weapons of mass destruction in the UN General Assembly. To India's credit this resolution has always been adopted by consensus.
India's entry into the global nuclear club can in many ways be traced to the closer strategic ties with the United States and the 2005 civilian nuclear agreement. This agreement lifted a thirty year- long American moratorium on nuclear trade with India, offering to provide U.S. assistance to India's civilian nuclear energy program, and also expanded cooperation in energy and satellite technology.
The agreement had three aims, symbolic, strategic and economic. Indians express pride in their independent nuclear program and thus Washington's reluctance to accept India's nuclear program, its levying of sanctions India and stoppage of fuel supply in 1974 to the Tarapur nuclear plant were all part of recent memory for most Indian leaders. Indians needed recognition for their nuclear program and this came in the form of the US-India civil-nuclear deal.
The 2005 agreement demonstrated not only that the US accepted India's nuclear program but that it was willing to provide an exception to India from stringent limitations that India had already overcome. The strategic aspect was the desire by Washington to boost already deepening ties with India in the security arena, including counter-terrorism.
Since 2008 India has signed or is in the process of signing civilian nuclear agreements with United Kingdom, Australia, Japan and South Korea. India has 21 operating nuclear reactors with many more under construction. While nuclear power will never compete with coal or gas yet the more reactors India has for civilian energy as well as for military purposes the greater the need for security, the more the need for cooperation with other countries and for transparency.
Considering the initial secrecy New Delhi has come a long way from not discussing its nuclear program to participating in conferences and signing agreements. An economically strong and self-confident India feels a lot more reassured about its place in the world. The underlying aim of the Nuclear Security Summit is to build a level of trust so that countries will share information and be transparent about their security practices.
However, the Indian system of decision-making has traditionally preferred opacity. New Delhi's fears are primarily to do with security concerns with two nuclear-armed countries as neighbors, Pakistan and China.
One deliverable New Delhi may offer at the Nuclear Security Summit 2016 is the establishment of a Global Center for Nuclear Excellence. While that is a great goal, as a country that hopes to be a superpower one day, maybe deeper discussions on security and nuclear terrorism are needed.
REAL LIFE. REAL NEWS. REAL VOICES.
Help us tell more of the stories that matter from voices that too often remain unheard.