Most successful people in the world would count their mind as their greatest asset. They relied on it to develop a professional edge, overcome personal challenges, and keep running in an increasingly competitive world.
What if, in its most formative years, this asset never had the opportunity to develop?
Early childhood education (from birth until primary schooling) is a well-studied but under-appreciated need around the world. While preschools for the privileged charge top dollar, it remains incomprehensible to the parents of 100 million urban slum children around the world how teaching their two-year old a song could help her in breaking out of the generational cycle of poverty.
The choice of the 2015 Hult Prize Challenge reflects how crucial these years are to help a child be "mentally, physically and socially prepared for school education." The Hult Prize is the world's largest student competition for social good, organized jointly by Hult International Business School and the Clinton Global Initiative, and offers USD1 million in seed capital to help the winning team launch its social enterprise.
In India, despite free access to primary education, 40 percent of children drop out of elementary education. When team Black Swans from the Indian School of Business sat together to create their start-up idea, they immediately hit a roadblock -- imagining a way to change how so many families evaluate their priorities. Each team member had worked variously with NGOs, volunteer programs, and large corporations setting up their social responsibility programs. They quickly realized that none of their experiences had prepared them to tackle the real social change. It was not enough to provide affordable early childhood education to urban slum communities.
From examples of successful social entrepreneurship, a clear theme emerges -- the community must participate in the creation and sustenance of its own solution. As a business, the team had to understand the adjoined needs of their beneficiaries and end-users. So they brought in a new member, an entrepreneur, with extensive experience in education solutions for the urban poor, who had also worked with Teach for India. They also found advisors with expertise in delivering early childhood education, operating cottage industries in slums and creating partnerships with government programs to help them take their solution to the last mile.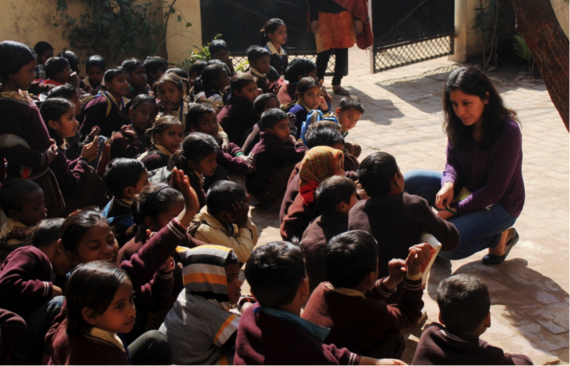 With these new inputs, team Black Swans designed its solution: a modular training program called Early Start, to help create an economy around preschool education for the poorest of households. It would be an employment opportunity for women in urban slums as teachers as well as entrepreneurs. By running a preschool network using the centrally managed curriculum and business support services of the program, the largely unemployed female population between the age of 18 and 40 living in the community would gain a viable income opportunity -- something they could take pride in.
The impact of this service would be felt after a few years of their own children entering school. And a self-sustaining market for the preschools could be created. But who would purchase this module today? Parents don't yet see the point of spending their hard earned cash in preschool education, when free government-run day care centers are available.
Luckily, there is a large unseen presence in this space which has much to gain from a preschool economy -- the private schools serving the urban poor. There are over 200,000 private primary schools in India that charge under $25 a month as fees and are very popular as higher quality alternatives to public schools. They build a fragmented network, rarely known beyond the neighborhoods they serve, and are run by charitable organizations or -- in some cases -- profit-making ventures. These schools are badly affected by dropouts and underprepared students. If the Early Start program could solve their problems by setting up model kindergarten classrooms run by women from the neighborhood, it would both bring these 'god-mothers' a steady income from the schools and give the community the tools to set up their own preschools.
The team brought this idea to the panel of judges of Hult Prize at Indian School of Business. For its focus on last mile delivery and the breadth of its analysis of implementation challenges, this idea was selected as the winner to advance to the Regional Final of Hult Prize. Now, as the Regional Final draws closer, team Black Swans -- Siddhartha, Sushanth, Smriti, Yash and Siddharth -- needs to answer the following question: what is the one challenge universal to urban slums that is most critical and codifiable, which they will excel at addressing? They could invest in defining a quality low-cost curriculum, or having the best technological solution for delivery of content and monitoring, or the best marketing campaign that the start-up capital could buy. This decision would define the future of their social enterprise.
So, like all good social entrepreneurs, team Black Swans is now focusing on connecting with people from all over the world who relate to this problem as strongly as they do, and carry first-hand understanding of slum communities worldwide. Universal opportunity is the spirit of this challenge, and it must begin with a universal understanding.
This post was produced by The Huffington Post and the Hult Prize Foundation Hult Prize@ program, in which teams of college and university entrepreneurs compete for funding for compelling social business ideas, including a grand prize of US$1,000,000. The posts are written by student campus directors of "Hult Prize@," the program bringing the competition directly to campuses around the world. To learn more about the Hult Prize Foundation and how you can become a campus director, please visit hultprize.org. Read all the posts in the series here.
Popular in the Community