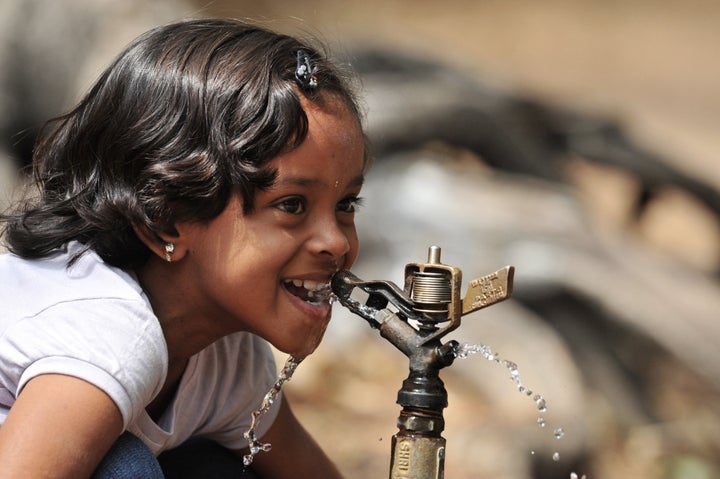 Sad to say, it pays to be a man in many parts of the world. In fact, in India, some parents are paying doctors to turn their young daughters into sons in hopes of improving the family's prospects.
The state government in Madhya Pradesh is currently investigating claims that as many as 300 girls were surgically turned into boys in the city of Indore -- with the parents paying as much $3,190 for the privilege of being able to say: "She's a boy!"
During the surgery, known as genitoplasty, doctors fashion a male penis from the female sex organs, according to the Telegraph. To finish the change, girls are also injected with male hormones.
Although advocates for women's and children's rights are denouncing the sex change operations as "social madness," according to Telegraph, but it is not as though gender discrimination is new. In India, gender bias has existed for centuries, thanks to cultural traditions, including that the daughter's family is responsible for paying for an elaborate wedding and an expensive dowry.
As a result, many families will abort daughters before they are born -- or resort to the sex changes after the birth. Consequently, there are 7 million more boys under the age of six than girls in India.
In the United States, the genitoplasty procedure is recommended only for those children whose internal organs don't match their external genitalia, such as if someone who is born with male internal organs but has female genitals and female hormones.
Atypical sexual characteristics are not out of the realm of possibility: One in 100 babies differs from standard male or female sexual traits, according to Intersex Society of North America, and an estimated one or two in 1,000 people have surgery because of an intersex condition.
The chances are of a baby being intersex is still uncommon, which is why the Medical Council of India (MCI) and the Madhya Pradesh health department are recommending measures to ensure that parents hankering for male children don't try and get them by hiring corrupt doctors to perform sex changes on girls as young as one-year-old, the Hindustan Times reports.
The MCI has called for the formation of a medical board of experts to decide on the need for such a surgery in every case, and stringent checks in all cities, according to Prof Gautam Sen, a member of the MCI board of governors, and a director of surgical education for the Association of Surgeons of India.

"There should be a medical board to decide if the surgery is medically required. It has to be a responsible decision made by a panel and not a decision between a parent and a doctor," Sen said.
Meanwhile, critics of the recent rash of sex change operations in Indore, like Suchitra Inamdar, a counselor in Mumbai, are worried about what how the girls who've already had their gender fiddled around with will handle things in the coming years.
"The surgery can have profound, long-term psychological effects on an individual, who might not accept the gender assigned by parents and doctors before age of consent," Inamdar told nodeju.com.
Besides the immediate confusion that a forced sex change can cause, V.P. Goswami, president of the Indian Academy of Paediatrics in Indore, says the procedures used by the Indore doctors could cause traumas for years to come and impotency and infertility in adulthood.
"Genitoplasty is possible on a normal baby of both the sexes, but later on these organs will not grow with the hormonal influence and this will lead to their infertility as well as their impotency," Goswami said. "It is shocking news and we will be looking into it and taking corrective measures. Parents have to consider the social as well as the psychological impact of such procedures on the child."
Although India's National Commission for the Protection of Child Rights has ordered the Madhya Pradesh government to investigate the claims and produce its findings within 15 days, Ranjana Kumari, of the Centre for Social Research and one of India's leading campaigners against female feticide, said the forced sex changes are a sign of her country's growing "social madness."
She had hoped that India's improved educational system for both boys and girls would bring an end to the customs that make boys more desirable than girls. Sadly, she told the Telegraph, that's not the case.
"The figures are getting worse," she said. "In 2001, there were 886 girls born to every 1,000 boys in Delhi. Today there are only 866. The more educated and rich you are, the more there is killing of girls," she said. "People don't want to share their property or invest in girls' education or pay dowries. It's the greedy middle classes running after money. It is just so shocking and an outright violation of children's rights."
Support HuffPost
The Stakes Have Never Been Higher
Related
Popular in the Community