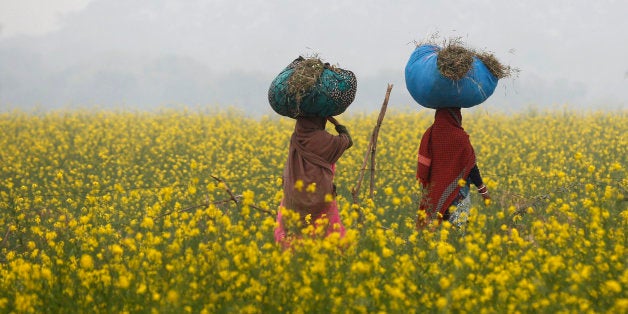 A 25-year-old woman accused taxi driver Shiv Kumar Yadav of assaulting her on the night of Dec. 5 as he was driving her home after a meeting with friends.
The Uber case came exactly two years after the brutal gang rape of a medical student on a Delhi bus and once again put the spotlight on the alarming rates of violence against women in India.
HuffPost Japan spoke with Rituparna Chatterjee, the deputy editor of HuffPost India, about chronic sexual violence in the country.
Why do rape incidents keep happening frequently in India? In India, rape is as much a social problem as it's criminal. It's a subject still shrouded in shame and stigma in a country governed by traditional patriarchy -- which means women who have suffered sexual assault still hesitate to report it to the police for fear of backlash and social ostracism.
If it seems that there is a sudden spurt in rape cases in India it does not necessarily mean that the actual numbers of rapes have gone up drastically -- it means more cases are being reported and highlighted.
Better access to Internet and the advent of 24/7 media have increased the direct sources for millions of women for crucial information on personal safety, helplines and awareness campaigns. More women now feel empowered to report rapes. After the brutal gang rape and murder of a young woman on a Delhi bus in December 2012, the media have started highlighting incidents of sexual assaults -- including those on minors. The social platforms have played a huge role in highlighting these stories and forcing authorities (many top police officials and outposts have active Twitter handles, as have government departments) to act by building pressure. Which parts of India are crime-prone area? North or South? East or West? Big cities or rural areas? Is there any regional characteristic? According to the National Crime Records Bureau (NCRB) report for 2013, the latest year for which data is made available by the government, the national capital reported the highest crime rate against women. Specifically, crimes against women have gone up compared to total crimes committed during a five-year period -- 9.2 percent in 2009 to 11.2 percent in 2013. Madhya Pradesh, in the heartland, has reported the highest number of rape cases and West Bengal in the east reported the highest rate of trafficking of young women. The northern state of Uttar Pradesh, India's most populous, reported the highest number of kidnappings and abduction cases and dowry deaths. NCRB's 2013 data shows 70 percent of crimes against women were reported from 53 mega cities with Delhi accounting for 21.4 percent, the highest. It is followed by the financial capital Mumbai (5.5 percent) and Bangalore, considered India's Silicon Valley (4.9 percent). The rural figures are generally under-reported. The cities with a large, poorly registered migrant population like Delhi tend to be more vulnerable to crimes against women. The Indian government has doubled prison terms for rapists to 20 years. But rape incidents are still happening. Is any tougher punishment actually effective? After the Delhi gang rape, India has been forced to take a good, hard look at its colonial laws and change and broaden the definition of rape. Tougher sentencing will only be effective in keeping offenders off the streets for a certain period of time. It will have little impact on overhaul of the security and changing the social fabric through sensitization, education and awareness programmes. The delay in prosecution, long drawn court cases in which the victim is left vulnerable to threats and intimidation, police apathy, and further victimization of the survivor through humiliating and outdated medical procedures only embolden repeat offenders. Following the December 2012 incident, there has been a call for awarding the death penalty to rapists, an argument that has been countered by many who believe harsher punishment would lead to offenders killing their victims to escape identification. But tough steps like criminalizing stalking and voyeurism and making acid attacks a 'heinous crime' with maximum punishment of imprisonment up to for 10 years or life are welcome steps. Is the Indian government intensifying activities to raise awareness for rape crime prevention? Is it also conducting support for crime victims? The lack of access to toilets inside homes in rural areas, which forces women to venture out into the fields at odd hours, makes them vulnerable to sexual crimes. Using 'toilets before temples' as his election slogan, Prime Minister Narendra Modi, who belongs to the Hindu nationalist Bharatiya Janata Party, pledged to build 200,000 toilets by 2019. The Delhi police and the home minister recently launched a mobile app, 'Himmat' (courage), that will allow women traveling alone at night and with access to a smartphone to send a distress call to the Police Control Room in an emergency. After the Delhi gangrape, fast track courts were set up for speedy disposal of such cases. In his 2013 budget, former Finance Minister P. Chidambaram announced a special Nirbhaya fund (named after the gang rape victim, whom the mainstream media referred to as Nirbhaya because naming rape victims is not allowed under Indian laws) to support projects for women's safety including installing CCTVs and GPS in public vehicles. Early last year India banned the invasive 'two finger test' or virginity test to medically examine rape survivors. Awareness videos preceding films at cinemas and radio spots are among the slew of measures adopted by the government to tackle violent crimes against women.
Popular in the Community