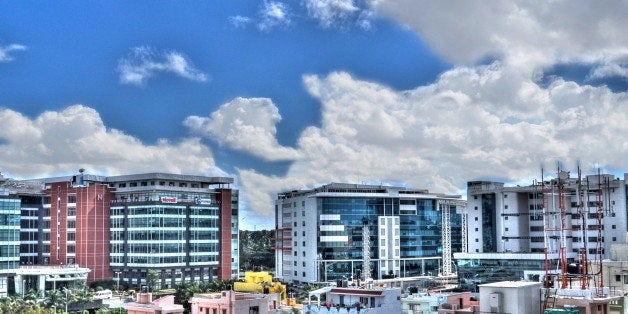 The technology industry's new Bay Area hub may be pretty far from San Francisco. The Bay of Bengal is shaping up to be the next hot startup market.
Highly skilled Indian tech workers -- some unable to get U.S. work visas -- are returning home from the United States or leaving Indian divisions of U.S. tech companies, eager to build their own companies in India. The country surpassed Japan as the world's third-largest economy by a key measure this year.
India is now home to the four cities with the most tech workers on LinkedIn, according to a user study published in June by the career-focused social network. Bangalore -- commonly known as the Silicon Valley of India -- leads the way, followed by Pune, Hyderabad and Chennai.
In fifth place is the San Francisco Bay Area, home to the original Silicon Valley.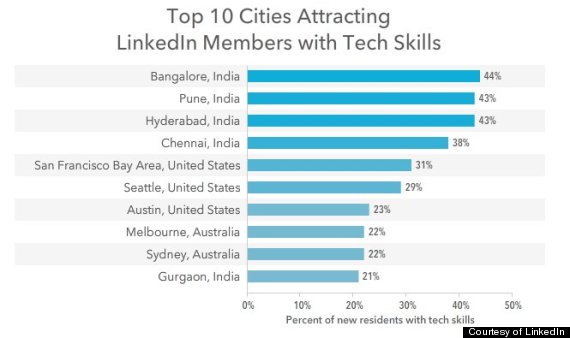 Last year, India pulled in $1.8 billion in venture funding, according to a recent report from Ernst & Young -- three times more than it brought in in 2006. Venture capitalists invested an estimated $1.26 billion in Indian companies in the first six months of this year alone, according to the startup industry site Your Story.
It's still not equal to China, which attracted $3.5 billion in 2013. And the U.S. continues to pull in gobs of VC funding -- $33 billion last year, according to E&Y. However, strong signs point to growth for India, as more and more of the country's 1.2 billion citizens move online. About a quarter of the population is now connected, according to the Internet and Mobile Association of India. The country is expected to overtake the U.S. as the world's second-largest Internet market this month, the trade group said in a recent release.
"The Internet in India took more than a decade to move from 10 million to 100 million and three years from 100 million to 200 million," the Internet and Mobile Association said in a statement to The Hindu, an English-language daily newspaper. "However, it took only a year to move from 200 to 300 million users. Clearly, Internet is mainstream in India today."
At the same time, India's middle class is growing. About 50 million people, or 5 percent of the population, now earn middle-class incomes, according to E&Y. That number is expected to grow to 200 million by 2020.
Internet access and a growing middle class mean more Indians are now shopping online. "E-commerce is the low-hanging fruit," Vivek Wadhwa, an Indian-American entrepreneur and frequent tech industry pundit, told The Huffington Post. "It's where the biggest opportunities are."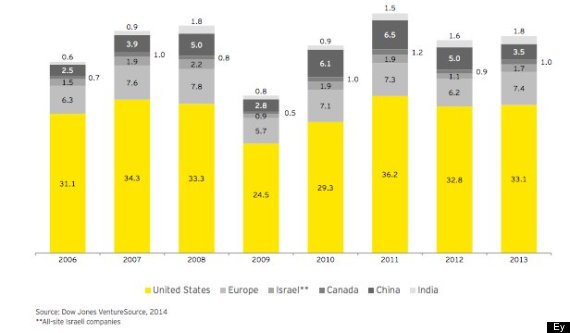 India, which comprises the lightest gray on this chart from E&Y's 2014 report on global venture capital, pulled in $1.8 billion in VC money last year.
Currently, India's e-commerce market generates about $2 billion in sales a year. That's small compared to China's annual Internet sales of about $300 billion, or the $260 billion spent in the U.S. last year.
But by 2020, India's online retail sales could reach $30 billion, according to the Wall Street Journal.
Flipkart, an e-commerce site founded seven years ago in Bangalore, raised $1 billion in July, the largest round of funding ever granted to an Indian company. Founder Sachin Bansal, who previously worked as a senior software engineer at Amazon India, said in July that he aims to grow the company into a $100 billion behemoth in the next five years.
In October, rival Snapdeal, an online marketplace headquartered in New Delhi, sold a $627 million stake to Japanese business titan Masayoshi Son, the chief executive of media and telecom giant SoftBank. The investment kicked off SoftBank's recently announced plan to invest about $10 billion into India's e-commerce industry over the next decade.
American tech giants have taken notice. Last month, Amazon CEO Jeff Bezos graced the cover of GQ India -- a space usually reserved for Bollywood stars -- following a $2 billion investment in his company's India operations, announced a day after Flipkart's $1 billion funding round.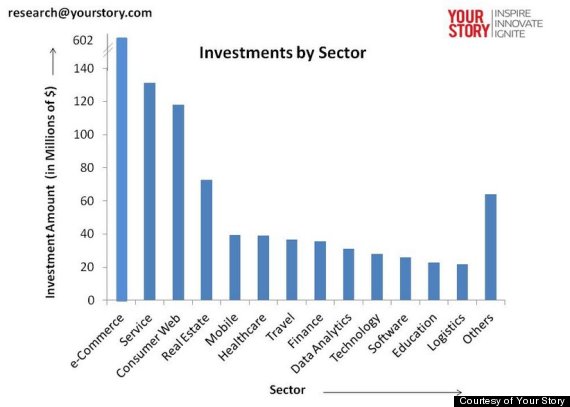 Investment in e-commerce outpaced other sectors in the first six months of 2014, per this Your Story chart.
India also has a growing number of web startups. Founded by a former management consultant for New York-based Bain & Co., Zomato, a restaurant review index similar to Yelp, pulled in $60 million in funding last month, bringing its total valuation to $660 million. The popular chef social network Cucumbertown, co-founded by a former engineer at "Farmville" maker Zynga, launched a new feature called RecipeWriter in October in hopes of dominating India's food-blogging niche. ZoomCar, a nascent car-sharing service targeting India's bustling cities, raised $8 million in October in a funding round led by Sequoia Capital, the powerful Silicon Valley-based venture capital firm.
"Over the next three years, I see a gold rush happening, as you're going to have a bunch of billion-dollar companies. Then everyone will be there," Wadhwa said of India. "That's how venture capitalists are -- they're like sharks. They sense a drop of blood and they're all over it."
One expert noted that economic forces aren't the only thing at play in fueling the startup scene.
"There's some cultural shift between generations -- the current generation of not only younger people, but 30-year-olds and 40-year-olds are more willing to take risk," said Yossi Feinberg, an economics professor who heads Stanford University's Ignite program, which for three years has allowed students in Bangalore to telecommute to lectures at the California college. "There's this idea of success in India that you have a family, a steady job, and now people are open to having experience in a startup where, even if it fails, it's a valuable experience in the job market."
Related
Popular in the Community