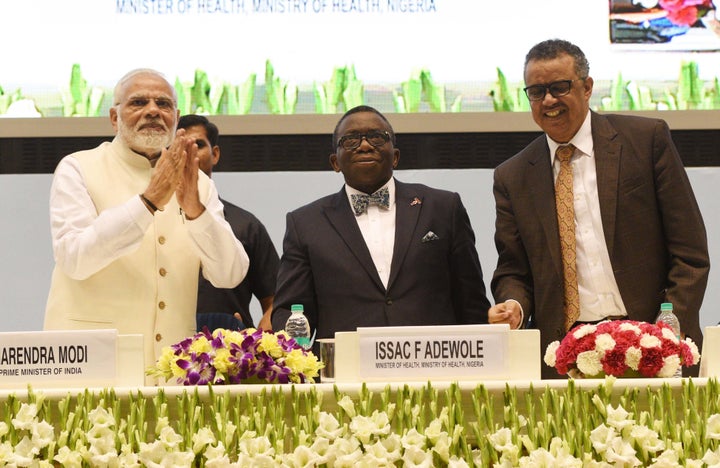 India's Prime Minister Narendra Modi announced the country's plan to eradicate tuberculosis by 2025, a bold move that global health experts hailed as game-changing in the fight against tuberculosis.
The treatable airborne disease kills more than three people worldwide each minute and is among the top five causes of death.
Modi is not the first leader of an affected nation to set ambitious goals around reducing deaths from the top infectious killer. Russian President Vladimir Putin announced his commitment to fighting TB both globally and at home at the end of November in an unprecedented move, considering the country's track record on HIV and its exit from supporting the Global Fund to Fight AIDS, Tuberculosis and Malaria. Along with India, China and Russia have the highest levels of the drug-resistant form of tuberculosis.
Putin and Modi's commitments will potentially spur other world leaders to do the same, Dr. Tedros Adhanom Ghebreyesus, director general of the WHO, told HuffPost in an email. "We hope this produces a snowball effect and that other world leaders step up and commit to an ambitious plan of action to rapidly drive down TB deaths and suffering."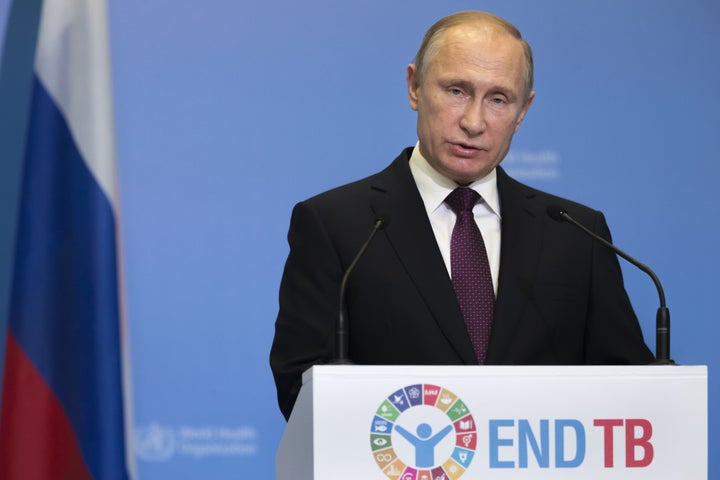 She's hopeful that Modi's speech will spur him and other heads of state to attend the U.N. summit, which advocates consider pivotal in the acceleration of the eradication of TB. Only four other such meetings have been held: one for HIV/AIDS in 2001, one for noncommunicable diseases in 2011, one for Ebola in 2014 and one for antimicrobial resistance in 2015.
This is part of a growing momentum for the eradication of TB ― an achievable goal considering the world knows how to treat and cure tuberculosis. Now it's only a matter of scale and delivery systems.
"For a long time, the narrative around TB going back to 1993 when the WHO declared it a global emergency was, 'We're failing to make progress.' Nobody wants to join a losing team," said Matt Oliver, head of the Secretariat for the Global TB Caucus, a worldwide group of parliamentarian. "I think that narrative is beginning to change when countries the scale of India say, 'Actually, we can get a grip on it.'"
Health experts applauded Modi's leadership in taking ownership of the country's disease burden but stressed it was the first step in what should be a worldwide endeavor.
"Accelerating progress against TB in India, which carries [over a quarter] of the world's TB burden, will help pivot the global TB response and put us on the fast-track to reaching the targets set in the Sustainable Development Goals and End TB Strategy," Tedros told HuffPost.
Yet there is skepticism that the WHO goals of ending TB by 2030 can be met. A recent KPMG report estimated the world would miss that target by nearly 100 years, killing 28 million more people and costing the world economy $1 trillion by 2030. However, experts caution revolutions in drug regimens and vaccine development could change that playing field substantially, despite an estimated $1.3 billion gap in research and development funding.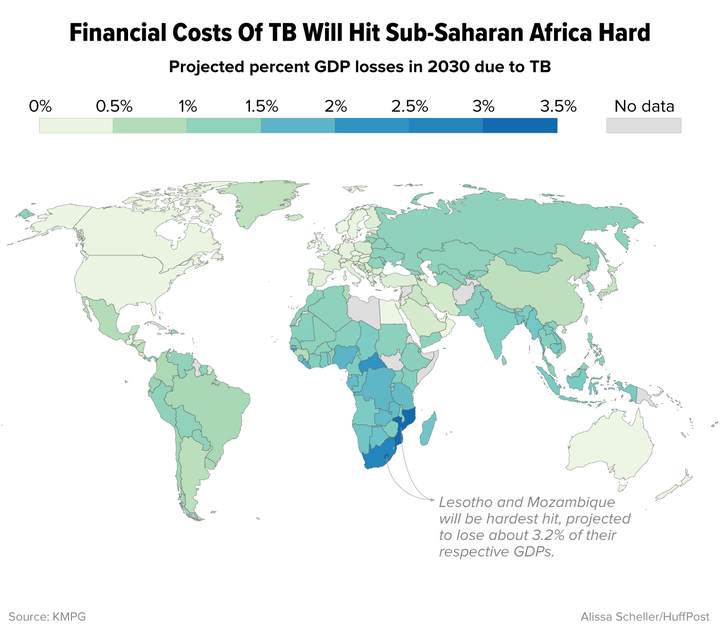 Oliver agreed that the goal of 2025 was incredibly bold but stressed that the global ambition when it came to TB for the last few years has been too low.
"If we limit our ambitions to what people say is achievable, then many great things would never happen," he told HuffPost. "If India can pull it off with the scale of the challenge that they have, there is no excuse to any other country pulling it off."
Modi's announcement was also accompanied by news of the planned implementation of the ambitious strategy. Modi had previously tripled the budget to fight TB and said the country would also allocate $100 million toward nutrition for TB patients per year and more actively searching out cases.
Before Modi's speech, Tedros announced a complementary initiative that aims to get 40 million people quality TB treatment by 2023, which Oliver says "would break the back of the disease in an unprecedented way."
"There are a lot of intractable problems in the world, but TB isn't one of them."
In his speech, Modi also highlighted how combating the disease ― especially in finding these missing cases in the rural village or urban cityscape ― would be vital to improving the lives of the poor.
When it comes to U.S. support ― and a potential appearance by President Donald Trump come September ― health leaders are unsure. While the U.S. has long been the largest single donor to both the Global Fund and overall funding to fight tuberculosis, funding cuts in the president's budget proposal have raised concerns.
"After the White House tried to slash U.S. funding for TB last year, we saw leaders in the Senate come together to fight for an increase. For its part, the U.S. can and should be doing even more. I hope members of Congress and the White House are watching what happened in Delhi today and getting ready to step up themselves," Joanne Carter, executive director of the anti-poverty nonprofit RESULTS and its RESULTS Educational Fund, told HuffPost in an emailed statement.
Overall, Ditiu said Modi's announcement heartened the global health community, as many see it as a sign of a continued shift in momentum in fighting the disease.
And as Oliver put it: "There are a lot of intractable problems in the world, but TB isn't one of them."
CORRECTION: An earlier version of this article included a quote that said India has 60 percent of the world's tuberculosis burden. A later clarification of the statement put that portion at more than one-quarter.
Popular in the Community