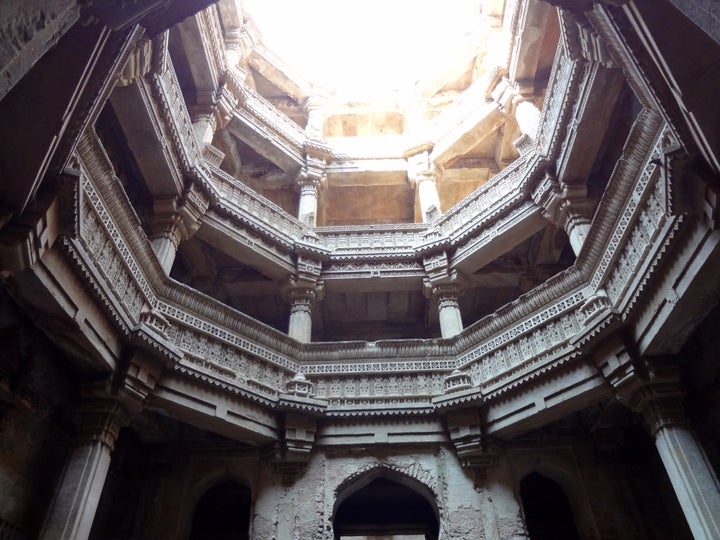 Thirty years ago on my first visit to India, I looked over a mundane wall and it changed my life. This was outside the city of Ahmedabad, Gujarat, beloved by architects for its iconic modernist buildings. But the view over that simple wall had far more impact: I was staring into a deep man-made chasm, with a long parade of steps and ornate stone columns plunging deep into the earth. What was I looking at? No idea at the time. But it was shocking, beautiful, mysterious, and even subversive, since we expect to look up at architecture, not down into it.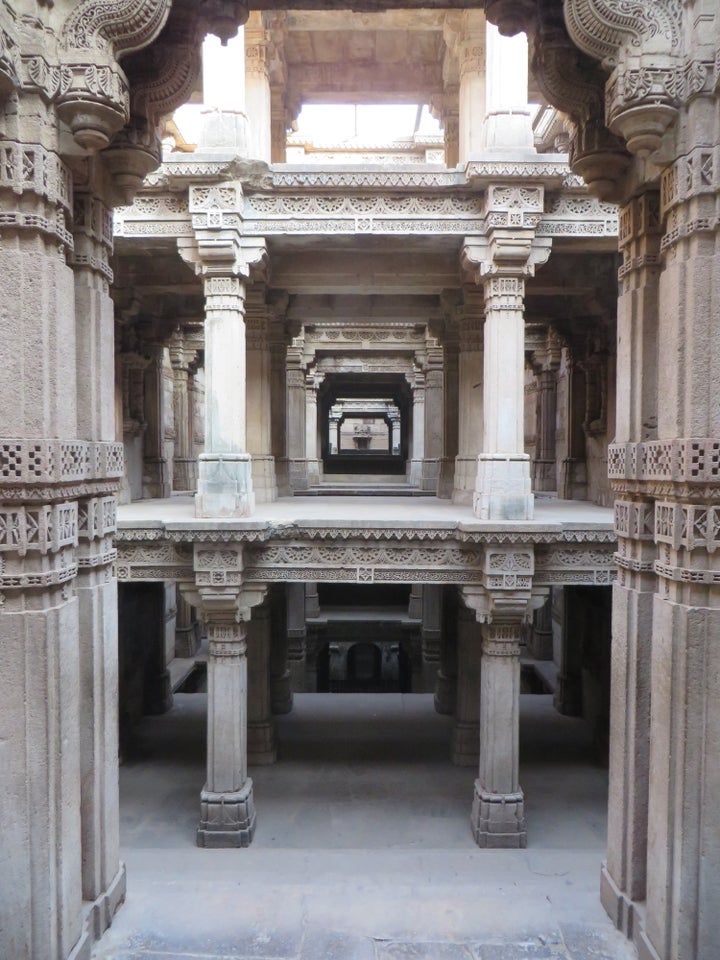 Entering that startling structure was a unique experience that heightened all of my senses the further I descended. Harsh desert sunlight became increasingly murky, scorching heat gave way to cool air, and the annoying din above ground grew hushed. Tall towers of columns and bridges loomed over me, creating shifting views and perspectives that were disorienting. By the time I'd reached bottom - five stories down - I felt I'd entered another world.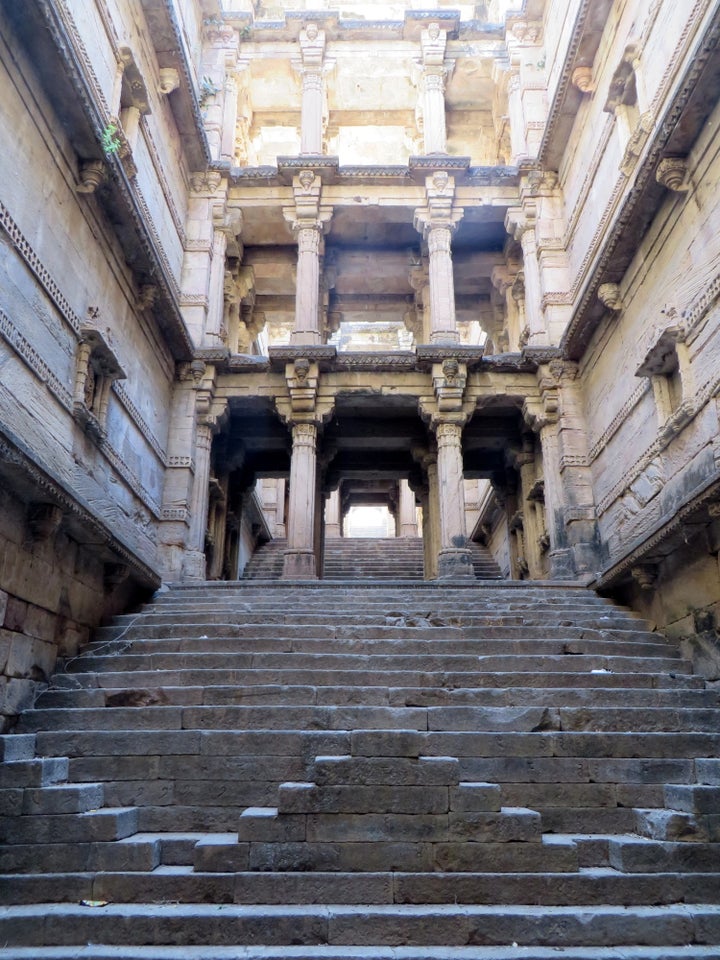 Welcome to the world of India's subterranean stepwells, a vanishing species of architecture that few people have heard of. They were used to harvest water efficiently throughout the subcontinent for over a millennium, starting around 600 A.D. Thousands are thought to have existed, yet they're all but unknown today, despite being among the most significant structures of their time. Now, most are derelict, abandoned, and often filled with trash.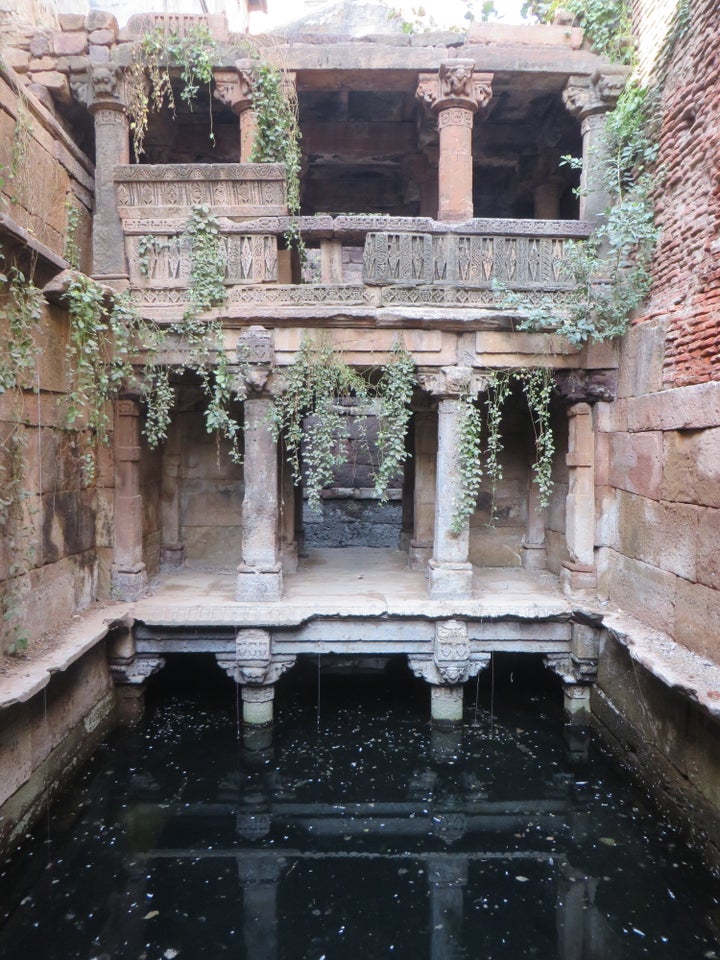 In a country as dry as India, accessing water all year long has always been tricky, and centuries ago it would have been especially difficult. In desert areas, reaching the water-table could require digging nine stories down, and deep well shafts with adjacent stairways ensured that water was available even at its lowest. But during the yearly monsoon deluge, the water level rose dramatically, the steps submerged, and retrieving water daily became less arduous.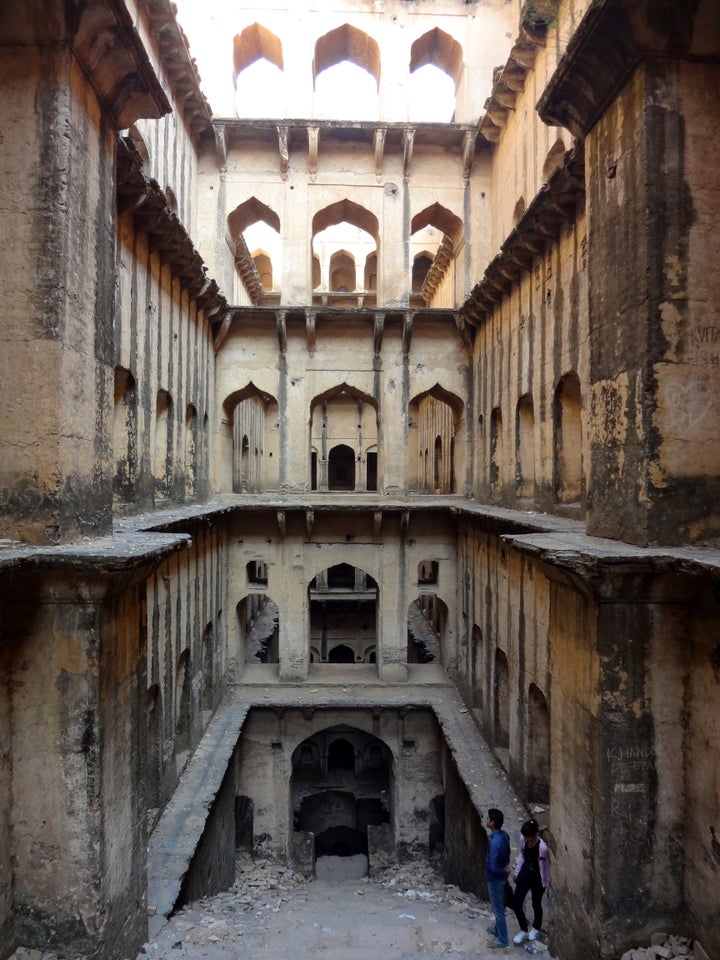 But stepwells provided more than water for drinking, washing, and irrigation. They were subterranean temples, cooling stations in scorching weather, oases along remote trade routes, and active social gathering places. Local rulers and wealthy citizens - many of whom were women - commissioned the structures as charitable gifts to their communities, though today, most of those benevolent patrons are unknown.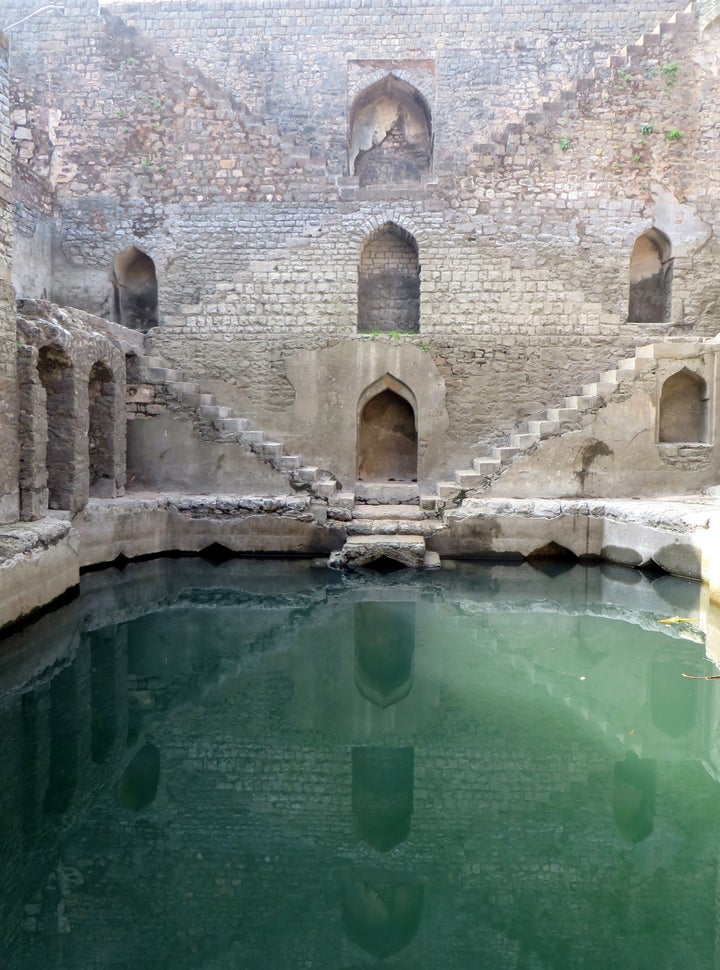 Stylistically, there's a mind-boggling range of styles, and no two are alike. They can be enormous or intimately scaled; encrusted with sculpture or modest; constructed of stone, rubble, or brick; L-shaped, round, square, or linear. Some are characterized by dazzling arrays of pyramid steps so steep it's impossible to imagine sari-clad women climbing up and down, vessels balanced on their heads. Even without a sari, it's not for the faint of heart.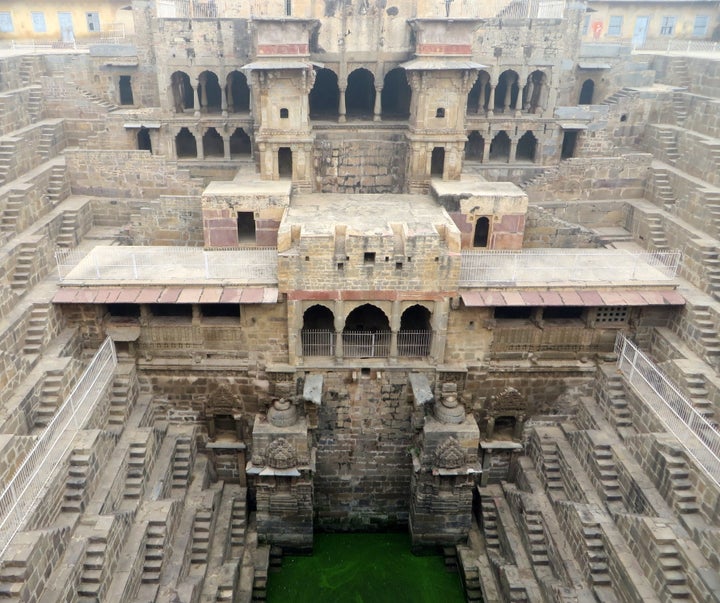 I've spent years traversing India in pursuit of these marvels of architecture, engineering and art, and have seen over two hundred so far (seventy-five of which are collected in my book, The Vanishing Stepwells of India, published by Merrell). A relative handful are protected by the government and maintained, but most are neglected, derelict, and strewn with trash. Many stepwells are hiding in plain sight close to popular destinations, and can easily be found in Delhi, Agra, Jaipur, and Jodhpur, but tourists have no idea the wonders they're missing just minutes away.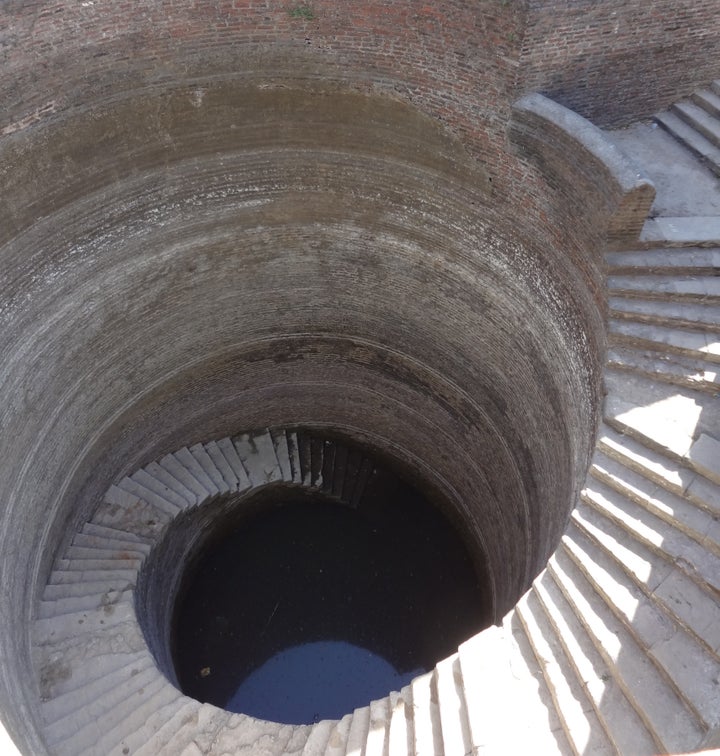 The only way to ensure the future of these unique monuments is by building awareness, since the more people who know of them, the better their chances of survival. Otherwise, like every extinct creature, they'll gradually and quietly fade into oblivion.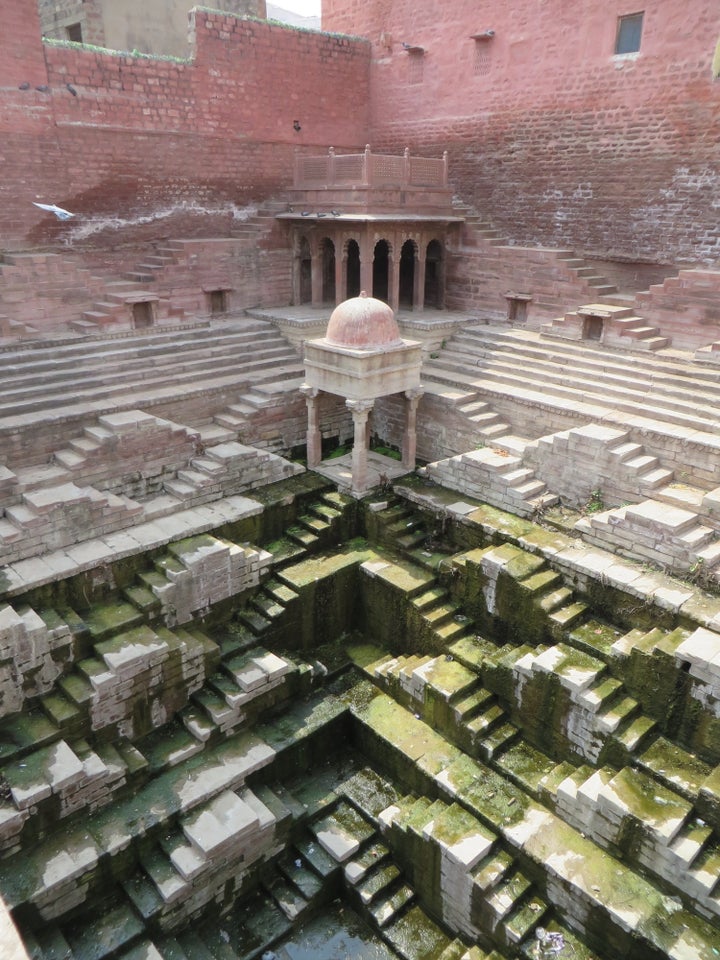 Support HuffPost
The Stakes Have Never Been Higher
Related
Popular in the Community