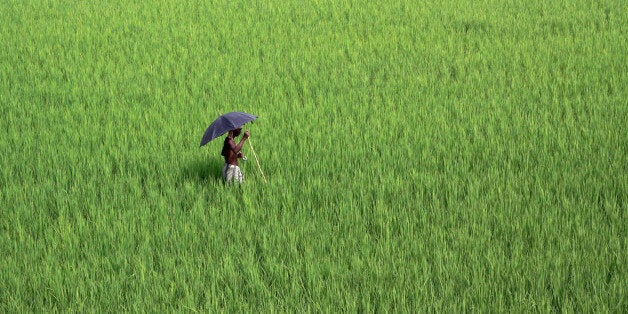 MUMBAI -- Almost 70 years after India's independence, over 100 million acres of land falls under the definition of "common lands": territory occupied jointly by rural communities in the hinterland. But deforestation, waste of natural resources and over-irrigation risks turning it all into wasteland.
Jagdeesh Rao Puppala, who started the Foundation for Ecological Security almost 15 years ago, is trying to prevent that. Puppala and his team work with almost 9,000 village institutions across eight Indian states, protecting nearly 3 million acres of common lands.
Puppala and his team also created maps, registers and documents and set up an all-India database for information on rivers, soil, geology, land use and vegetation right down to the village level. The work is being done alongside locals and is funded by grants from dozens of institutions including the Omidyar Network, the Tata Trusts, the Ford Foundation and the Hilton Foundation. It all started back in the 1980s when Puppala spent six months in a village near Mahabubnagar district in what was then Andhra Pradesh during a course on agricultural sciences. He had never experienced rural life and was assigned to "a reasonably well-off farmer," with a mandate to learn farming as if it were technology transferred from "lab to land."
Four decades after India's independence, Puppala was shocked to see stark differences in caste culture where lower rung communities would remove their sandals, hold them in their hands and turn to face the wall when upper caste members crossed their paths.
"Lower rung communities would remove their sandals, hold them in their hands and turn to face the wall when upper caste members crossed their paths."
"These lower caste villagers had their dwellings segregated as were the utensils that they ate and drank from," he recalled.
In rural India, lower income groups rely on natural resources that, more often than not, are collectively owned. That includes firewood from forests, water for drinking and irrigation and pastures for fodder. With these resources becoming less prevalent, the environment is not just being depleted, but poverty and corruption -- both endemic problems in this country -- are also increasing.
Fixing this is not easy. FES faced initial reluctance and, at times, open hostility in initiating action on local stewardship of community lands. As discussion on land is a political issue even in villages, local communities are suspicious about "outsiders" with a trust deficit.
Pradeep Kumar, the chairman of the community federation at Sindoli village in Bhilwara, said that he's seen many government organizations come and go. He thought that FES would be just another one, but he started taking them seriously when he saw the organization putting in money along with the government to build fences to cordon off common land and protect it from being acquired.
Then, during the foundation's early days, in south Andhra Pradesh, local leaders would instruct their wives to lie and say they were not at home. FES officials had to work on them, sitting with them late into nights trying to win their confidence. Even so, the locals weren't convinced, they'd check them out through references and even take legal opinion.
"Others told us plainly that they would check it out for a year or two and throw us out if they found us lacking in any way," Puppala said.
Finally, it was the women and youth who came forward first, allaying the doubts and fears of the men. Conservation of "common lands" aside, there's also a clear knock-on effect on stimulating micro-economies. Puppala said that in Rajasthan and Andhra Pradesh, the improved availability of water and fodder for livestock led to improved milk production from cows and buffaloes.
"We connected them to the milk unions who quickly connected them to the dairy industry," he said.
At Chitrawas village in Bhilwara in Rajasthan, increased availability of water allowed farmers to add a second crop, and women-led communities have helped ban groundwater extraction across 14 villages in the area. The revegetation measures also led to an increase in the area under tree cover and a subsequent increase in plant diversity, from weeds and thorny species to Acacia and Indian rosewood.
In 2010, FES also built the Indian Biodiversity Information System, which is a web-based biodiversity database that offers data on different species and can be used by everyone from amateur wildlife enthusiasts to conservationists and educators. It is accompanied by a portal on birds and mammals called AVIS-IBIS and IBIS-Mammals. The IBIS-Flora site was launched in 2014, and has information on over 21,000 species of flowers. The AVIS-IBIS has information on almost 1,700 species of birds, including a collection of bird calls, photographs and a search engine that enthusiasts can use to identify any bird in the Indian subcontinent.
Shreya Deb, a principal in investments at the Omidyar Network, said that "FES is a great example of Omidyar Network's approach to property rights, and we especially value how FES works directly with communities to help them gain stronger legal rights to common lands, shifting incentives from overuse or misuse towards productive stewardship."
She added that secure rights to property and resources trigger a multiplier effect of opportunity that ripples throughout a nation by promoting social inclusion, economic stability, better environmental stewardship and responsible private investment.
FES has improved the management of millions of acres of land, transforming denuded hillsides and valleys into healthier, biodiverse environments with opportunities for families to expand their livelihoods.
This could be just the beginning of bigger things to come.
PHOTO GALLERY
15 Breathtaking Trekking Trails Across India
Calling all HuffPost superfans!
Sign up for membership to become a founding member and help shape HuffPost's next chapter