An Indian-American woman made history on the New York Police Department this month.
Her recent achievement has been widely praised across the Sikh community in the U.S.
It's particularly significant given the statistics around Sikh representation in the department. Around 35,400 full-time uniformed officers work for the NYPD, 190 of whom are Sikh, according to the Sikh Officers Association. Around 10 are women.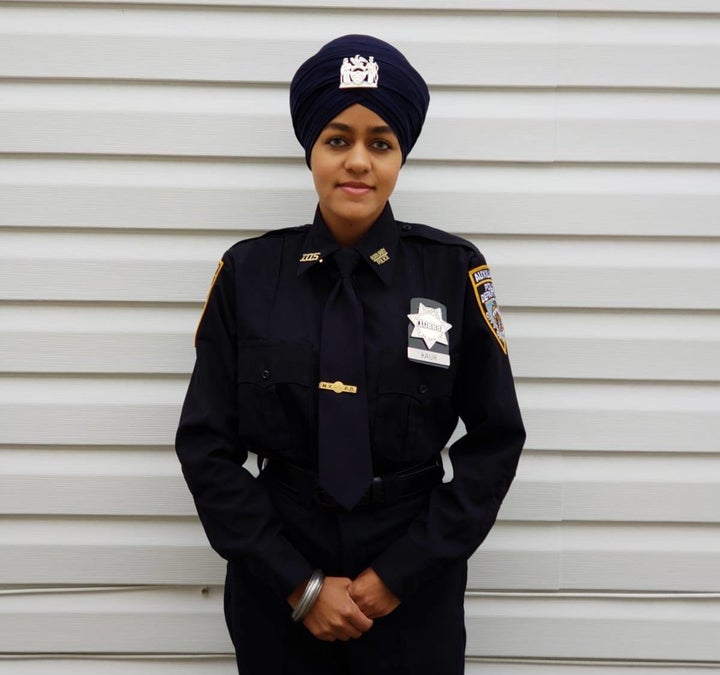 "Auxiliary Police Officer Kaur's accomplishment by joining NYPD Auxiliary has been ground breaking. She will be joining the largest Auxiliary Police Program in the United States. Officer Kaur will make all Sikhs around the world proud!" Delare Rathour, NYPD officer and vice president of the Sikh Officers Association, told HuffPost. "By the community seeing officer Kaur wearing a turban and in uniform they will feel nothing but pride, seeing one of their own serving her community."
Kaur is now an Auxiliary Police Officer (APO), an officer who's trained to assist local police precincts, housing police service areas and transit districts. She is currently a student at Nassau Community College, majoring in accounting.
Kaur told Desi Talk that she hopes her position as an APO will help her bring her closer to becoming a full-time, sworn-in police officer one day.
Thus far, Kaur feels her presence on the force has helped the area's residents learn more about her culture and bring visibility to the Sikh community.
"I feel blessed. The only reason people are interested is because of my dastar (turban)," she told Desi Talk. "People haven't seen anything like that. It's great because it gives me an opportunity to tell them what's behind the turban, educate them. That's how we love one another."
The Sikh turban, which stands for service, compassion and honesty, among other values, was previously banned from officers' attire. But in December 2016, the rule was nixed and Sikh officers were permitted to wear a blue turban with the NYPD logo on it.
"We're really happy that the higher ups in the NYPD listened to our concerns," Gurvinder Singh, president of the Sikh Officers Association, previously told HuffPost. "They realized this a diverse city and that a more diverse police force is necessary."