Subodh Gupta
Most already know of Gupta, the painter turned sculpturer. He is a household name among contemporary fans and collectors. Gupta's material, in the 2007 "Spill," for example, take the common-man's tin dishware and make it not only glamourous but tarnished. He'll blow you away with his tricky messaging about India's multidimensional culture, religion and economic life -- and you won't be able to turn away.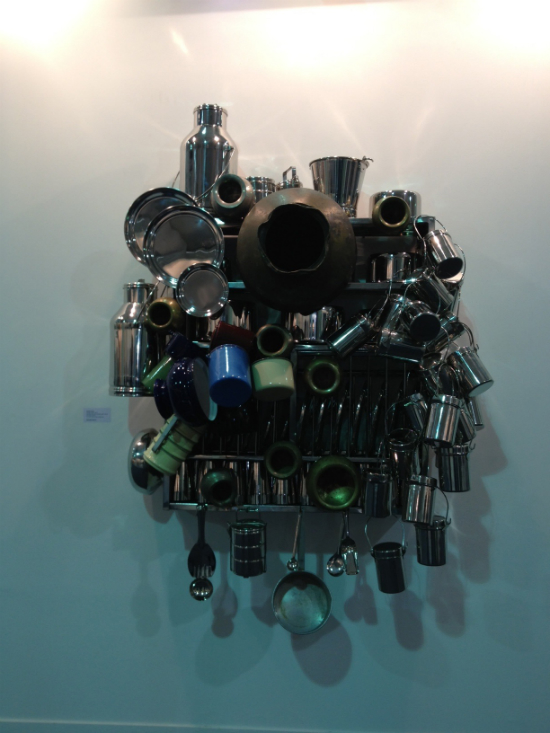 Work by Subodh Gupta
Bharti Kher
Kher's famous use of bindhi's and female-centric subject matter have garnered global attention and devoted fan-base. Many may think of Kher as a creator of pretty space but she's more than that. Not only married to number one on the list (Subodh Gupta), she is a 37-year-old worth watching.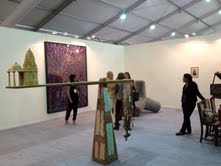 Work by Bharti Kher
Atul Dodiya
Known for his creative coopting of icons like quirky yogis and Munch's "Scream" juxtaposed with a pop Bombay sign, Dodiya's subject is often driven by the interplay of Eat and West or local and global experience. For those who will miss his work in India, he will lecture February 13 at the Philadelphia Museum.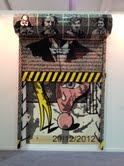 Work by Atul Dodiya
Tayeba Begum Lipi
Among the beloved, female heavyweights at the fair is Bangledeshi artist Lipi. Her powerful work "My Daughter's Cot" is showing at the Samdani Art Foundation stand. The piece was made using razor blades. Need we say more about her exploration of the status of women in some parts of the world?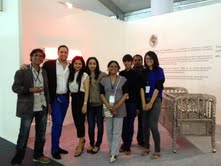 Work by Tayeba Begum Lipi
Shilpa Gupta
Someone you'll be hearing more about as the collector-base in India grows and the reputation of this young artist reaches further, Gupta is so good she is shortlisted for the Skoda Prize for Indian Contemporary Art. Poet, videographer, and installationist among other things, her work often involves -- and confronts -- those of us looking on.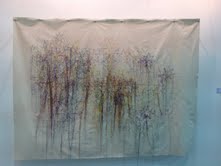 Work by Shilpa Gupta
Zarina
If you just can't wait or you can't make it to see her at the India Art Fair, have a sneak peak of Zarina's works at the Guggenheim. Zarina: Paper Like Skin is the first retrospective of the Indian-born American artist who began as a printmaker.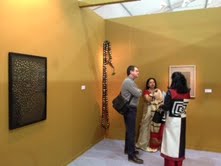 Work by Zarina
Jitish Kallat
Many of the artists are working in New Dehli, but Kallat's work has the high-intensity Mumbai roots written all over it. "Covering Letter" the 2012 work, a fog-screen projection, is particularly beautiful. Presenting at the fair is Kallat's use of a letter Ghandi wrote to Hitler. Similar to his work of the illiterate boy selling books on a busy street, this Motherless India theme continues to enliven the work.
Rina Banjeree
The Brooklyn-based Banjeree's popularity comes from her use of color, textures (shells, tulle, trinkets and more). Somehow she marries Vogue-levels of chic with Mensa-levels of intellect but all in a rebellious, Warholian way.
T.V. Santhosh
The Kerala-born artist is something of a sensation at this year's fair. His work "Effigies of Turbulent Yesterday's" seen at the fair is a testament to this artist's ability to take on war and cry for peace. Coursing through the stallion and headless soldiers is raw emotions, signature to Santhosh's material.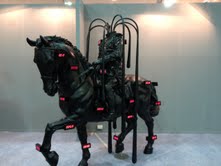 Work by T.V. Santhosh
Ruby Chisti
The fourth daughter of a Pakistani family, Chisti's culture may have rendered her fate inconsequential until her art did exactly the opposite. Chisti's contemporary works that reimagine everyday objects-stockings, dolls, suits, may be born in her Bushwick home but are seen everywhere from Miami to Mumbai. This petite, Brooklynite's statement-making sculptures have made her -- and her themes -- as embraceable as the genre-pioneers like Kher.
Work by Ruby Chisti
See more at the India Art Fair at Christie's and watch highlights at Gallery Talk.
REAL LIFE. REAL NEWS. REAL VOICES.
Help us tell more of the stories that matter from voices that too often remain unheard.