The relationship between athlete, team and coach is sacred in sports. When I was the only Sikh American playing high school basketball in San Antonio, my coach, Greg Maxwell, was my biggest advocate and supporter. One time, when a referee was threatening to make me sit out a game unless my coach showed where it said I could play, Coach Maxwell pulled out his whiteboard and scribbled -- "HE CAN PLAY."
It was Coach Maxwell's belief in me that propelled me both on and off the court. Coach Maxwell's support of me not only allowed me to be a better player, it made me want to live up to the Sikh American values I was taught was part of wearing a dastar (turban). To a Sikh, their dastar is part of their body, a reminder that everyone is equal, and that their spirituality should always be integrated in their decision-making and what they contribute to their community. Even if I was the only Sikh American on the court, I never felt out of place with Coach Maxwell and my team by my side.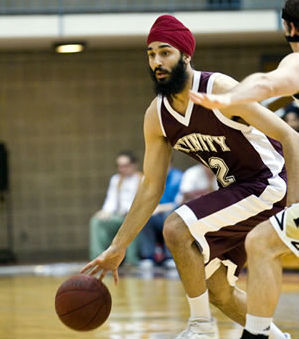 Darsh Preet Singh is the first turbaned Sikh American to play basketball for an NCAA program.
When I learned that Amrit Pal Singh and Amjyot Singh, Sikh players on India's team, were told by FIBA that they must remove their dastars before playing at the Japan-India game this week, I was confused, disappointed, and knew I needed to voice my opinion as Coach Maxwell did for me years before. As the first turbaned Sikh American to play basketball for an NCAA program, I can testify first-hand that informed governing bodies have permitted followers of the Sikh faith to proudly wear their turbans in games in the United States, Canada, and beyond. So why was this rule suddenly reversed before this critical game, for India and for Amrit Pal Singh and Amjyot Singh? Why were they forced to wear their hair in rubber bands, a humiliating act for any turban-wearing Sikh?
Moon Tae Jong of South Korea (L) passes a ball as Amjyot Singh of India (R) defends during their preliminary round match between South Korea and India at the 26th Asian Basketball Championships in Wuhan in China's central Hubei province on September 17, 2011. South Korea won 84-53. AFP PHOTO / LIU JIN
As an international community starts to reach out to FIBA to ask for answers, crowding their social media feeds with #LetSikhsPlay, I ask for us to all reflect on the importance of having inclusion in sports. As we saw in the World Cup this year, teams across the world have become increasingly diverse. When a player is singled out for their religious beliefs and made to feel less than, it sends a powerful message to society -- that perhaps, this person, is less than. Diversity in teams leads to greater understanding and peace. I saw this first-hand as my team rallied behind me when I played for Trinity University and eventually became its captain. Together, we battled racism, xenophobia and strong competitors. When we played together, as one, we knew we could conquer any challenge life puts before us, and it has translated into successful and happy lives beyond basketball.
As a Sikh American who was allowed to play in the NCAA, I will continue to speak out for Amrit Pal Singh and Amjyot Singh. In the meantime, I encourage you all, whether it is at your kids' Little League game or at the NCAA, to ensure that all can continue to play sports.
Part of this post appeared within an interview Darsh Preet Singh gave to BuzzFeed on July 17, 2014.
Popular in the Community