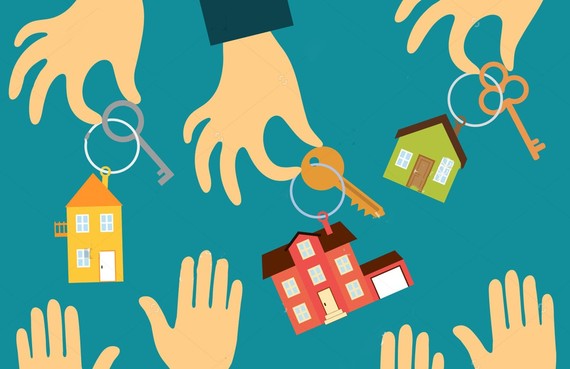 India's residential retail market is unorganised, which means it is run entirely by individual homeowners, rather than real estate companies.
Given the fragmented nature and inherent inefficiencies in the rental market, builders in India tend not to traditionally build an apartment complex for the future rental yields, but to sell. So much so, that even on the individual's side, second homes are purchased by individuals for their capital appreciation, not their rental yield.
And so there are 750,000 unsold apartments in seven cities alone in India. Nearly three in four of the unsold homes in Mumbai are priced above US$ Rs1 crore or more. Property consultancy Knight Frank reckons that the inventory is so large in Delhi that it would take at least five years to clear. To rent out means to incur property taxes, society maintenance charges and normal wear and tear which could take up a third of the rental income. Not to mention the hassle of getting rid of the tenants in a market that favours the tenant's rights over the landlord's.
Millions of people pour into the metro cities in India, to seek employment opportunities in the sprawling conurbations and lands of opportunity. Most of these are priced out by inflated prices, and look to rent. But there is a mismatch - tenants want affordable rentals but landlords are not keen to let.
So the market is ripe for innovation.
And several tech companies have attempted to do just that.
Japan's SoftBank acquired 30% in real estate portal Housing.com for US$70m, valuing the business at nearly US$250m. News Corp committed US$30m to PropTiger.com around the same time and in January last year, CommonFloor.com raised US$30m in Series A from Google Capital and others.
Out of the traditional players such as IndiaProperty.com, Magic Bricks and 99acres.com, IndiaProperty has also looked to raise up to US$50m last year. Community-based online exchange for finding rentals Grabhouse raised US$10m Series B funding in October 2015.
These transactions have been a testament to the growing investor appetite for tech start-ups and specifically real estate listing portals.
But despite boom years in property, a multi-billion dollar potential market and these players taking significant bets, profitability has been elusive. IndiaProperty is not close to breaking even after nine years of operations and first-mover advantage. Brokerage-free property search portal NoBroker.in raised US$10m in February this year at Series B, following US$3m a year earlier in Series A. They are focused on the non-brokerage market across India.
CommonFloor was bought out by online classified portal Quikr in January 2016 in a US$200m straight equity swap. It was in the middle of a consolidation spree, with Quikr buying a real estate analytics platform and a mobile aggregator of agents.
Housing.com also grew quickly, buying various other businesses including a real estate online portal, business intelligence site, and a sales lifecycle management business.
The industry looks like it was moving towards fewer, bigger, vertically integrated players.
But this was perhaps growing too quickly. Housing.com moved not only to shut its rental and commercials listings but also shed staff in some of these other businesses, to focus on home-buying and selling, late last year. Its valuation plunged. Reports at the time said that the struggle was more to do with sluggishness in the housing sector.
The factors that made such start-ups first venture into the rentals market still exist. Verifying tenants is a challenge. Ensuring tenants exit at the end of a tenancy is too. Finding unbiased advice across a city, not influenced by fragmented, localised middle-men, is still rare. Secure online payment is not the norm. After sales service does not really exist.
After big Japanese, German and US investor participation in the real estate market through Housing.com and others, now a British start-up is looking to shake things up.
RedGirraffe.com started operations in Delhi in early 2016 and is seeking to expand pan India during the course of the year. It's unusual in the crop because the British government's export promotion vehicle UK Trade & Investment (UKTI) is supporting it. According to UKTI figures, British companies are the third-largest investors in India and employ one in five formal sector jobs.
According to co-founder and CEO Manoj Nair, the company has learnt from consolidation wave amongst its peers: "We're privileged in that we are cash positive after just a few months, because the model has been developed after really understanding the market and ensuring the product is the best available. While some other portals are simply listing or aggregator sites, we aim to take the pain out of the process for both landlords and tenants with a number of other value-add services."
Manoj's journey is atypical of the real estate start-up cohort. After being a civil servant in India, he moved to London to set up an asset management company. The idea of RedGirraffe.com came to him after he himself got frustrated in the process of buying a property in India himself.
Property prices in metros fell through 2015, and 2016 looks like a year of flat prices. Even though an industry doyen like Housing.com has stepped out of the rental market, the potential for innovation is still very much present. 2016 could be an interesting year for watchers of the Indian real estate market.
Calling all HuffPost superfans!
Sign up for membership to become a founding member and help shape HuffPost's next chapter