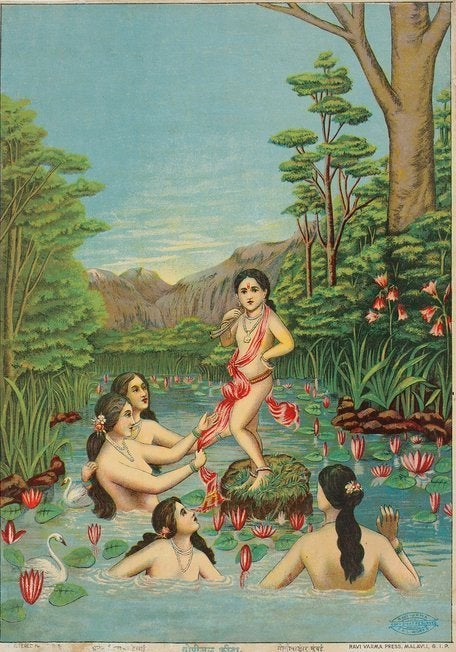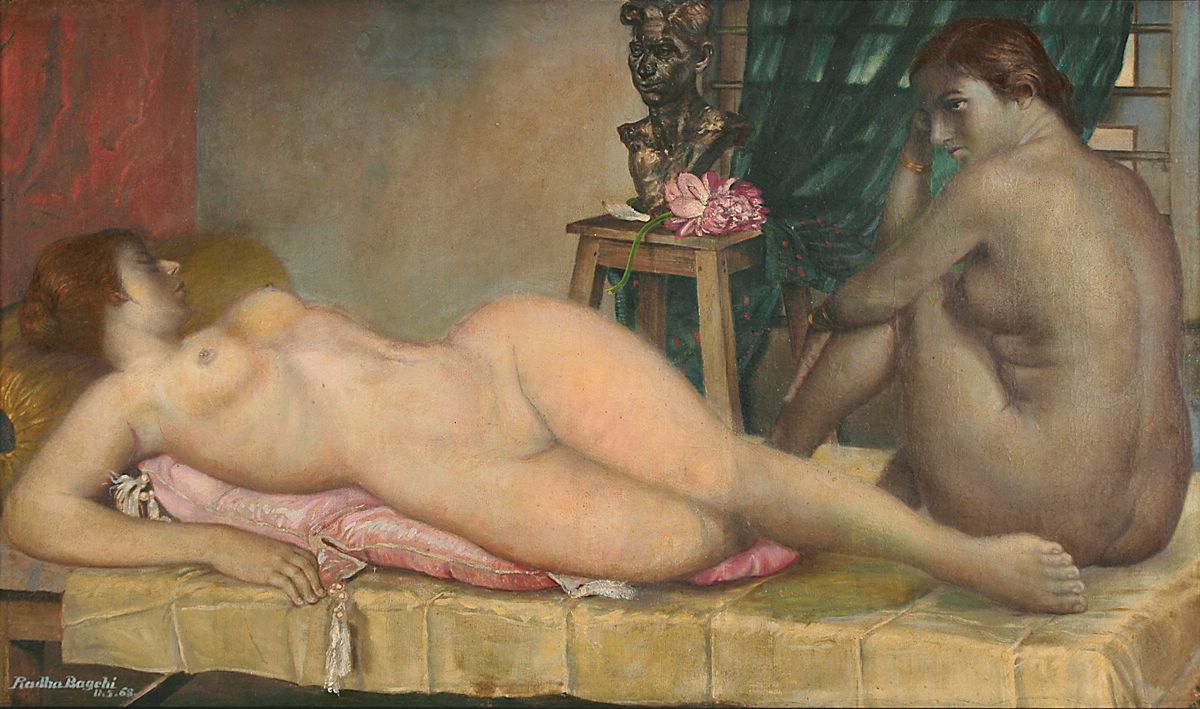 Radhacharan Bagchi, Untitled, 1968 Oil on canvas 36.0 X 61.0 in.(91.4 X 154.9 cms) Courtesy of Delhi Art Gallery
Arriving on New Year's Eve in the aftermath of the brutal rape of a female commuter in New Delhi, I encountered the Indian media alternately effervescing in Bollywood-style jubilation or convulsing in grief and mortification. The subsequent student outrage had ignited dialogue and indicated a growing middle class tipping towards greater emancipation. While women remained vulnerable on the streets, in contrast, many wielded great power in art, politics and the media -- albeit within the cocoon of the educated classes. Nowhere more visible was this than in India's emerging art scene where some of the most influential figures in the forefront happen to be women.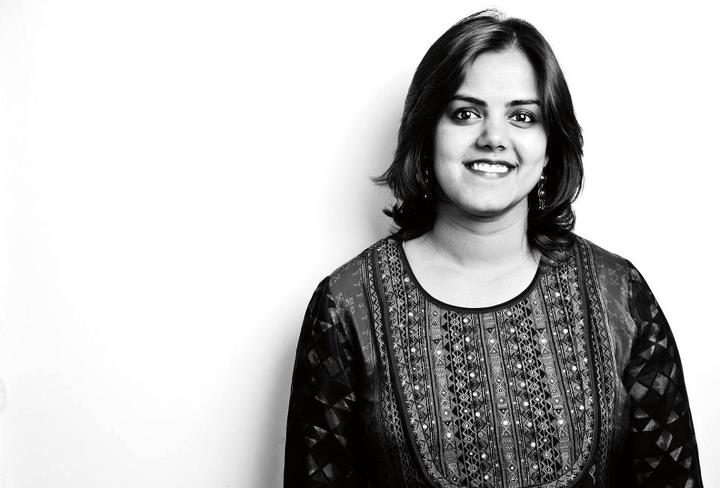 Neha Kirpal, founder of India Art Fair
In 2008, the 29-year-old Neha Kirpal founded the India Art Fair while working as an executive at a Delhi-based PR firm. Initially disregarded by the larger Mumbai galleries the fair had begun small, with 30 galleries participating, but had grown since to include more than a hundred in its fifth edition in 2013. This year, Kirpal partnered with the shareholders of Art Hong Kong, Sandy Angus, and Will Ramsay who also runs Pulse and the Affordable Art Fair, drawing leading international collectors, with collateral events spread across the city.
Sharan Apparao of Apparao Galleries, who exhibited at the fair, also runs her own auction house, and says the market in India is doing well. Her curated show at the Lodhi Hotel during the Delhi art fair created a lot of sales from international traffic. But access to these events remained limited, taking place at high-security enclaves and international embassies, and showed no greater trend towards the democratization of art.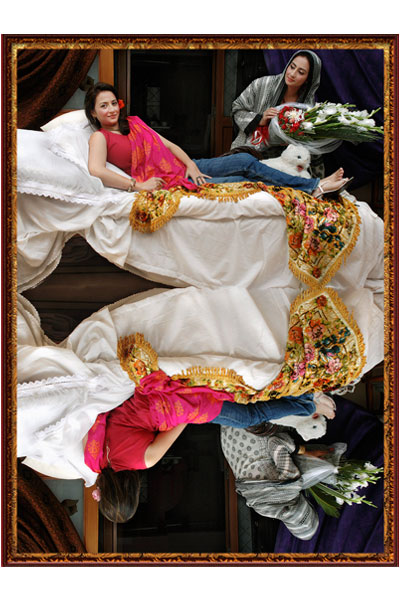 Amber Hammad: from her exhibition series 'Glocal', looks at how relationship to dress is culturally linked to globalization. Courtesy of Wonderwall Gallery, New Delhi.
Art for the people then is still a tentative arena. The Delhi Art Gallery is currently hosting an exhibition on modern Indian nudes, mostly female, that attracted protests from the Hindu right wing. The owners refused to shut it down, citing among other reasons, the long tradition of nudity in Hindu mythology.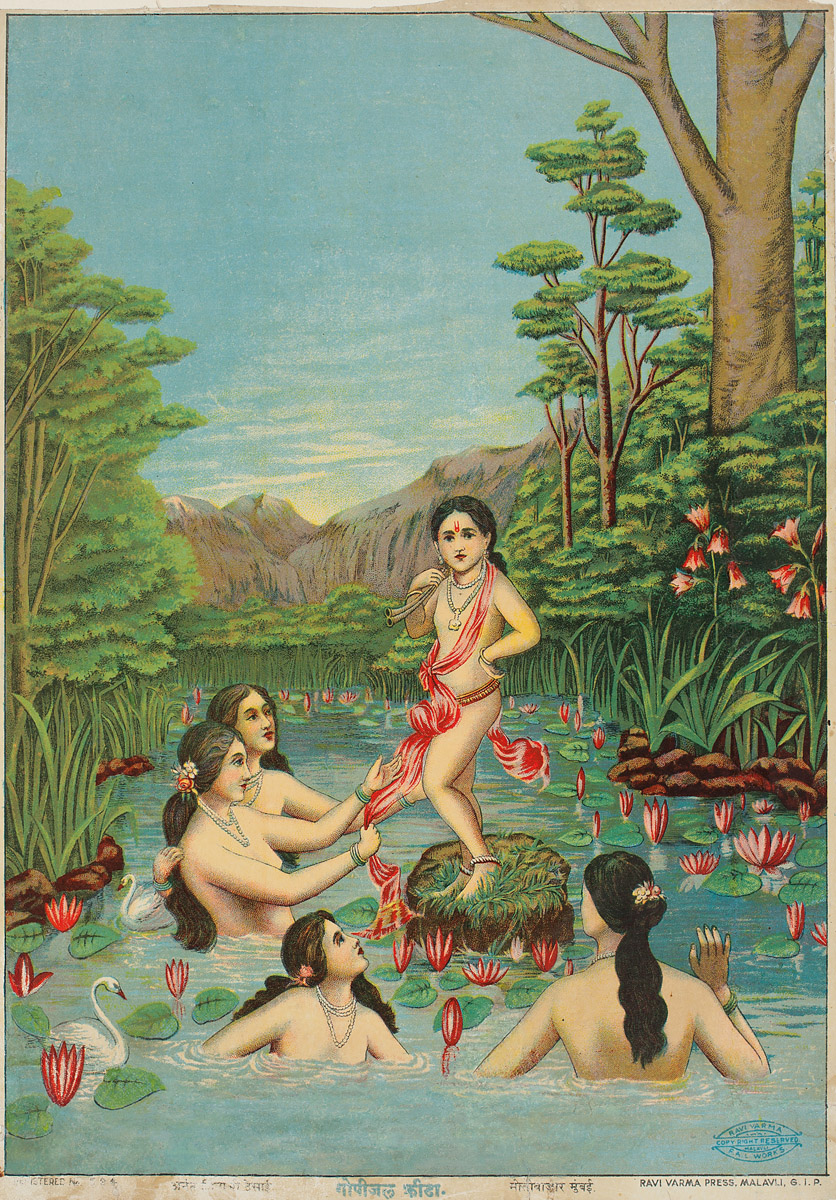 Ravi Varma, Untitled. Oleograph, 13.5 X 9.7 in. (34.3 X 24.6 cms) Courtesy of Delhi Art Gallery
Such contentions underscore art's role as a luxury, niche commodity in this largely impoverished country where the price of rice still determines the next election. Compared to the level of monetary transactions that take place at Basel, Miami and Hong Kong, the contemporary Indian market is still in its infancy. Women have money to spend, and they customarily spend it on jewelry, investing in precious metals and gems. Contemporary high-end silverware by Frazer & Haws and bespoke jewelry by H. Ajoomal for example, are flourishing, and through sophisticated buyers, a palette is gradually developing for serious art investments. Yet, the value of an artist's work often remains secondary, and in many places like Jaipur, jewelry can be bought by weight with fixed labour costs.
In a country where even the highest grossing industrialists consider their children's weddings their greatest act of philanthropy, Kiran Nadar is an exception, having recently opened the Kiran Nadar Museum of Art.  The wife of the billionaire IT entrepreneur Shiv Nadar, the two had been active as philanthropists, funding education. Nadar told me after a tour of her residence, "I am not the only exception, but there aren't that many people who focus on art in their homes. Art is not a consideration; art has not become a collectible. My interest in doing up my home was that it should center around art."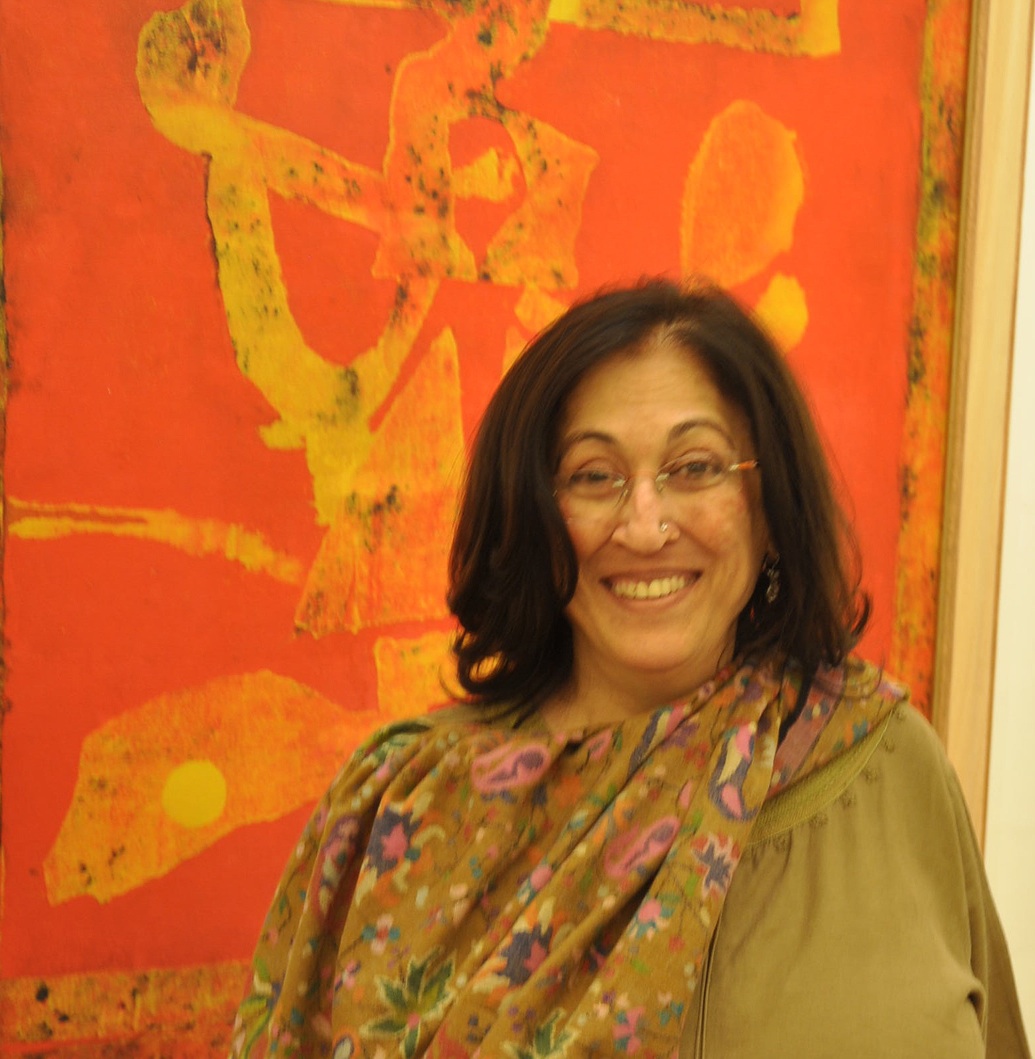 Kiran Nadar at her home in New Delhi. Photo: Kisa Lala 2013
Nadar began with classical works but soon travelled to collect art from the Indian diaspora, and commission custom works by emerging artists for her residences. After the collection began to exceed her storage capacity, she began to consider the option of building a museum. "I never imagined it was going to be so tough. Delhi doesn't have a museum-building culture, and it's one thing to build the space and have a great exhibition but you want people to come and see it. Generating foot-traffic is a great task."
Another leading collector, Rakhi Sarkar of CIMA galleries in Kolkata, whose personal collection focuses on the region of Bengal, is also the director of the yet-to-be-completed, Herzog de Meuron designed Kolkata Museum of Art, (KMoma), for which funding has been languishing. Until there is more interest, government funding of public art projects remains low priority.
The Kiran Nadar museum was designed inside a mall complex, which in Indian cities operates as a safe communal space, an alternative to the streets. "We'd like to get land to build a permanent space for a museum, we are giving something to Delhi so we expect the government to be much more supportive," says Nadar. "But that doesn't happen. They are short sighted. Bombay has no space, and is even harder. Delhi has more land but needs a more supportive attitude."
Amrita Sher-Gil (1913 - 1941) in front of one of her paintings
On view at Nadar's museum was a special exhibition of Amrita Sher-Gil's self-portraits, arguably India's best-known woman artist of the 20th century. Born in Budapest in 1913 to a Sikh aristocrat and Hungarian lady, she was raised in the Indian hill town of Simla but later sent to study at the Ecole des Beaux Arts in Paris where under tutelage of post-impressionist masters and the salon circuit, her painterly skills flourished. Yet it was on her return to India that her training in Western art, inspired by the local palettes and flavours of the country, took on an original turn. She portrayed the shadowy, emaciated women of villages with a flair that was stylistically western yet Indian in spirit, painting the sensualities of women with different cultural identities. For her provocative explorations, she died amidst scandal and notoriety in Lahore in 1942, at the young age of 28.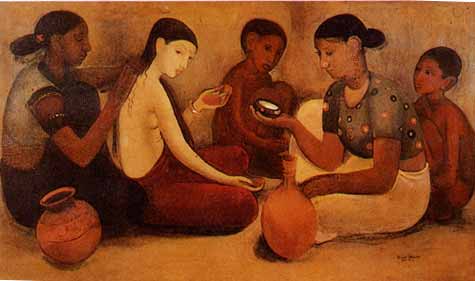 Amrita Sher-Gil, Bride's Toilet, 1937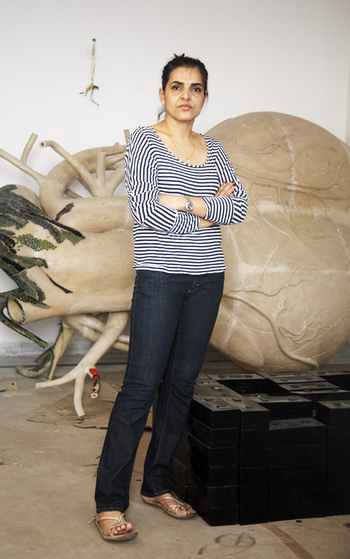 Bharti Kher, Courtesy of Hauser and Wirth NY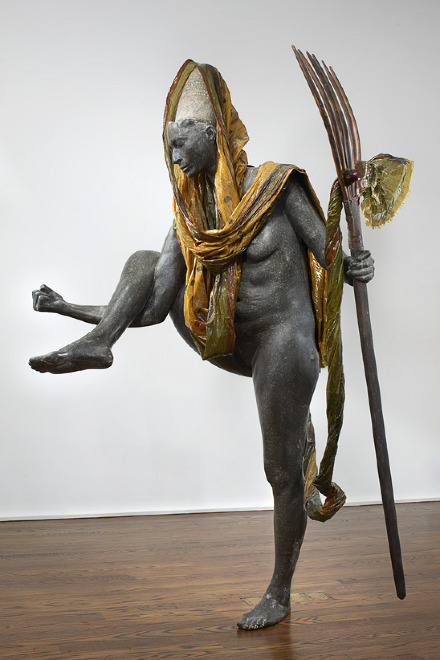 Bharti Kher, The messenger, 2011 Fibreglass, wooden rake, saree, resin 188 x 136 x 84 cm Photo: Genevieve Hanson - Courtesy of Hauser and Wirth NY
Moving onto today's best selling woman artist, Bharti Kher's works underscore the evolution of Indian art from purely figurative works to more conceptual based art. Her recent focus on the symbol of feminine beauty, the bindi, the third eye and her hybrid goddesses, can also be viewed at Nadar's museum. British-born Kher, along with her artist husband Subodh Gupta, have taken up residence in Gurgaon, Delhi's tributary megapolis that has burgeoned overnight from its buzzing call centers.
Also in Gurgaon is Lekha Poddar and her son Anupam Poddar, the team behind India's first private art museum, the Devi Art Foundation founded in 2008, which helped catalyze the art market with its progressive curatorial vision. The elder Poddar was the daughter of India's industrialist G.P. Birla who created the classic Ambassador car, once ubiquitous on Indian roads.
Performances at the museum by the Raqs Media Collective created an engaging counterpart to the art fair. Poddar says she tries to make her museum more accessible to younger generations stating, "Fifty percent of the population is below 35, and you need to get them excited about art and culture." Inevitably, there may be the need for meaningful investigation into the function of structured art in a country already evolving as a kind of 'organic art' in motion. Still, women like Kirpal, Poddar and Nadar are creating progressive forums for discussion, influencing feminine expression, and as a consequence, accelerating social changes on the street.
Calling all HuffPost superfans!
Sign up for membership to become a founding member and help shape HuffPost's next chapter