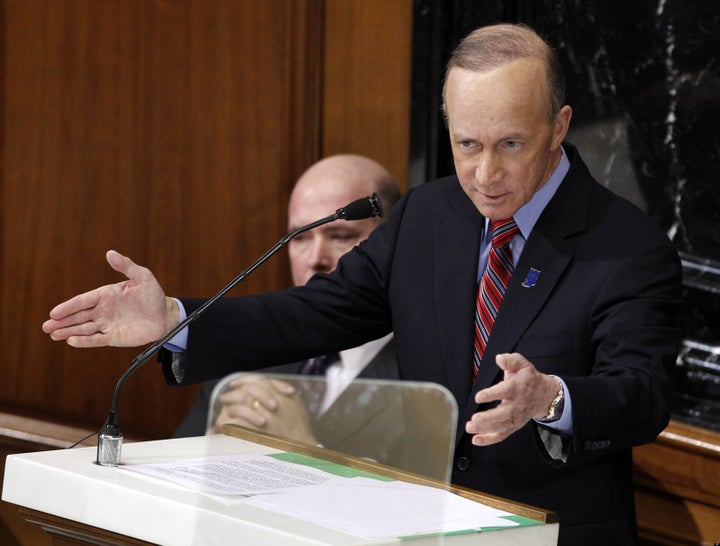 Democratic lawmakers have fled the Indiana Statehouse to prevent passage of Republican-backed anti-union legislation, copying a tactic used by Wisconsin state Democrats last week to block similar legislation. In the face of the walkout, Republican Gov. Mitch Daniels suggested Republicans drop the bill on Wednesday.
The chairman of the Indiana Democratic party says the legislation would lower wages for Indiana workers. The bill would make Indiana a "right-to-work" state, which would prevent unions from entering agreements with employers requiring workers to be union members as a condition of employment. Right-to-work laws are on the books in 22 states.
"On average families in right to work states make $5,500 less income than working Hoosiers," said Dem chairman Dan Parker in an interview with HuffPost. "This bill would depress middle class wages here in Indiana." (According to AFL-CIO calculations using Labor Department data, workers in right-to-work states make $5,333 less than their counterparts in non-right-to-work states.)
Democrats are protesting the right-to-work bill along with several others, including one that would ban collective bargaining by public sector employees. Parker said Indiana Democrats drew inspiration from the public reaction to a similar move by Democratic lawmakers in Wisconsin, who fled the state to prevent passage of a bill that would destroy collective bargaining rights for public workers. Republicans say they're going after union members' pensions and collective bargaining abilities in an effort to tame swelling state deficits.
Demonstrators rallied at the Statehouse on Monday and staged a sit-in on Tuesday. Protests will continue all week, according to Allison Luthe, an organizer with a local labor group called Central Indiana Jobs With Justice.
Parker wouldn't disclose the whereabouts of the Indiana lawmakers, refusing to confirm reports they'd fled to Illinois or Kentucky. A spokesman for House Democratic Minority Leader B. Patrick Bauer also refused to confirm those reports.
Daniels said in December that he didn't want Republican lawmakers to push the right-to-work issue, which they had not campaigned on, because it would distract from his agenda. "I think if you're going to try to do something that fundamental, you owe it to the public to have that kind of an airing first, and that has not happened here," Daniels said, according to the Evansville Courier & Press.
A spokeswoman for Indiana House Speaker Brian Bosma told HuffPost simply that Bosma would attempt to reconvene the Statehouse at least twice more Wednesday evening. "He's hoping the Democrats will show up to do the job they're elected to do. We have a total 23 bills that risk being killed."
Parker said House Democrats would remain "in caucus" -- as in, not on the statehouse floor -- until Republicans withdraw their legislation.
The tactic has worked for Indiana Democrats before: Parker said he was the House Democrats' caucus director in 1995, when Democrats boycotted statehouse for more than a week, until Republicans abandoned a redistricting effort (a similar strategy did not work out for Texas Democrats at the time). "Like 1995, when the Republicans overreached, this all backfired against them," he said. "None of these guys ran on this issue... I think they're overreaching again."
Popular in the Community