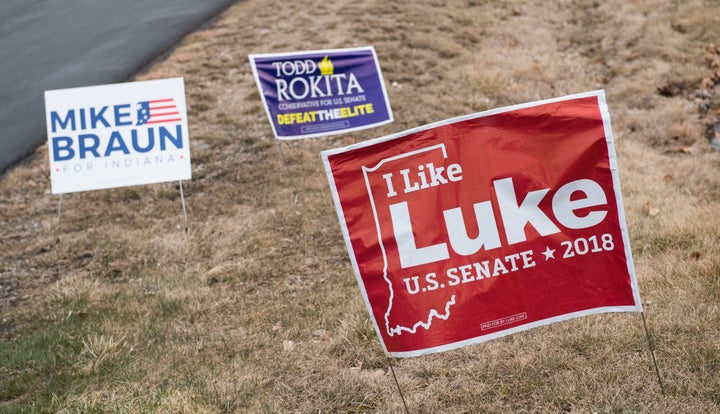 WARSAW, Ind. — Rep. Todd Rokita, campaigning in this town in northeastern Indiana, shared the stage with a special guest: a cardboard cutout of President Donald Trump.
The cutout was appropriate: While Trump hasn't weighed in on Tuesday's three-way GOP primary for the right to challenge Democratic Sen. Joe Donnelly, the president has still managed to be ever present in the race. Rokita theatrically puts on a "Make America great again" hat in one of his ads. Rep. Luke Messer, another candidate, gets big applause for nominating Trump for the Nobel Peace Prize and promises to "Make the Senate great again." And the rise of Mike Braun, a businessman and former state legislator, mirrors Trump's ascendancy in the 2016 presidential primaries.
The first major Republican primaries of 2018 are on Tuesday, giving the GOP's rank and file a chance to weigh in on the direction of the party in the Trump era. In Indiana, North Carolina, Ohio and West Virginia, Republican candidates have diagnosed their voters with a fever, and the only prescription is more Trump.  
In Ohio's gubernatorial race, Mary Taylor, who served as lieutenant governor under famously anti-Trump GOP Gov. John Kasich, is running ads in which she promises to work with Trump to build a wall on the border with Mexico and end Kasich's Medicaid expansion. In West Virginia all three Senate candidates for the Republican nomination — Rep. Evan Jenkins, Attorney General Patrick Morrisey and ex-con coal baron Don Blankenship — vigorously and repeatedly promise to pursue the president's agenda and end special counsel Robert Mueller's investigation.
But the Indiana race may provide the clearest picture of where the party will go in the Trump era. Each of the three candidates has a different theory on what GOP voters want to see down ticket during his presidency. Rokita is betting they want a candidate who's just as angry as Trump. Messer thinks they want a candidate who can make Washington work for Trump. And Braun believes they want even more outsider businessmen like the president.
'They Don't Necessarily Want An Outsider, They Want A Fighter'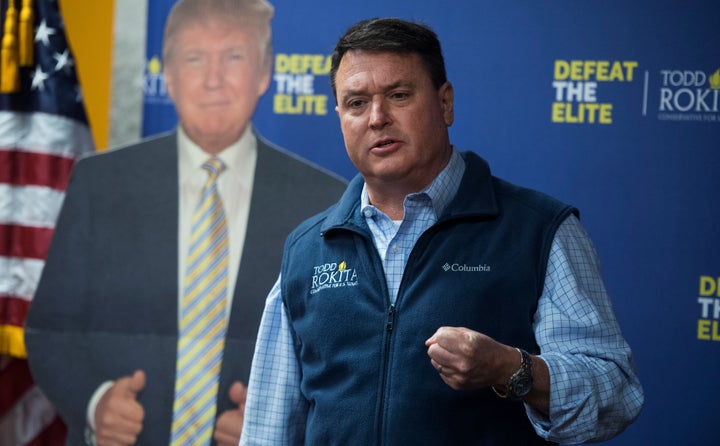 "What we need in the Senate is someone who's going to fight like this president is fighting," said Rokita, who has run an aggressive campaign. Last summer he began attacking Messer as a liberal even before his fellow congressman entered the race, criticizing him for moving his family to Washington after he was elected to Congress. Rokita has leaned hard into anti-illegal-immigration rhetoric, proposing to throw leaders of sanctuary cities and states ― he mentions Democratic Chicago Mayor Rahm Emanuel and California Gov. Jerry Brown ― in prison.  
Rokita's slogan, "Defeat the elite," draws eye rolls from Indiana Republicans who note that he is a two-term statewide elected official and three-term congressman. (His brash style has often alienated other members of his party. The state legislature drew him out of his district by 500 feet during the last round of redistricting.) But he argues that's missing the point.
"It's not that you've been in Congress. It's what you've done," Rokita told the crowd in Warsaw, citing his decision to buck leadership and vote against a massive spending bill earlier this year that Messer supported. Rokita elaborated in an interview after the event.
"My campaign is premised on what I think is the accurate assumption that people want to fight. They don't necessarily what an outsider. They want a fighter to turn the rigged system on its head," he said.
'The Average Hoosier Knows The Senate Is Broken'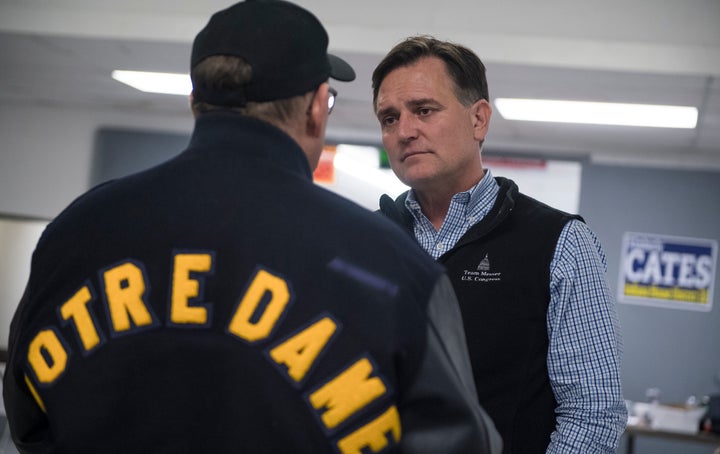 The next morning, at a coffee shop in the Indianapolis exurb of Pendleton, Messer is making a different bet. He is campaigning with Rep. Susan Brooks and is preparing to roll out the endorsement of six former state Republican Party chairs, and he's boasting of an army of college students who have made 600,000 get-out-the-vote phone calls.
So what exactly does it mean to make the Senate great again? For Messer, it means the elimination of the filibuster and the chamber's de facto 60-vote requirement to pass most major legislation — not exactly the same red meat Rokita is throwing.
"I think Republican primary voters are awakening to the problem of filibuster, the supermajority in the Senate that makes it impossible for President Trump to pass his agenda," Messer said, promising to continuing campaigning on the issue if he wins the general election. "The average Hoosier knows the Senate is broken, but they may not know why. If President Trump can bring peace to the Korean Peninsula, surely we can get rid of the filibuster."
And the vote against the spending bill that Rokita bragged about? Messer boasts of his vote for the same legislation and says Rokita's "no" shows he doesn't stand with Trump. Votes like that, in which Messer sided with House Speaker Paul Ryan, have made him popular with establishment Republicans in D.C. and Indiana.
If President Trump can bring peace to the Korean Peninsula, surely we can get rid of the filibuster.

Rep. Luke Messer
When she introduced Messer, Brooks noted that he was elected president of the House freshman class in 2012 and is now the fifth-highest-ranking member of the GOP. He has the endorsement of several Hoosier Republican heavyweights besides Brooks, including Greg Pence, Vice President Mike Pence's brother who is running to replace Messer in Congress, and Marty Obst, a former top aide to Mike Pence. Other operatives with ties to Pence are working for groups that have spent hundreds of thousands of dollars boosting Messer and attacking Rokita and Braun — the only outside spending in the contest.
'You're The Guy From The Commercials'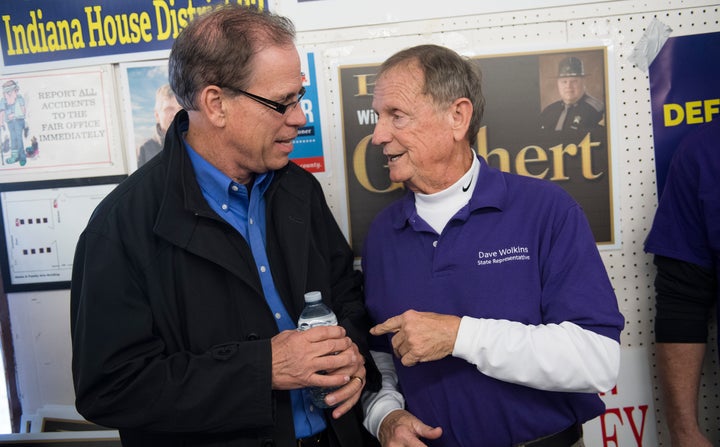 A few hours after Messer's coffee shop stop, Braun is in Noblesville, the seat of Hamilton County, a major swing county just outside Indianapolis. After posing with people for some selfies and shaking hands outside an early voting center, he sat down at Syd's, a local bar, and ordered a pork tenderloin on whole wheat, a side salad and fries when the waitress recognized him.
"You're the guy from the commercials," she said.
Braun has been getting that a lot lately. He lent his campaign $5.5 million and has used much of that on television ads telling the story of how he took a small trucking company and turned it into a national powerhouse. He's also aired a series of ads mocking the similarity of Rokita and Messer, depicting them as career politicians who have been preparing to run for Senate (and bickering) since youth.
"The spat between the two of them goes back a long way," Braun said. "It created an opening for me or for someone like me."
Like Trump, Braun has capitalized on a squabbling field of establishment politicians. Like Trump, he played up his record as a successful businessman. While he lacks Trump's bombast and penchant for inflammatory rhetoric, he has promised to build the border wall and advance Trump's agenda.
"My career trajectory has been the same," he said. "Everybody has a different style and approach. He's a New Yorker with a lot of bravado. He's brash. I think the same way, but I'm a Hoosier with a bit more humility."
And like Trump, Braun has a history as a Democrat. County records show Braun has voted in Democratic primaries since the 1980s. He's argued it was necessary to influence politics in his heavily Democratic home county in southern Indiana, but that hasn't stopped Rokita and Messer from taking shots at him.
Messer asked, "What other lifelong Republican do you know that's voted in Democratic primaries for 36 years?" 
At a debate last week, Braun, now seen as the front runner, was the subject of most of the attacks, especially over his Democratic past. But Rokita and Messer were also slammed. A voter sharply questioned Rokita over a leaked document depicting him as a tyrant of a boss, and two DUIs Messer committed while in college became a campaign issue.  
The nastiness of the primary is another reflection of the Trump era: The president specialized in destroying his opponents, paying little price for mocking "low-energy" Jeb Bush, "lyin'" Ted Cruz and "liddle" Marco Rubio.
Messer and Braun tend to blame Rokita for the negativity. "Nastiness from our colleague's campaign brings our party down and makes it harder to win in November," Brooks said in her introduction of Messer.
Rokita, the candidate doing the most to emulate Trump's style, has a different take.
"I don't mind these bruising primaries," he said. "They're cleansing."  
Calling all HuffPost superfans!
Sign up for membership to become a founding member and help shape HuffPost's next chapter