Today I learned that the State of Connecticut is welcoming a Syrian family that has been turned away by Indiana Governor Mike Pence.
Connecticut Gov. Daniel Malloy said that he was not only welcoming the father, mother, and 5-year-old boy, but he was also proud that they would come to the United States and Connecticut. This family escaped from Syria and has been living in Jordan for the past four years.
Gov. Malloy also had harsh words about Gov. Pence. "This is the same guy who signed a homophobic bill in the spring surrounded by homophobes and protested how proud he was that he had done it, so I'm not surprised by anything the governor does."
When asked for comment, Pence spokesperson Matt Lloyd replied with the following statement: "Governor Malloy's comments are sad, unfortunate and simply not true."
He went on to say, "President Obama's own FBI director stated last month in congressional testimony that there are gaps in the screening process of Syrian refugees. Governor Pence believes the safety and security of Hoosiers is his top priority and for that reason, the Governor ordered the resettlement program to be put on hold."
So my question is - what did Governor Malloy say that wasn't true? Lloyd's further comment did not address those remarks - they only addressed the issue of the Syrian refugees.
If I read this correctly, Governor Malloy was alluding to the RFRA bill that Governor Pence signed in March. Firstly, It IS true that Pence signed the bill. Secondly, Malloy stated that Pence was surrounded by homophobes as he signed the bill. That is also true. In a photo taken as Pence was signing the bill, a group of people were standing behind him, including Eric Miller, Micah Clark, and Curt Smith. These three men have definitely been ringleaders in the attempt to to ban same-sex marriage in Indiana as well as being RFRA supporters.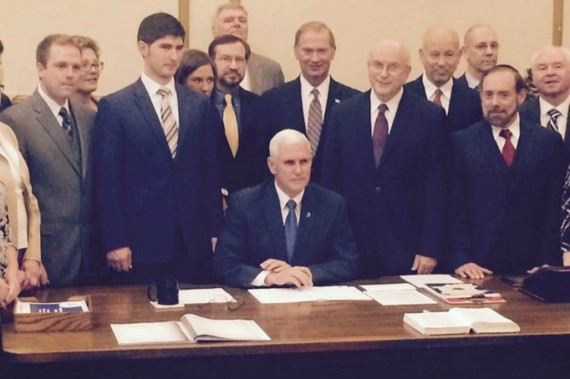 In December 2014, Micah Clark was quoted in the Indianapolis Star saying that "...it would allow small businesses -- such as bakeries, caterers, florists, and wedding chapels -- to refuse services to gay couples based on the owner's religious beliefs, he said. It would also allow adoption agencies to refuse to place children with same-sex couples."
To debunk the notion that Miller, Clark, and Smith are not exactly gay-friendly, David Badash shared some information about them in an article he wrote in The New Civil Rights Movement on March 29th:
Micah Clark, Head of the American Family Association of Indiana:
Claims that "homosexuality has no societal benefit...and its individually destructive and dangerous."
Curt Smith, President of Indiana Family Institute: 
Admits: "...I believe homosexuality is harmful to all, including society, and is against the teachings of the God of the Bible..."
Equates homosexuality with bestiality and adultery
Eric Miller, Exec. Director of Advance America, Indiana's leading anti-LGBT org.:
Claims "[b]anning same-sex marriages and civil unions will prove to be the greatest moral battle of this generation."
Distributed fear flier falsely claiming that pastors could be jailed for preaching against homosexuality once same-sex marriage passes
So again, what part of Governor Malloy's statement is not true? It's obvious that Pence's spokesperson did not want to clarify what he claimed was an incorrect statement by the Governor of Connecticut.
Actually, I do agree with two out of the three points that Mr. Lloyd made. He stated that Governor Malloy's comments were sad and unfortunate. However, I don't agree for the same reason that Mr. Lloyd does. I think it IS sad and unfortunate that Governor Pence chose to ally himself with people who really do not have the best interests of all Hoosiers at heart. And to go a step further, I think it is also sad and unfortunate that Governor Pence chooses to turn away a refugee family who has been waiting two years to relocate to Indiana. Where is his "Christian charity?" Where is his famous "Hoosier Hospitality?"
These are just a few of the reasons why I have a "Fire Mike Pence" sign in my front yard.
As far as I'm concerned, Mike Pence never fails to disappoint.
REAL LIFE. REAL NEWS. REAL VOICES.
Help us tell more of the stories that matter from voices that too often remain unheard.