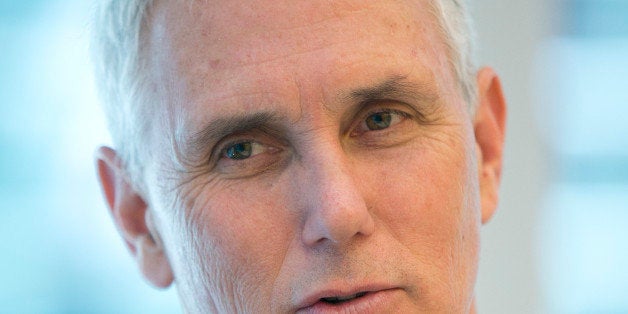 Underscoring his decision to sign the Religious Freedom Restoration Act into legislation today, Indiana Gov. Mike Pence (R) visited the Metamorphic Tattoo & Body Piercing Studio in Indianapolis Thursday afternoon, walking out with a large tattoo across his forehead that read "Right Side of History." When asked why he decided to make such a bold, permanent statement on his body, Pence replied, "I want all Hoosiers to know that the governor they elected always makes solid and rational decisions on behalf of the great citizens of this state. And now that message is permanently etched into my face for all to see."
Rather than accept the "look at the tattoo" directive Pence used to deflect any question about the RFRA legislation, one courageous journalist forcefully asked Pence why he passed a law that would surely result in discrimination against LGBQT citizens, to which Pence said, "This law is no more discriminatory than my enormous face tattoo is politically unwise. Also, I am today announcing my bid for the 2016 Republican presidential nomination."
Reporters also questioned the economic prudence of the legislation, citing the NCAA's public statement expressing "concern" in advance of next week's Final Four games to be played in Indiana. Pence, acknowledging the NCAA's position, took the opportunity to "challenge the people of Indiana to use this as a test of the strength of our economy. Do Hoosiers need large sporting events, like the Final Four men's basketball games, to bring in revenue? I can't imagine it counts for that much."
Pence was then informed that Salesforce CEO Marc Benioff announced plans to reduce investment in Indiana in response to the legislation, to which the governor replied, "I'm sure we can survive without investment from one of the world's largest information technology companies. Am I right, Indiana?"
When faced with allegations that he used a seemingly benign "religious freedom" law to mask hateful anti-gay legislation, Pence took offense. "We didn't mask anything, and I never make decisions I regret. Like this gigantic face tattoo."
Calling all HuffPost superfans!
Sign up for membership to become a founding member and help shape HuffPost's next chapter