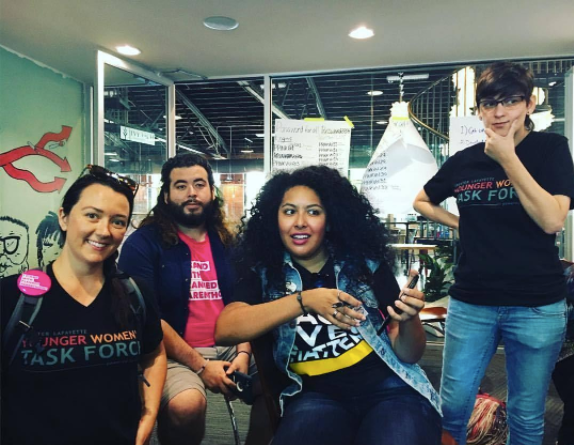 "Because we were never meant to survive and here we are creating a world full of love." - Alexis Pauline Gumbs
Every time I show a bartender my ID in this town, I already know what's going to happen.
"California? How did you end up here?"
If you know me, you know that brevity—even with strangers—is not a specific talent I possess. What starts off as a walk-by compliment of my headwrap turns into a heated, half-hour discussion with someone I don't know about how Disney films are toxic or whether or not we can live in a world where prisons don't exist. It's hard for me (especially as a "baby organizer") not to try and squeeze every last meaningful drop out of an interaction, so I've had to practice whittling down my response:
"Indiana? There's no where else I'd rather be than here."
Organizing in Indiana has given me gifts.
To be clear, I have not always felt this way. I remember the day I installed my Indiana license plate like it was yesterday. I had waited, much later than the last minute, to finally retire my California plates and to accept the reality that as far as any stranger on the road could tell, I was a Hoosier.
Here's what I knew about Indiana when I moved here: Indiana was ranked 48th in voter turnout among citizens in 2010, they didn't have Shakey's Pizza and their governor was one Michael Richard Pence.
Still, I was very optimistic, because when the context feels bleak, that just means the people who are agitating towards a better future are easy to find—if you know where to look.
Here's the deal: If you want to be an organizer, you need to remember to follow the leadership of the people most affected by the issues. And Indiana has issues.
HuffPost is hitting the road this fall to interview people about their hopes, dreams, fears ― and what it means to be American today.
I can't possibly count how many weekends I have spent walking people back to work after being fired for striking, or putting pressure on state senators who don't support bills that meet the needs of folks who were formerly incarcerated, or screaming with my friends because our governor refused to speak in support of DACA. All of these issues come back to how the state is pushing to control black bodies, brown bodies, queer bodies. We're not down with that.
Right now, the collective I work with is fighting the nomination of a circuit court judge (we're talking lifetime appointment, here) who has support from at least one of our senators. She has come out against Miranda rights and reproductive freedom. Knowing she will be the deciding factor in many huge court decisions would make it very hard to live here.
Organizing in Indiana has given me gifts, too. When I spoke at the Lafayette Womxn's Strike, my remarks included a demand for equitable pay across gender and race but also the solidarity and connections I share with local UAW chapters in a right-to-work state. As I said those words, I reflected on a lifetime of labor both of my parents committed to General Motors and the toll it took on the health of my mother, who passed away just last year. My father is proud to be a union man, and I am proud to be his daughter.
And when I wrote for a DACA (Deferred Action for Childhood Arrivals) rally recently, I was able to pull these words out from inside my brain and begin to heal:
"The Womxn of Color Collective is an organizing body of marginalized folk whose bodies carry the memory of the struggle for justice in this nation.
We remember that the DACA program was won through the organizing efforts of undocumented youth who placed their lives at risk to bring about justice for immigrants and their families.
We remember that immigration is a reproductive justice issue. Reproductive justice demands that EVERY member of this community is given the ability to determine not only if they have a family, but also the conditions under which they raise that family. 
We remember that the current immigration enforcement system stands to profit from the incarceration and deportation of queer communities, communities of color, cognitively exceptional communities, and people with chronic illness.
We remember that our destinies are tied together, and every day without justice is another day that we lose a comrade, another day that we lose a piece of ourselves.
The Womxn of Color Collective is made up of laborers, mothers, immigrants, and organizers who believe in and rely on programs like DACA and we will fight to keep it alive."
All of us have something to give to the revolution.
Also, it doesn't hurt that Indiana invented something called a tenderloin sandwich, and I would move here a million more times just for that alone. Indiana is the home of Eugene Debs, of warrior and Shawnee Chief Tecumseh, and of a restaurant called India Sizzling II, and if it weren't for my incredibly patient Blaxican family waiting on the West Coast, I think I would be here forever.
I work with womxn and femmes of color because our lives have taught us that everything we do is political. Standing alongside them and growing through their leadership has shaped my politics. More directly, they have shown me that all of us have something to give to the revolution. Because, of course, as Dolores Huerta says, "The power is in your body." Learning this was my first step into another life and a new future.
I was given a gift to be here. I urge you to start feeling that way about wherever you are living, right now.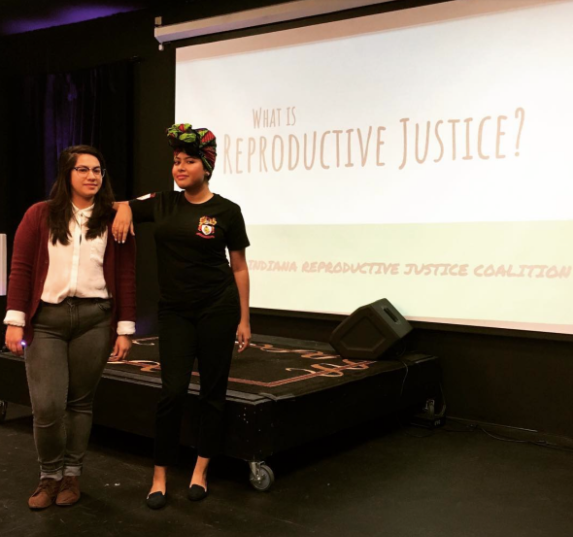 REAL LIFE. REAL NEWS. REAL VOICES.
Help us tell more of the stories that matter from voices that too often remain unheard.