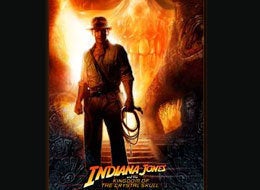 Now that the poster for Indiana Jones and the Kingdom of the Crystal Skull has been revealed, some details from the super-secret plot also can be officially exposed.
Indiana Jones co-producer Frank Marshall is authorized to confirm some rumors and detail some of the story, about a quest for South American relics with supernatural powers.
When last we saw Indy, he was riding off into the sunset in 1989's The Last Crusade, set in 1938 near the start of World War II. The new movie, due this spring, is set at the height of the Cold War in 1957, so the character has aged in real time -- 19 years.
Popular in the Community