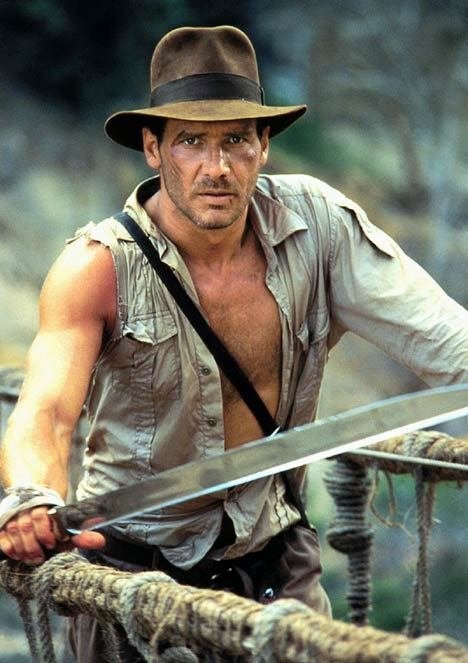 Who among us doesn't long for adventure, fortune and glory? When I first heard about the Indiana Jones archaeological museum exhibit debuting in Montreal on April 28, I realized we all relate to the epic quests of legendary truth-seeker Indiana Jones. Played by the ever-dashing Harrison Ford in movies released between 1981 and 2008, the earnest, brooding hero made archaeology sexy and ancient relics titillating.
I remember seeing Indiana Jones and the Temple of Doom in 1984, when I was an awkward, bespectacled kid. I remember the one-liners, the fedora, the triumphant theme song that made me sure that good would triumph over evil. Maybe things were simpler then, or maybe I was just young(er). But like our hero Indy, I believed that things would change.
With the franchise still going strong, there's no better ambassador than Dr. Indiana Jones to make the science of archaeology exciting and relevant to a worldwide audience of all ages. As such, on April 28, the Montreal Science Centre hosts the world premiere of a major new interactive "museum experience," Indiana Jones and the Adventure of Archaeology. (And who doesn't love a glamorous world premiere?) Using state-of-the-art multimedia technology, the exhibit features a mind-blowing collection of ancient artifacts and Indiana Jones movie materials (like props, set designs and conceptual art). The show runs in Montreal through September 18 before hitting the road for stints in Canada, Europe and Asia. (New York fans take note: the Montreal show is its closest scheduled stop.)
Here's how the exhibit goes down: You get a hand-held video companion guide to assist on your quest to solve various archaeological mysteries as you navigate through the 10,000 square-foot exhibit, from the "Indy Trail" to various archaeological zones and interactive adventures. Alongside your new BFF Indiana Jones, you'll experience the real stories behind relics like the Holy Grail and decipher ancient scripts. You'll learn how real-life archaeologists solve mysteries around the world from Peru to fictional places like Akator and Mayapore. You will be titillated!
Yet this exhibit is no fairy tale. If you're wondering where the fact comes in, look no further than a little organization called the National Geographic Society, whose other traveling exhibitions have been seen by more than six million visitors. Along with the Penn Museum, they assembled actual artifacts and historical facts and figures for the show, whose other partners include Lucasfilms Ltd. and Montreal's X3 Productions. 

For tickets and information, visit indianajonestheexhibition.com. For more about Montreal, check out the Montreal Buzz blog at www.tourisme-montreal.org/Blog/
REAL LIFE. REAL NEWS. REAL VOICES.
Help us tell more of the stories that matter from voices that too often remain unheard.