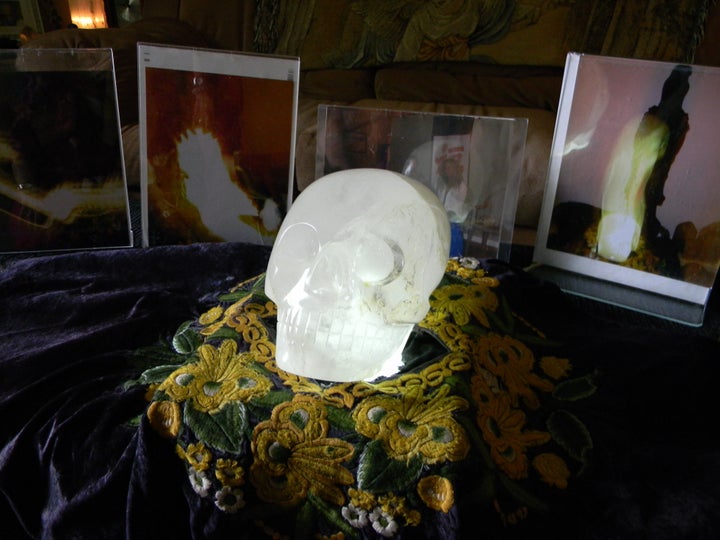 Erie, Penn. -- His name is "Max." He is made of clear quartz and was discovered nearly 100 years ago in a Mayan tomb in Guatemala.
Max is believed to be between 5,000 and 36,000 years old, and ancient legend has it that Max is one of 13 life-size crystal skulls that exist in the world. It is also known for partly inspiring the crystal skull in the most recent Indiana Jones film, according to his keeper, JoAnn Parks.
Parks, a resident of Houston, Texas, is currently on tour with Max. AOL Weird News caught up with her Sunday in Erie, Penn., where she had given a lecture and was offering private hands-on sessions with the crystal skull.
"There are many people who think he's from another planet and is encoded – an encoded messenger," Parks told Weird News. "Some believe he was part of Atlantis as well. I think he's been in cultures that have come and gone that we didn't even know existed."
Whatever his origin, Max is known nationally and internationally. He has been featured in documentaries by A&E Network and the Discovery Channel and was once researched by the British Museum for a TV special that aired on the BBC.
"The British Museum authenticated Max with a 'no comment' because they couldn't figure out how he was created," Parks said. "They know he is very old because [he is made up] of the five different growth patterns and two matrixes."
Many people who come into contact with Max claim to have profound visions and psychic experiences.
"The first time I sat down with him ... I went into a trance state. I don't know what happened after that," Erie resident Bubba Suprynowicz told AOL Weird News. Suprynowicz and his wife, a local spiritualist, helped arrange for Max and Parks' visit.
According to Parks, Max does not represent "anyone's religion."
"He's not about religion," she said. "He's not here to help someone find a religion or a church. He's here to help and guide each individual who's come into contact with him to find peace, harmony and forgiveness within one's self."
How did a housewife in Houston become the keeper of an internationally known skull?
According to Parks, she and her husband, Carl, were introduced to an American Tibetan healer named Norbu Chin in 1973, when their 12-year-old daughter, Diana, was dying of bone cancer. Chin, a former American spy turned Red Hat llama, had come to Houston in the early 1970s and founded the Chakpori Ling Healing Foundation, Parks said.
When her daughter died three years later, Parks ended up working for Chin for the next four and a half years. During that time, Parks said she watched monks talk to the skull and use it in healing practices. She learned Max had been discovered in 1924 in a tomb under a Mayan temple in Guatemala. In the 1970s, a Shaman in Mexico supposedly gave it to Chin as a gift.
"[Chin] was backed by Apollo 14 astronaut Dr. Edgar Mitchell, the late Doris Duke, of Duke University, the late actor Yul Brynner, and Tom Selleck Jr., son of Texas billionaire Tom Selleck Sr.," Parks claimed.
Before he died in 1977, Chin gave Parks the crystal skull and, according to her, said, "Take this and someday you will know what it is for."
So, Parks said she took it home and put it in a box in a closet for ten years.
"It appeared to me in dreams," she said. "Can you imagine going to your closet and talking to a rock for 10 years? So, I pushed it a little further back in the closet, put some pillows on it and said 'I don't want anything to do with you.' But the dreams kept coming."
Parks said she was watching TV in June 1987 when she saw a TV show about F.R. 'Nick' Nocerino of California -- a man who, according to Parks, is considered the world's foremost expert on ancient crystal skulls. The show prompted her to go to the Houston Museum, where she learned of several other skulls that are in museums in France and England.
"[The Houston Museum] said they are so unusual that little is known about them and they wanted to put [it] on display," Parks said. "I said, 'No. You don't know what it is and I don't know what it is, so I'm not going to put it on display.
"So, I brought it home and put it back in the box. I patted 'Skull,' -- that is what I called him -- on the head and telepathically, through my mind, I heard him say 'my name is not Skull, my name is Max.'
"I jumped up and I said, 'Holy Moly, I got a rock in a box in the closet and he's got a name.' So I pushed him further back and I said 'No, I don't want nothing to do with you.' He said, 'I'm a tool. I'm a teacher. I will serve mankind in a unique and special way.' "
Since that time, Max and Parks have traveled across the United States and to several countries, including France, Holland and England. Along the way they have met thousands of people and even a few notables, including actress Shirley MacLaine, singer-songwriter Willie Nelson and folk singer Arlo Guthrie, Parks said.
The concept of the crystal skull has been used in various works of fiction, most notably "Indiana Jones and the Kingdom of the Crystal Skull" -- a fictional film that revolves around the lore of crystal skulls.
"Max was part of the inspiration [for the film]," Parks said. "They used to come and listen to my lectures, and I did meet one of the producers, Frank Marshall."
The ancient legend that holds Max is one of 13 ancient crystal skulls of the world dictates that one day all of the skulls will be reunited and their collective wisdom shared. That same legend, however, cautions that it will only happen if the human race has sufficiently evolved, so that the power is not abused. Will the legend someday become prophecy? Only time will tell, Parks said. For now, she relies on her own interactions with Max and offers the following interpretation:
"To me, Max is in the shape of a skull because it's the universal symbol of man. Human skulls are keepers of knowledge, [a] reflection of man and extension of one's own self," she said.
Parks and Max will next be making an appearance in New Hampshire. For information on dates and times, or to find out when they might be in your area, you can write to Parks at maxandjoann@hotmail.com or visit their Facebook page.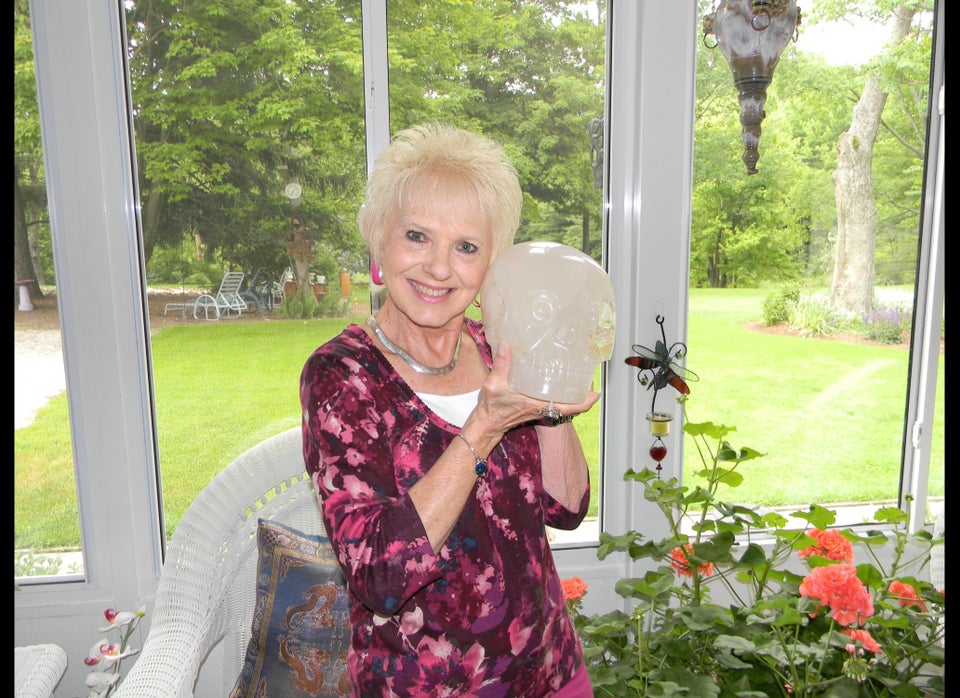 Max The Crystal Skull
Popular in the Community