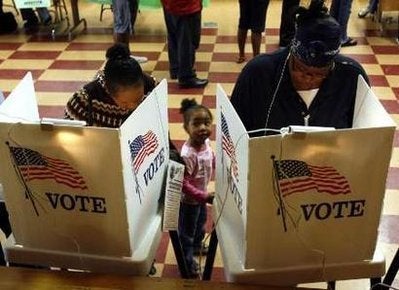 An Indiana judge ruled on Tuesday that Republican poll watchers violated a court order regarding the correct process for challenging voters on election day, according to the NAACP's Legal Defense Fund.
In late October, Democrats and Republicans in Marion County were ordered not to use lists of voters who had been foreclosed on -- or who had been evicted from their homes -- as the sole basis of any election day challenge at the polls.
For Indianapolis voters in particular, the prospect of having their residency status challenged on the basis of home foreclosure was understandable: last year, nearly 26,000 homes were foreclosed on in the city.
On Tuesday afternoon, the NAACP's legal arm went to court alleging that GOP poll watchers did not have copies of the previous court order, as they said the order itself required. NAACP officials had no knowledge of voters having their eligibility challenged based on foreclosure and eviction lists. But they alleged that at the very least, GOP polling officials were not adhering to the initial court order.
In response, Marion County GOP lawyers responded that all Republican poll workers had been previously trained on the court's standing order.
The judge, John Hanley, agreed with the NAACP, ruling that the Republican workers had failed to follow the previous order to the letter. (Hanley did not address whether or not any GOP poll watchers had improperly challenged any voters today.)
"Our position was that they needed to have the the court order and the credential together," said Jenigh Garrett, assistant counsel for the NAACP Legal Defense Fund. "The court's remedy is that they would have to remove any [poll-watcher] without the order from the polling place. They can't be in the polling place without it."
The issue comes down, essentially, to trust. A Marion County Republican spokesperson said that all poll workers were trained not to use foreclosure or eviction status as the sole basis for any residency challenge. "We did poll training with every single one of our poll workers," said the local Republican official. "We handed them the agreement, letting them know that these foreclosures are not a valid basis to challenge residency."
Democrats, as well as the judge, now want every Republican challenger to carry the court order at all times when present at polling places.
Garrett said the judge was reassured, to some degree, by claims from both Republican and Democratic poll watchers who said challenges had been infrequent so far on Tuesday.
Popular in the Community