Indiana's GOP attorney general is fighting to get rid of a bipartisan agreement to expand early voting locations in the state's most populous and diverse county ― a move that Indiana's secretary of state, also a Republican, says is "reckless" and against the will of voters.
State Attorney General Curtis Hill is fighting an agreement unanimously approved by the three-person election board in Marion County, home to Indianapolis. The agreement would require the county to establish at least two early voting sites for primary elections and five for general elections, beginning this year.
Despite being the most populous in Indiana, the county has had only one early voting site since 2008 because the sole Republican on the three-person county election board wouldn't vote for any additional ones. Local chapters of the NAACP and Common Cause sued the board, and a federal judge ordered it to open more early voting sites. In April, a federal judge ordered the county to establish at least two early voting locations in time for the November midterm elections.
Rather than face more litigation, the county board of elections negotiated the settlement. Under the agreement, the board still has the power to pick the early voting locations and hours.
In a last-minute filing on Tuesday, Hill asked a federal judge to block the consent decree, saying it runs afoul of a state law that gives the local election boards the power to decide where early voting can take place. Hill argued that the agreement to expand the number of early vote locations is "contrary to public interest" because it requires the board to establish more early voting locations and infringes on Indiana's right to run its elections.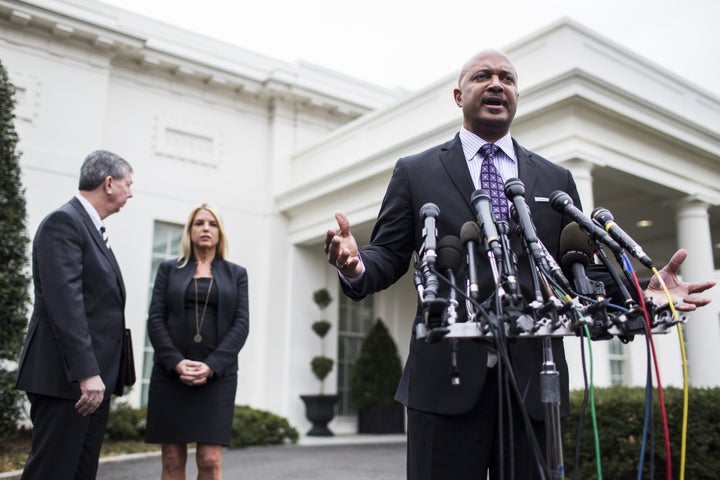 U.S. District Judge Sarah Evans Barker denied the attorney general's request on Thursday, saying neither of Hill's objections had merit. The Marion County election board had unanimously approved the agreement to expand the early voting sites, Barker said, and Hill's request merely reflected his preference for federal officials to stay out of voting rights cases. Hill is appealing the decision to the U.S. Court of Appeals for the 7th Circuit.
Hill's decision to intervene evidently irritated Indiana Secretary of State Connie Lawson, a fellow Republican, who released a sharply worded statement on Tuesday criticizing Hill's request to block the settlement.
"I oppose Attorney General Hill's intervention in the Marion County satellite voting case. I did not ask him to do this. He did not have the professional courtesy to provide me notice of his motion, even though I am named as a party in the suit," said Lawson, who was dismissed as a defendant in Hill's suit last year. "The Attorney General's filing does not reflect the will of Marion County voters. By his reckless action, the Attorney General has disrupted more than 18 months of productive, bi-partisan conversations."
Justin Levitt, a law professor at Loyola Law School, said it was unusual but "not unprecedented" for an official to challenge the legitimacy of a consent decree. Those challenges tend to happen, he said, when an official suspects the parties in a consent decree have colluded. That doesn't appear to have been the case in Indiana.
Republicans have blocked early-voting expansion in Democratic-leaning Marion County since Barack Obama carried the state in the 2008 presidential election. However, they've allowed it in several GOP-friendly counties, according to a 2017 analysis by The Indianapolis Star. Lawyers for the board conceded last year that voters in Marion County were more likely to experience longer wait times because of the single early voting location.
Julia Vaughn, the policy director for Common Cause Indiana, said in an interview that people in Marion County should have the same opportunity to vote early as people in other counties. The sole reason Marion County lacks as many early voting locations as other counties, Vaughn said, is partisan politics.
"This isn't Attorney General Hill's fight," she said. "The fight was resolved. For him to say that somehow it is not in the public interest for Marion County voters to have similar access to early voting is an absurd claim."
REAL LIFE. REAL NEWS. REAL VOICES.
Help us tell more of the stories that matter from voices that too often remain unheard.