WASHINGTON -- With a proposed state constitutional ban on same-sex marriage on life support, Indiana House Speaker Brian Bosma (R) suddenly gave it new life Tuesday, moving the legislation from the skeptical committee that was reviewing it to a friendlier, more conservative panel that is likely to vote it through to the full chamber.
Marriage equality is already illegal in Indiana. But HJR-3 would make the ban more permanent by amending the state constitution to define marriage as being between one man and one woman. Once it passes out of the House, it would need to clear the Senate before the public votes on it as a ballot measure.
Bosma's move took opponents of the ban by surprise. The bill was on track to receive a vote in the state House Judiciary Committee, which would normally review such legislation. But when three Republican members expressed reservations about the language in the amendment, Bosma decided to instead move it to the House Elections and Apportionment Committee, which crafts election law. It's scheduled to receive a vote Wednesday afternoon.
"I strongly suspect that the move to the Elections Committee was done to ensure that the legislation would be approved and sent on to the full House," said House Democrats spokesman John Schorg.
"It feels like getting the rug pulled out from under us," added Jennifer Wagner, spokeswoman for the pro-marriage equality group Freedom Indiana.
Bosma spokeswoman Tory Flynn said the chair of the House Judiciary Committee approached the speaker last week and said he didn't think he had the votes to get it out of committee.
"It's an exercise of power, but it's not an abuse of power," Flynn said. "Our rules actually allow the speaker to assign bills. That's his power. And with that comes the power to assign and reassign."
Rep. Dan Leonard was one of the Republicans on the House Judiciary Committee who didn't support HJR-3. One of his concerns was that the amendment's second sentence would prohibit the state from authorizing civil unions in the future.
"I hesitate about putting social issues in the constitution," he added. "I view the constitution as a governing document, more of a document of how you do things as opposed to what you should do."
When asked what he thought of Bosma moving HJR-3 to a new committee, Leonard replied, "Quite honestly and very frankly, that is the speaker's prerogative. That is why we elected him speaker is to make those decisions. ... I think it was probably the right thing to do for someone who wanted the bill to come out of committee."
The ban would need seven votes to pass out of the 13-member Elections Committee. Five members have already said they will vote for it, and one is leaning in that direction, according to the Star, meaning the bill only needs one more vote to advance. None of the undecided committee members returned a request for comment from The Huffington Post.
Wagner admitted that she believed HJR-3 would clear the committee, which will take up the bill at 3:30 pm.
"We've got 10 people signed up today to testify at 3:30," she said. "I'm actually sitting here with boxes full of letters for each of the lawmakers on the committee -- from their district, from constituents -- that we're going to give to them. We've been working the phones and continuing all of our efforts."
Yanking the bill away from its traditional committee also didn't sit well with all Republicans. One House member told the Star that 10 to 15 caucus members didn't like what Bosma did. And as LGBT blog the Bilerico Project noted, Andy Markle, a gay Republican running for the state House, announced in a Facebook post that he was leaving the Republican Party over what Bosma had done:
It is with a heavy heart but with a clear conscience that I announce the end of my run for Indiana State House of Representatives, District 99, as a Republican. With today's announcement by House Speaker Brian Bosma, that he is using extraordinary and unprecedented rules to change House Joint Resolution 3's committee assignment, I have no choice but to resign my candidacy as a Republican.

As an openly gay male and a conservative, I find it deplorable that the state would choose to take such extraordinary measures to disenfranchise me and my fellow LGBT brothers and sisters. In an era where my party declared that it was the party of "small government" and "less intrusion", it has been confirmed that it is not the party of small government or less intrusion.

I am not leaving the Republican Party; the Republican Party has left me.
"I don't think that one person, one university president, or one person in the board room of a corporation should make this decision," he said. "It needs to be made by the elected representatives that are gathered together for the people. This is a tough one. We will decide it...collaboratively. There's not going to be a dictatorship in one direction. I know members of my caucus have strong feelings. Many of them have chosen to share them publicly or privately. We'll work through it."
Flynn argued that the speaker's move was actually allowing more people to participate in the process.
"The majority of the House Republicans wanted to have the opportunity to vote on this and not have it stall in the committee process, but wanted it to come to the floor for it to be further vetted and have an opportunity to vote," she said.
When asked if Bosma would be willing to move the bill again if it doesn't appear it can clear the new committee, Flynn replied, "I don't think so."
UPDATE: 10 p.m. -- After hours of testimony Wednesday afternoon, the elections committee voted 9-3, along party lines, to advance HJR-3. (One Democratic representative was out because his child was ill.) It now heads to the full House, where it may get a vote next week.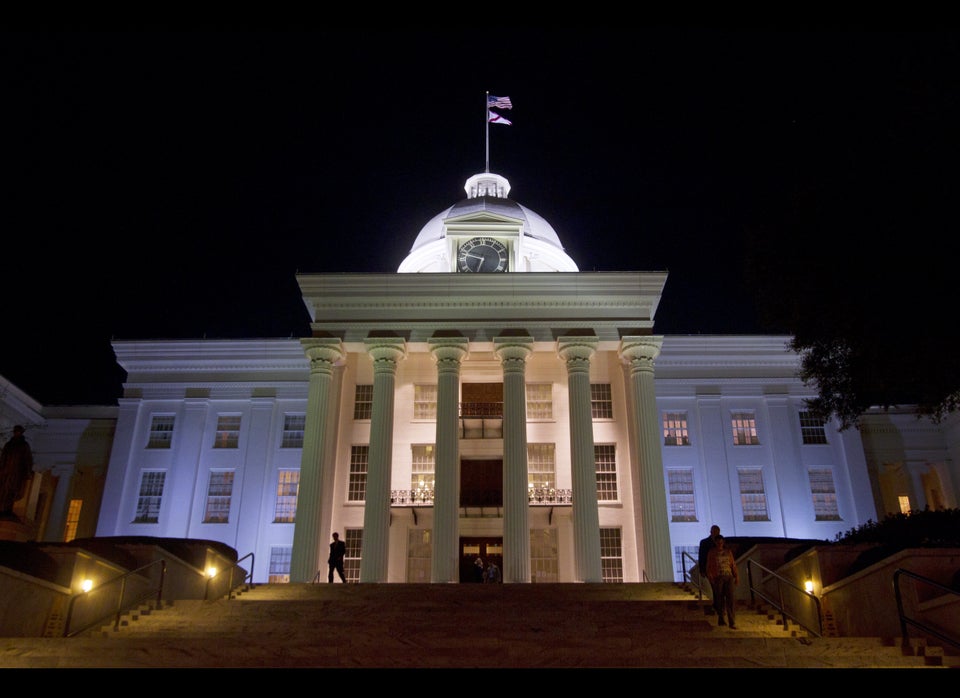 U.S. State Capitol Buildings
Popular in the Community