At least two people have been injured in a school shooting in Indiana.
Local and state police responded to reports of an active shooter at Noblesville West Middle School just after 9 a.m. Friday, Chief of Police Kevin Jowitt told reporters at a news conference. Jowitt confirmed that two people were injured with gunshot wounds: one teacher and one student.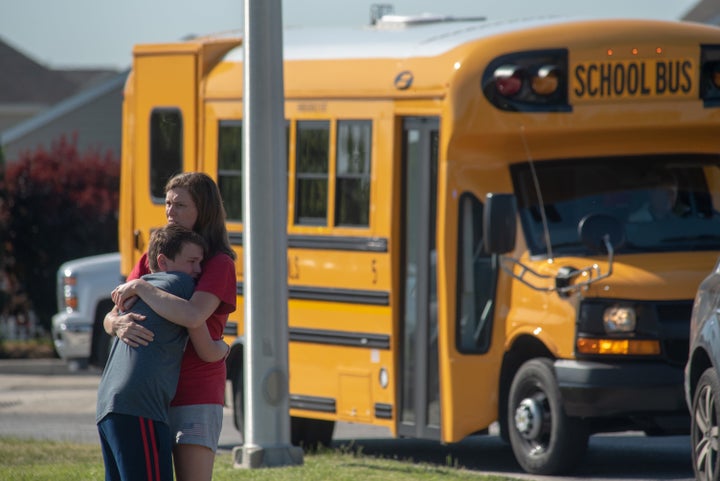 One adult victim was transferred to Methodist Hospital, and one child victim was transferred to Riley Children's Hospital, Danielle Sirilla, a spokesperson for Indiana University Health, confirmed to HuffPost Friday morning.
Their families have been notified, and the school is now clear and "contained," Jowitt said.
One male student at the school, believed to be the suspect, has been detained.
The suspect was "apprehended in the classroom or in that area," police public information officer Bruce Barnes said.
According to police, the suspect asked to be excused from class before the shooting occurred. He returned with two handguns. The situation was "resolved very quickly," but police are still investigating.
Police would not identify either the injured victims or the suspect.
Local news outlets identified the injured teacher as Jason Seaman, a science teacher and football coach, according to his LinkedIn profile. Parents said that he intervened to try to stop the suspect. He underwent surgery for three gunshot wounds, his mother, Kristi Seaman, wrote in a Facebook post.
Jowitt said that the school employs a full-time school resource officer, but does not know if he was involved in the shooting. Police provided few other details, citing the ongoing investigation.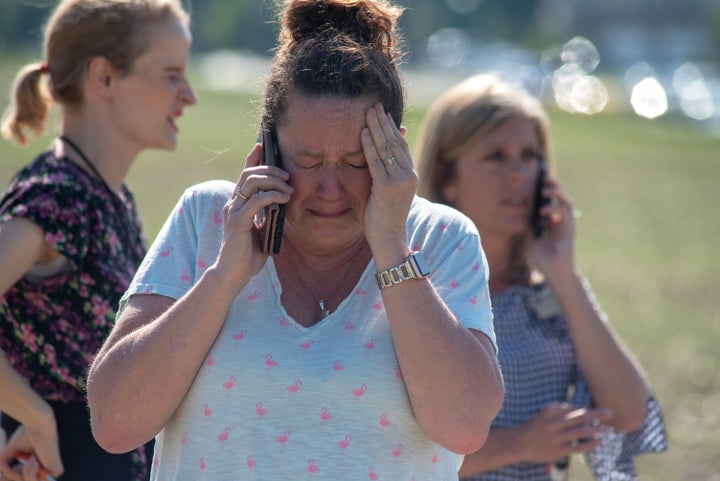 On Friday morning, officers also responded to another "communicated threat" at Noblesville High School, but Jowitt said police believed that's nothing beyond a threat. 
The high school was placed on lockdown while a SWAT team searched the school, according to Richard Passey, a parent of a high school student. Passey added the threat was believed to be a "hoax."
Parents had been instructed to pick up the middle school students at the high school. Middle school and high school students at the high school were being released to their parents shortly before noon, according to local news reports.
Vice President Mike Pence, who previously served as governor of Indiana, offered prayers for the victims.
Noblesville West Middle School, located about 30 miles northeast of Indianapolis, serves about 1,300 students, according to statistics reported to the Department of Education. 
Indiana is widely known as a "gun-friendly state" for having some of the least restrictive gun laws in the country.
See more images from the scene below:
Sara Boboltz contributed reporting. This story has been updated.
CORRECTION: An earlier version of this story stated the school is northwest of Indianapolis. It is northeast of the city.
REAL LIFE. REAL NEWS. REAL VOICES.
Help us tell more of the stories that matter from voices that too often remain unheard.