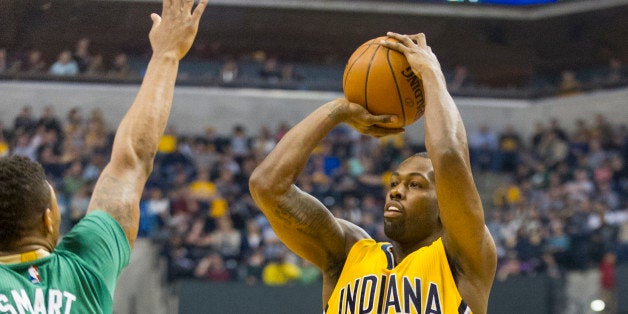 WASHINGTON -- The backlash to Indiana's new "religious freedom" law grew stronger Saturday, with professional basketball organizations and teams condemning the measure.
"The game of basketball is grounded in long established principles of inclusion and mutual respect. We will continue to ensure that all fans, players and employees feel welcome at all NBA and WNBA events in Indiana and elsewhere," said a joint statement issued by the National Basketball Association, the Women's National Basketball Association, the Indiana Pacers and the Indiana Fever.
Indiana Pacers and Fever owner Herb Simon added that all fans and players will continue to be welcome at his games.
"The Indiana Pacers, Indiana Fever and Bankers Life Fieldhouse have the strongest possible commitment to inclusion and non-discrimination on any basis," he said. "Everyone is always welcome at Bankers Life Fieldhouse. That has always been the policy from the very beginning of the Simon family's involvement and it always will be."
Indiana's new Religious Freedom Restoration Act will allow any individual or corporation to cite its religious beliefs as a defense when sued by a private party. But what most troubles opponents of the legislation is that it could open the door to widespread discrimination. Business owners who don't want to serve same-sex couples, for example, may now have legal protections to discriminate.
Indiana Gov. Mike Pence (R) signed the legislation Thursday despite opposition from business leaders, convention organizers and even the Republican mayor of the state's largest city.
The NCAA, which is set to hold its men's Final Four game in Indianapolis next week, also condemned the new law Thursday. Reggie Miller, the former NBA star who played for the Pacers for 18 years, tweeted his disappointment Friday:
Other businesses that have criticized Pence for signing the law include tech giant Salesforce -- whose CEO said the company will be canceling events in the state -- and Angie's List -- whose Republican CEO said he will not be moving forward with a $40 million expansion of the company's headquarters in Indianapolis.
"Angie's List is open to all and discriminates against none," Bill Oesterle said, "and we are hugely disappointed in what this bill represents."
Under pressure, Pence told the Indianapolis Star on Saturday that he will back the introduction of a bill to "clarify" that the law does not promote discrimination against lesbian, gay, bisexual and transgender individuals. Such a measure could come next week.
"I support religious liberty, and I support this law," Pence said. "But we are in discussions with legislative leaders this weekend to see if there's a way to clarify the intent of the law."
But gay rights advocates greeted Pence's announcement skeptically. Human Rights Campaign President Chad Griffin tweeted that legislation would need to include explicit LGBT protections -- something that Pence has already said is not on his "agenda."
"You can't 'clarify' discrimination. Indiana now has billions of dollars and thousands of jobs on the line, all because the Governor wouldn't stop this dangerous bill," added Katie Blair, campaign manager of Freedom Indiana. "He has a second chance to save our reputation for Hoosier hospitality, but he has to stand up and protect LGBT Hoosiers."
Want more updates from Amanda? Sign up for her newsletter, Piping Hot Truth.
Popular in the Community