Over the past seven years, as Republicans repeatedly blocked Indiana's most populous and Democratic-friendly county from adding early voting locations, election officials in GOP-leaning districts approved several early voting locations of their own.
Individual, bipartisan county election boards in Indiana must unanimously approve a decision to add early voting sites. Three-person election boards in Indiana consist of the county clerk and one Republican and one Democrat appointed by the circuit court clerk.
In 2008, the election board in Indiana's Marion County ― home to the capital, Indianapolis, and the state's highest African-American population ― voted to add two early voting sites at a local high school and community center in an effort to make it easier for people to vote. The new additions brought the county's total number of early voting sites to three. Marion County voters that year overwhelmingly voted for Barack Obama, who became the first Democrat to win Indiana since Lyndon Johnson in 1964.
Two years later, the Marion County election board again tried to add more early voting sites, but the single Republican sitting on the board blocked it. The same thing happened in 2012, 2014 and 2016.
Maura Hoff, the Republican who voted against expanding early voting sites in 2016, declined to comment on her vote, citing ongoing litigation.
When the move was rejected in 2014, it came after Elizabeth White, at the time the Marion County clerk, described the success of early voting locations. Marion County at that point was down to just one early voting location again, and White pointed out that parking lots at that site would soon be unavailable due to construction. White and another member of the board supported the motion to add new locations, but the Republican member voted no, killing the motion. Minutes for the meeting do not offer an explanation for why Vincent Perez, the Republican on the board at the time, voted against the motion.
Today, Marion County, the state's most populous county, has only one early voting site, and it's made a difference. Marion County saw a 26 percent decline in the number of in-person absentee ballots ― the kind used at early voting locations ― between 2008 and 2016, the Star found.
While Marion County has struggled, Hamilton County, a Republican-friendly area north of Indianapolis, has had more success increasing early voting opportunities. The county added two new locations in 2016 and has seen a 63 percent increase in in-person absentee voting since 2008. The county, which has a population of 316,373, has three early voting locations. Marion County, which has a population of 941,229, has just one.
Kathy Richardson, the elections administrator in Hamilton County, said that even with the two new locations, some of the voting sites have had waits of up to two hours. In 2012, 30,146 people voted absentee in Hamilton County, and while the county did not track in-person early voting, Richardson estimates that 20,000 people may have voted early that year. In 2016, after Hamilton County added its two new vote centers, 42,132 people cast in-person absentee ballots there.
The Star notes that three other Republican-friendly counties also added early voting sites and have seen a similar increase in early voting. While different boards are making the decisions in each of the counties, the discrepancies underscore how a heavily Democratic part of the state has suffered due to repeated Republican refusals to expand early voting.
Richardson said it's difficult to compare the expansion of early voting opportunities in her county to the lack of a similar expansion in Marion.
"I can't judge what Marion County needs to do, because I don't know what their capabilities are as far as equipment and stuff," she told HuffPost. But if the county has the equipment and the personnel, she added, then it would make sense for them to add new early voting sites.
"If they don't have the resources to man them, it gives you another site, but I don't know that it's any better," she said. "The fact that that is a large county like that ― the ability to have to go downtown or whatever, I don't know how easy it is to go to a government center and park. I don't have the resources to answer that question, whether it's better for them or not."
Julia Vaughn, policy director of the Indiana chapter of Common Cause, a progressive watchdog group suing the Marion County election board over its refusal to expand early voting, said she believes adding more early voting locations wouldn't cost much, because there are already plenty of government buildings where the county could hold early voting.
In March 2010, Patrick Dietrick, the Republican then serving on the Marion County election board, voted against adding early voting sites, citing concerns about "process" and backend operations. He also said he didn't believe the county should be spending money on early voting given an uncertain economy. Two years later, Dietrick again voted to block adding more satellite vote locations, but meeting minutes don't offer an explanation for his vote.
In a June filing in the Common Cause lawsuit, which is also being brought by the Indiana NAACP, lawyers for the board conceded that early voters and Election Day voters in Marion County were more likely to experience "longer lines and wait times than would otherwise exist." However, the lawyers said in the filing that Republican officials did not have to offer a reason for voting against new early vote locations.
Vaughn said the numbers in the Star's analysis only support her group's contention that a lack of early voting options makes a difference.
"Numbers don't lie. This really bolsters the claims that we're making in our lawsuit that the lack of early voting options in Marion County is having a significant impact on early voting," she said. "The fewer locations you have, the more difficult it's going to be for people to access early voting."
Support HuffPost
The Stakes Have Never Been Higher
Before You Go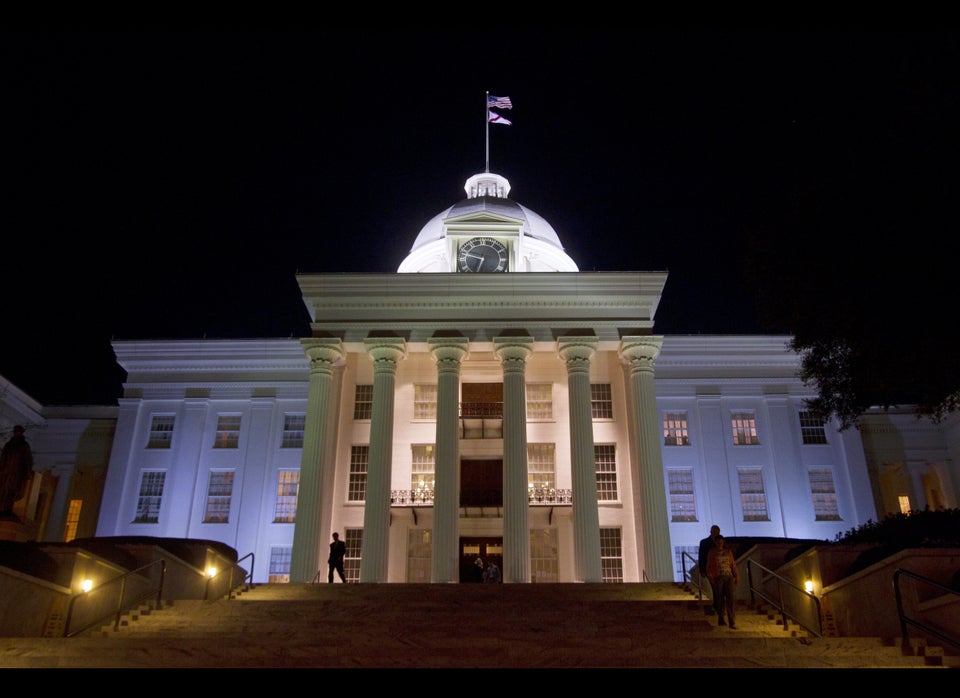 U.S. State Capitol Buildings
Popular in the Community