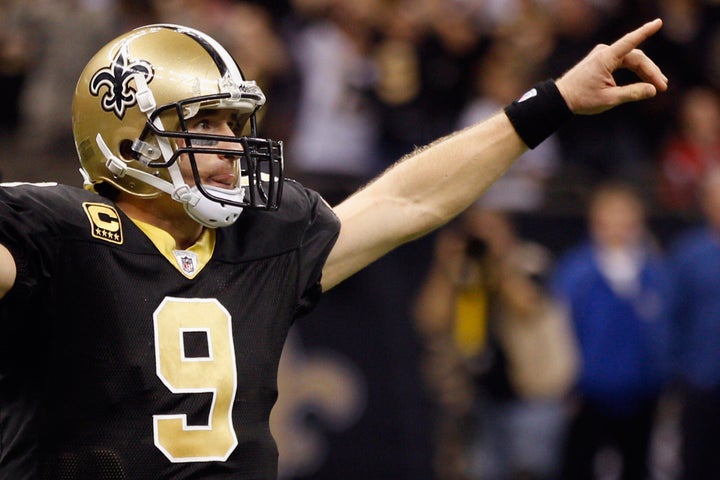 WASHINGTON -- The union representing NFL players spoke out Friday against a controversial right-to-work bill on the table in Indiana, arguing that the legislation is merely a "political ploy" that would drive down workers' wages if it became law.
"NFL players know what it means to fight for workers' rights, better pensions and health and safety in the workplace," the National Football League Players Association said in a statement. The right-to-work bill, the statement went on, is "not about jobs or rights, and it's the wrong priority for Indiana."
A union spokesperson could not immediately be reached for further comment.
The controversial bill in question would effectively turn Indiana into a "right-to-work" state, meaning workers there could not be required to pay unions dues at private companies as a condition of employment. Right-to-work laws are generally supported by business groups and opposed by labor unions, and there are now more than 20 right-to-work states in the U.S., mostly in the South and West.
The Indiana bill has broad support among the state's GOP majority in the General Assembly and Republican Gov. Mitch Daniels, but unions and labor groups have rolled out an advertising campaign to fight it. Business owners and their allies argue that employees shouldn't be forced to join unions, and they claim that right-to-work laws make states more attractive to companies. Those on the left tend to argue that right-to-work laws weaken collective bargaining and drive down wages, and that workers shouldn't be allowed to benefit from such bargaining without paying dues.
The NFLPA cited a report by the liberal Economic Policy Institute that says the right-to-work bill would lower wages for both union and non-union workers in Indiana by about $1,500 annually. The bill would also make it more difficult for workers to secure health care and a pension, the report argued. (Labor groups often refer to right-to-work laws as "right to work for less.")
Noting that the upcoming Super Bowl will be hosted by Indianapolis, the union called on Indiana lawmakers to oppose the bill. "This Super Bowl should be about celebrating the best of what Indianapolis has to offer, not about legislation that hurts the people of Indiana," the union said.
The Indiana bill is part of the larger fight between GOP lawmakers and labor groups in states throughout the country in recent months. Right-to-work legislation was pushed in a handful of states last year, notably in New Hampshire, where union leaders cheered Democratic Gov. John Lynch's veto of a right-to-work bill passed by the GOP-controlled statehouse.
The NFLPA was recertified last year as the union for NFL players, and the group soon ratified a new contract with league owners and rejoined the AFL-CIO. The union's opposition to right-to-work legislation isn't its only stance endearing it to liberals these days: Its most recent collective bargaining agreement banned discrimination against players by management due to their sexual orientation.
Popular in the Community