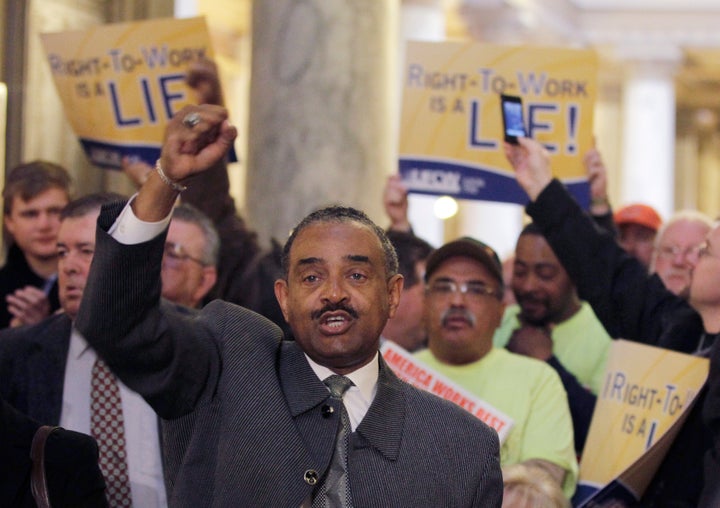 WASHINGTON -- Less than a month into its 2012 term, the Indiana General Assembly has become deeply divided, after resurrecting a fight over controversial right-to-work legislation that disrupted the body's work last year.
On Wednesday, Indiana House Democrats stayed out of session and denied the chamber the quorum necessary to move forward in order to protest their GOP colleagues' attempts to push through the measure. As a consequence, Democratic members potentially face fines of $1,000 per day until they return.
The current controversy is over Democrats' attempts to add amendments to the legislation. Democrats wanted the right-to-work issue made into a referendum, so that the people of Indiana would vote on it directly.
"We wanted the vote to be up or down," said House Minority Leader Patrick Bauer (D). "The Republican Party wanted to skip the people completely, skip the election process and then skip the referendum process on whether or not you can have this bill, which many consider a 'right to work for less' -- less pay, less safety less health care."
This week, the Legislative Services Agency, the nonpartisan research arm of the Indiana General Assembly, found the Democrats' amendment unconstitutional, saying the state constitution does not allow for a binding referendum on a state law. When Democrats requested additional days to refashion their proposal, state House Speaker Brian Bosma (R) turned them down, calling it another "delay tactic."
"We tried to address this last year, and they walked out for five weeks. We've had over 25 hours of public hearings on this issue. They've had ample amount of time to prepare amendments," said Tory Flynn, a spokeswoman for Bosma.
Democrats, led by Bauer, caucused in the statehouse rotunda on Wednesday morning, joined by labor supporters. But when Bosma gaveled the chamber into session at 9:00 a.m., they did not show up. Labor protesters reportedly "cheered, booed and yelled such things as 'Occupy Super Bowl.'" Bosma had to adjourn since there were not enough members present for a quorum -- two-thirds of the 100-member body. Republicans hold 60 seats.
Later on Wednesday, House Republicans approved a resolution declaring that "[e]ffective immediately, each member of the House of Representatives who remains intentionally absent and unexcused on a session day in which a quorum is not established or maintained shall be fined an amount of $1,000 per day for each session day absent."
Bauer said Democrats will stay away until they have drafted a new version of their amendment, which they expect will occur by the end of this week. Bosma will try again to call the chamber into session on Thursday morning.
"The Speaker plans to gavel in at 9:00, and he hopes that common sense prevails with the Democrats' caucus," said Flynn.
Bosma charged that Bauer has failed to uphold his "very public" promise to show up for the legislative session.
Last February, Indiana Democrats left the state and went to Illinois for five weeks to stop their GOP colleagues from moving forward on right to work legislation. Indiana Gov. Mitch Daniels (R) persuaded the legislature to postpone the bill, although he said he still supported Indiana becoming a right-to-work state.
Bosma levied fines that totaled $3,150 after the episode. Democrats are still challenging those fines in court, and they plan to go to court to contest any new fines they receive.
There is no indication that Democrats plan to leave the state again.
"We are doing work. We have committee hearings going. If they want to get on the floor with these other bills, we're willing to do that," Bauer told The Huffington Post, adding that he and Bosma still have not spoken directly.
Twenty-two states already have right-to-work laws. The most recent state to pass such legislation was Oklahoma, which did so in 2001.
Popular in the Community