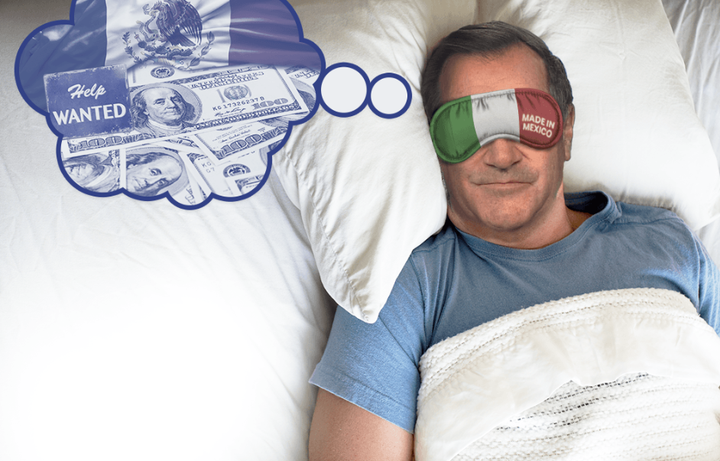 The Republican Party picked its line of attack on Indiana Sen. Joe Donnelly (D) long before former state representative Mike Braun defeated two sitting U.S. congressmen to become the GOP nominee this year.
They stuck with the Mexico angle even after Donnelly sold the stock, and even after The Associated Press reported that Braun owns an auto parts distribution company that sells a lot of Chinese products.
On Monday, Braun's campaign made a website ― www.joesendsjobsto.mx ― that shows Donnelly taking a "siesta" because he's so tired from selling out Hoosiers all day.
So I emailed spokespeople for Braun: "I understand that Donnelly previously owned stock in a family business that has a factory in Mexico ― but doesn't Mike Braun currently own and operate a company that imports many products from China? Is that hypocritical or am I missing something?"
Braun spokesman Josh Kelley responded: "That's a lie: Mike Braun does not own or operate a company in China. 100 percent of Mike's jobs and company are located in America."
But the question wasn't whether Braun owns or operates a company in China ― only if his company based in Jasper, Indiana, sources material from abroad. That is essentially the same thing Braun criticizes Donnelly for having done. Both the foreign factory tangentially connected to Donnelly and the consumer products Braun imports from China theoretically represent a missed opportunity for American workers.
Given the international nature of automobile supply chains, there's nothing unusual about a distributor selling foreign parts. It would be "pretty much impossible to avoid imports from China in the car accessory business," said Frank DuBois, an auto supply chain expert with American University's Kogod School of Business.
It's just curious that a political candidate who distributes foreign auto parts would campaign so aggressively on his opponent's past stock ownership in a firm that uses foreign labor. It's a prominent part of Braun's campaign, alongside criticism that Donnelly has remained undecided on Supreme Court nominee Brett Kavanaugh.
Presumably, the Braun campaign thinks associating Donnelly with Mexico will energize base Republican voters, who rallied to Mexico-bashing Donald Trump over Hillary Clinton by a wide margin in the state in the 2016 election.
The website Braun's campaign put up Monday to mock Donnelly's supposed love for sending jobs to Mexico doesn't even explain the origin of the claim. (It shows him sleeping because Trump, during a campaign rally for Braun last month, called Donnelly "Sleepy Joe," a nickname he's used for other people as well.)
The offshoring criticism comes from Donnelly's financial disclosures from the U.S. Senate, which indicate he owned between $15,000 and $50,000 worth of stock in his brother's arts and crafts company where he had previously worked. The AP reported last year the California-based firm has a factory in Mexico. Donnelly, a critic of free trade policies that make it easy for American companies to use lower-paid foreign labor to make their products, said he sold the stock a month later.
Braun, meanwhile, has not renounced foreign manufacturing. And his campaign is wrong to claim the candidate doesn't have company operations in China, Indiana Democratic Party spokesman Michael Feldman said in an email, since some of the products sold under one of Braun's personal brands are made in China.
"Rep. Braun still hasn't explained why his company chooses to support over 10,000 factory jobs in China at the expense of Hoosier workers, and his continued attempts to deceive Hoosiers make it clear that Indiana can't trust Rep. Braun," Feldman said.
A recent Marist College poll suggests Donnelly, who has campaigned as a Trump-friendly moderate, may be pulling ahead in the race. Experts have considered Donnelly one of the most vulnerable Senate Democrats, especially since Trump carried the state by nearly 20 percentage points.
This article has been updated with comment from the Indiana Democratic Party.
Popular in the Community