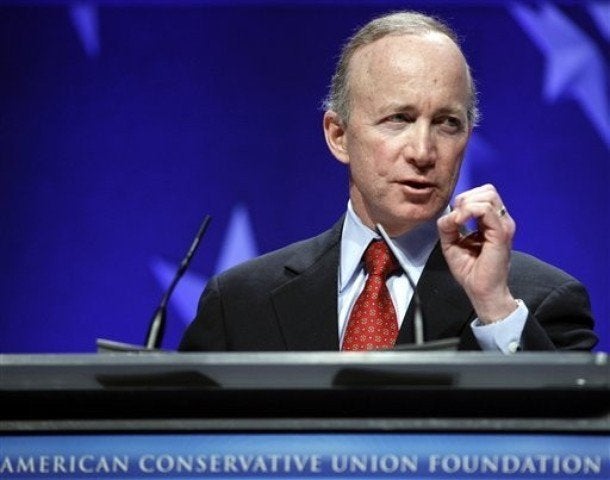 WASHINGTON -- Indiana officials delivered an end-of-year surprise to state residents on Friday, announcing a limit on the number of people who can be inside the statehouse at any one time. Democratic and labor leaders swiftly condemned the move as an attempt to quash dissent and reduce the size of public protests.
Effective Jan. 1, only 3,000 people will be allowed inside the building at one time. That number includes the 1,700 state employees who work there, meaning that just over 1,000 others will be able to assemble on a given day.
The rule was drafted by the Indiana State Police, the state's homeland security department and the state fire marshal's office. Gov. Mitch Daniels (R) appointed the heads of all those offices.
"For generations Hoosiers have been welcomed to the Indiana Statehouse where they could speak directly to their elected representatives about legislative matters that impact their daily lives," said Indiana AFL-CIO President Nancy Guyott in a statement. "But with this decision by the Daniels administration, it is the people's house no more."
Last February, thousands of union supporters gathered at the statehouse to protest the GOP-controlled legislature's push to pass "right to work" legislation, which would have barred companies and employees from negotiating contracts that required all employees to pay representation dues.
Republicans are expected to take it up again when they reconvene for the 2012 session on Wednesday, and labor leaders had anticipated thousands of Hoosiers turning out at the statehouse next week to make their opposition known. With the new rule, however, they will be barred from coming in en masse.
"This policy is designed specifically to prevent working Hoosiers from coming to the Indiana Statehouse to register their concerns about implementation of a 'right to work for less' policy that will give them fewer jobs at lower pay in unsafe workplaces," said Indiana House Democratic Leader B. Patrick Bauer in a statement. "It now appears the governor will do anything to silence the thousands of Hoosiers who oppose this plan, including abandoning concepts of free speech and assembly that are the founding principles of government."
State Police Superintendent Paul Whitesell, however, told the Indianapolis Star that the capacity limit was being implemented strictly for safety reasons.
"During the last legislative session, several scheduled events were interrupted or canceled, and we want everyone who visits or schedules an event in the building to have a pleasant and successful experience," he said.
Indiana State Teachers Association spokesman Mark Shoup said he was also concerned about the effect the rule would have on residents who weren't trying to protest but simply wanted to speak with their elected officials.
Democratic leaders are calling on the governor to overrule Whitesell. The governor's office did not return a request for comment.

REAL LIFE. REAL NEWS. REAL VOICES.
Help us tell more of the stories that matter from voices that too often remain unheard.
BEFORE YOU GO