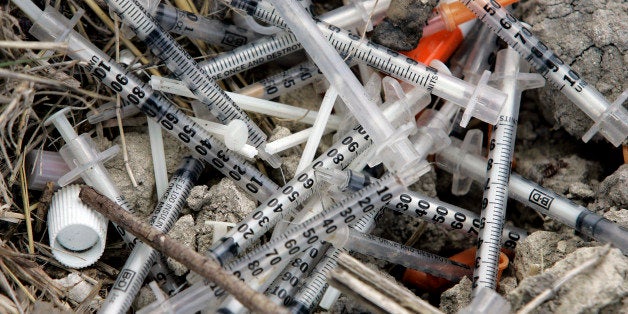 Indiana's Republican Governor, Mike Pence, is implementing a 30-day syringe exchange program in Scott County to combat escalating HIV/AIDS infection rates. It is part of a public health emergency he declared to keep Hoosiers safe. This plan is welcome news but one program operating in one county for one month is not going to stop an epidemic. Some legislators want real reform and the governor should work with them. Thousands of lives are at stake.
Syringe exchange programs are not new. They operate in dozens of U.S. states and are the cornerstone of fighting HIV/AIDS, hepatitis C and other infectious diseases in many countries around the world. In addition to preventing the spread of infectious diseases these programs offer critical health services to people who inject drugs, and often are a bridge to drug treatment. The programs also help get contaminated syringes off the streets, keeping neighborhoods safe, while ensuring that when police officers search suspects they don't accidentally prick themselves and contract a disease.
I was born and raised in Indiana. My uncle Tommy died from liver complications related to hepatitis C, which he most likely contracted from injection drug use earlier in his life. When he was diagnosed with liver failure he was living a sober life, rebuilding relationships with friends and family, and finally doing well in life. Unfortunately his past mistakes caught up with him, cutting his life short, and depriving our family of someone we cared deeply about. Had he had greater access to sterile syringes he might be still be with us, telling jokes and sketching portraits of family members which he liked to do.
Decades of research in the U.S and from around the world has concluded that making sterile syringes widely available through syringe exchanges and other means reduces the spread of infectious diseases without increasing drug use. (If I handed you a sterile syringe would you run out and suddenly start using heroin?) By preventing people from contracting infectious diseases that can be expensive to treat, syringe exchange also saves money by reducing healthcare expenditures. A sterile syringe can cost as little as a nickel; treating someone with HIV/AIDS can cost taxpayers more than one million dollars.
The Centers for Disease Control and Prevention (CDC) recently determined that HIV /AIDS infection rates have soared in Scott County on account of the sharing of syringes used for the injection of the prescription painkiller Opana, heroin and other drugs. This isn't an issue limited to one county, or even one state. In the U.S., injection drug use has accounted for more than one-third (36 percent) of AIDS cases - more than 350,000 people. Hundreds of thousands more have contracted hepatitis C.
Yet the U.S. bans federal funding for syringe exchange programs, even though the CDC has found that such programs lower the spread of infectious diseases among people who inject drugs by up to 80 percent. This refusal to adopt an evidence-based prevention strategy has cost the U.S. hundreds of thousands of lives and millions of dollars. In countries where addiction is treated as a health issue, the fight against HIV/AIDS is being won. New HIV infections in countries such as Australia, Germany and Switzerland have been virtually eliminated among people who use drugs.
Last year, more than 140 local, national and international organizations released a letter calling on Congress to end the archaic federal funding ban on syringe service programs. The ban was put in place in 1988, repealed in 2009, and reinstated by Congress in 2011. Repealing the ban would not cost any money; it would just allow states to use their share of federal prevention dollars more effectively. Over the long run it would save taxpayer money by reducing healthcare expenditures.
Governor Pence should work with Republicans in congress to repeal the shameful and deadly syringe-funding ban. He should also support efforts in the Indiana legislature to allow local jurisdictions to establish syringe exchange programs. Kentucky Governor Steve Beshear recently signed legislation creating syringe exchange programs in local jurisdictions that formally approve them. Hoosier families also deserve an effective syringe exchange policy. No family should have to go through what my family went through.
Bill Piper is the director of national affairs for the Drug Policy Alliance.
REAL LIFE. REAL NEWS. REAL VOICES.
Help us tell more of the stories that matter from voices that too often remain unheard.