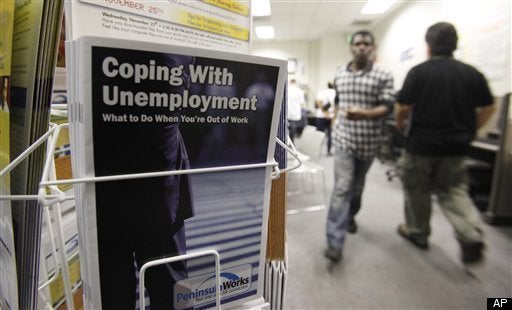 WASHINGTON -- The Indiana Department of Workforce Development is beefing up its security ahead of the holidays, when officials expect a seasonal surge in unemployment claims and extra stress for long-term jobless who might miss benefits because of Congress.
If Congress doesn't reauthorize extended unemployment insurance, which expires at the end of November, the National Employment Law Project estimates that two million people will prematurely miss checks by the end of December.
"There's obviously increasing stress, especially among the long-term unemployed, and also the upcoming expiration of these federal extensions will add additional stress," department spokesman Marc Lotter told HuffPost.
Lotter said the agency is putting armed guards at each of the 36 WorkOne Centers that process unemployment benefits across the state. Lotter said that each center has already had security for the past two years; the agency is consolidating to one private contractor that will now handle security at each of the centers. It's part of a broader effort to prepare for the holidays, during which Lotter said Indiana sees more unemployment claims and also an effort to standardize services across the state.
"We've had our staff undergo stress management," Lotter added. "It's much more than just adding armed security. We are trying standardize delivery of services, so that the WorkOne Center in Gary, Ind, will have same service as the one in New Albany."
NELP's Judy Conti told HuffPost that so far Indiana is the only state that has boosted its security ahead of the holidays. "However, we are very aware that agencies are getting ready for the added volume of calls from the long-term unemployed who are going to be very worried and very anxious about Congress taking action in a timely fashion," Conti said.
Over the summer, the Senate dithered for nearly two months as 2.5 million people who've been out of work for longer than six months missed checks. Congress will have only two weeks from the time it reconvenes until the deadline for reauthorizing the benefits.
Popular in the Community