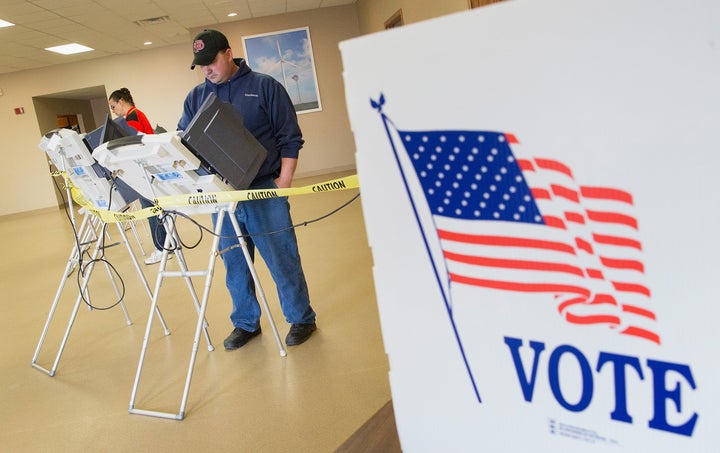 A federal judge on Friday blocked Indiana from taking people off its voter rolls based on information from an outside system indicating someone may have registered in another state.
The ruling from U.S. District Judge Tanya Walton Pratt blocks a 2017 Indiana law that allowed election officials to cancel voter registrations based on data provided by Interstate Crosscheck, a system run by Kansas Secretary of State Kris Kobach (R) that compiles data submitted by two dozen states in order to identify potential duplicate voters. If the system flagged a voter with the same first name, last name and date of birth as someone registered in another state, Indiana officials were authorized to investigate and could remove a name if they determined the out-of-state registration occurred after the registration in Indiana.
The Indiana chapters of Common Cause, the League of Women Voters and the NAACP sued Indiana Secretary of State Connie Lawson (R) and the heads of the Indiana election division, saying the Indiana statute violated the National Voter Registration Act, a federal law that sets specific conditions for when someone may be removed from the voter rolls. The law allows officials to remove someone if they inform them in writing that they have moved or if they fail to respond to an address confirmation mailing and subsequently fail to vote in two federal elections.
The federal law also requires states to maintain their voter rolls but says the method must be "uniform and non-discriminatory."
Pratt wrote that the Indiana statute did not appear to meet those conditions and blocked the state from enforcing the law while the case was pending.
"We are pleased by the Court's decision ― it will protect the freedom to vote for thousands of Hoosiers who risked unlawful disenfranchisement from the deeply flawed Crosscheck Program," Common Cause Chief of Strategy Stephen Spaulding said Friday. "Common Cause is committed to doing everything it can to ensure that every eligible voter can make their voice heard in our democracy."
ACLU staff attorney Sophia Lin Lakin also praised the judge's decision, saying it "ensures that duly registered voters will not be improperly kicked off the rolls based on flawed Crosscheck data. This law would have deprived people of their right to vote. The court was correct to block it from taking effect — particularly in the lead-up to the 2018 midterm elections." The ACLU helped represent the plaintiffs in the suit.
Lawson did not immediately respond to a request for comment.
Popular in the Community