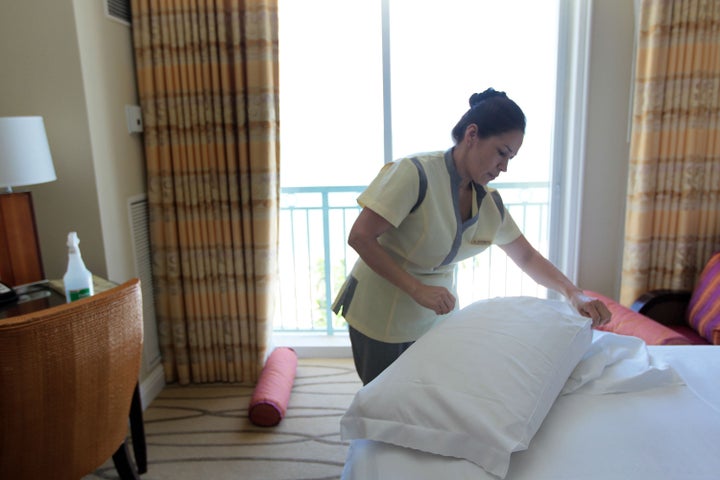 In a move that could stem the use of temp agencies in Indianapolis' hotel industry, city lawmakers have passed an ordinance that backers say would make it easier for housekeepers and other workers to become direct hires at local hotels, leading to better pay and more job stability.
The law, called the "Freedom to Work" ordinance, would forbid hotels and staffing agencies from striking agreements that prevent hotels from hiring workers who were recently employed by the agencies. Housekeepers in Indianapolis claim that such arrangements have effectively bound them to agencies in the past, making it hard to land better-paying, full-time jobs with benefits at the hotels.
"This is a specific practice that we can stop on a local level," said Sarah Lyons, a spokeswoman for UNITE HERE, the hospitality workers union that pushed for the legislation. "This is something our city council can take a stand on because of the billions of dollars we've given to the hotel industry. They should be accountable for that."
The city-county council for Indianapolis and Marion County passed the bill Monday night 16-12 along party lines, with Democrats voting in favor and Republicans against. The legislation would still need to be signed into law by the city's Republican mayor, Gregory Ballard.
Last year HuffPost reported on the widespread use of temps in Indianapolis hotels, particularly through the firm Hospitality Staffing Solutions, which has supplied housekeepers and other low-wage workers to contractors such as Hyatt.
Such arrangements may help hotels save money on labor, but they also have a way of pushing down wages and eliminating benefits for what had traditionally been direct-hire jobs. Many housekeepers and dishwashers in the city, most of them Latino, end up working for years on end on a temp basis, often for minimum wage.
Several agency workers told HuffPost last year that when they applied for a similar position at a hotel, they were informed that the hotel couldn't hire them because they had worked for an agency the hotel had contracted with. A lawsuit filed in January against Hospitality Staffing Solutions, among others, accused the company of entering into such agreements. The lawsuit is still being litigated.
The bill that passed Monday faced opposition from the hotel industry as well as local staffing companies, such as LGC Associates. George Lessmeister, president of LGC, told HuffPost that the law would be unfair to his company.
LGC does not enter into agreements with hotels that preclude the hotels from hiring its workers, Lessmeister said. But because training workers costs time and money, LGC does charge hotels a fee if they want to poach one of the company's workers shortly after he or she was assigned to the hotel. The law would apparently prevent such a fee.
"If you look at how we operate, we treat people fairly, and you don't have any problems," Lessmeister said, adding that he likes to see workers eventually get hired directly by hotels. "The problem you run into is there's a cost with interviewing and training people. You want to be able to recoup some of that."
Introduced in May, the ordinance that passed Monday was sponsored by four Democratic council members, including council president Maggie Lewis. In a statement on the vote, Lewis said she sponsored the ordinance in order to "ensure that all of our hotel workers receive fair and equal pay and benefits for their efforts."
REAL LIFE. REAL NEWS. REAL VOICES.
Help us tell more of the stories that matter from voices that too often remain unheard.