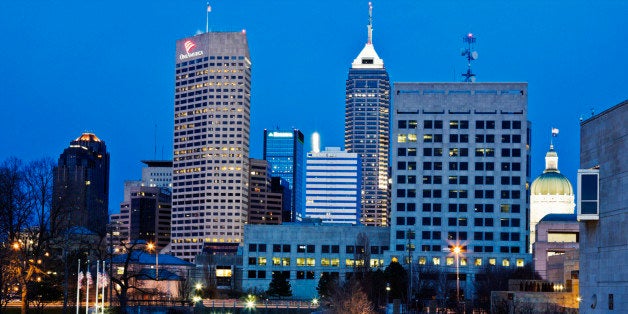 An Indianapolis tourism group is trying to make it very clear that gay travelers are welcome in the city amid backlash over Indiana's controversial Religious Freedom Restoration Act, which many say would permit discrimination against LGBT individuals in the state.
The landing page for Indianapolis' tourism website prominently features an LGBT flag across the city's skyline with the text "all are welcome in Indy." The page also features a link to an LGBT guide to Indianapolis, which includes descriptions of the city's "gay-popular Mass Ave Arts District" and gay nightlife. The site also notes that Indianapolis has been rated one of the "most underrated cities in America for gay travelers."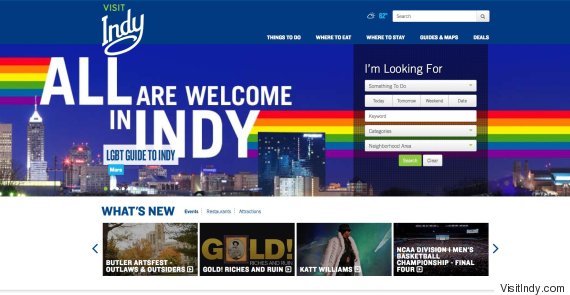 Chris Gahl, Vice President for Visit Indy, a non-profit that promotes Indianapolis tourism and runs the site, said that his group maintained the LGBT guide since 2010, but decided to prominently feature it last Wednesday, a day before Pence signed the controversial bill. Gahl said that they moved the guide in response to concerns about the bill.
"We are overly aware that there is a perception that Indianapolis no longer welcoming as a city, no longer inclusive as a city because the state has passed a new law," Gahl told The Huffington Post. "So we want to do everything we can do as a city within a state to ensure our visitors, no matter their age, ethnicity, gender, religion, so that everyone and anyone feels welcome. Just because a piece of paper's been signed doesn't mean our mentality and Hoosier hospitality has been taken away."
The city of Indianapolis has been fighting to stop the bleeding from RFRA. The law would allow individuals or corporations to cite their religious beliefs as a defense if they are sued by other individuals. While the federal government and other states have similar laws in place, the Indiana law is the first that would allow one individual to cite their religious beliefs in a suit against another private individual.
Indianapolis Mayor Greg Ballard (R) has broken with members of his own party and condemned the new law in order to reassure businesses, organizations and individuals that the city is still a safe place to visit. The Indianapolis City Council also passed a resolution condemning the RFRA.
"Our city thrives because we have welcomed and embraced diversity," said Ballard in a press conference Monday. "RFRA threatens what thousands of people have spent decades building. And I won't allow that to happen without a fight."
Ballard also signed an executive order reaffirming that groups doing business with the city must still abide by its human rights ordinance, which bars discrimination on the basis of categories that include sexual orientation and gender identity.
On Tuesday, Pence held a press conference and promised to back language clarifying that RFRA does not allow businesses to deny services to anyone, but it's not yet clear what that legislation will look like.
This story has been updated to include comment from Chris Gahl.
HUFFPOST READERS: If you live in Indiana, and feel you've been discriminated against due to your sexual orientation or gender identity, we want to hear from you. Email your story or any tips to openreporting@huffingtonpost.com. Include your name, the city you live in, and a phone number if you're willing to be contacted by a reporter.
Calling all HuffPost superfans!
Sign up for membership to become a founding member and help shape HuffPost's next chapter
BEFORE YOU GO
PHOTO GALLERY
Reactions To Indiana's 'Religious Freedom' Law