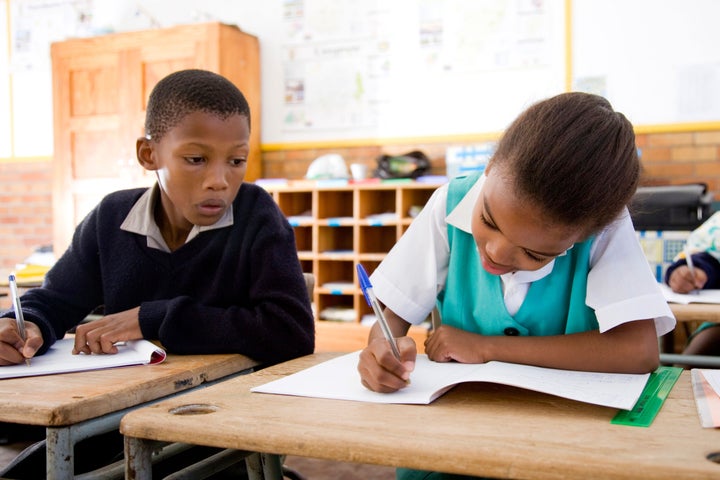 On the lesson plan for one Indiana school's students: historical fiction, poetry, nonfiction and ... standardized testing.
In his January State of the Union address, President Barack Obama laid out a number of goals to improve education for the country's youth. Among those objectives: to teach with creativity and stop teaching to the test. So one Indiana K-9 charter school is taking both to heart -- by adding standardized testing to its curriculum as a literary genre.
Instead of teaching students to memorize and master every subject or concept that appears on the statewide tests, The Project School in Bloomington, Ind. spent the two preceding weeks on test preparation -- teaching students test strategy and how to take the exam with a different approach.
"In our world, you have to be able to write to a prompt you have to be able to do what somebody else expects of you in the moment they expect it of you --- going to a job interview, going to write your college applications, your essays to get into college. So we want them to know whats expected of them and be able to perform in any setting," Baron-Caudill told StateImpact. "We analyze testing with them and learn test-taking strategies... We want them to know how to be smart about taking a test. But we're not going to spend time and energy teaching to the test."
If successful, The Project School's brief, yet targeted and analytical approach to standardized testing could serve as a model for schools across the country that have crumbled under the pressure of federal and state standardized testing mandates.
In one of the largest cheating scandals in American school history, 178 Atlanta educators were implicated last summer for test tampering. Teachers and school administrators said they were pressured to maintain high scores under the federal No Child Left Behind law, as student performance on standardized exams is tied to school funding and teacher performance assessments. An investigation into the scandal found that Atlanta Public Schools officials created a culture of "fear, intimidation and retaliation."
To lessen the strain of a one-size-fits all approach to student assessments, the Education Department has issued waivers to 11 states, allowing them more freedom from No Child Left Behind -- the Bush-era law that requires annual testing, results of which are tied to consequences for low-performing schools. States that seek waivers from the Obama administration are required to adhere to a measurement, curriculum and assessment plan proposed during the application process. An additional 26 states have applied for waivers.
Even so, some states are still trying to further lessen the emphasis on standardized tests. Virginia's state Senate voted to pass a bill in January that scales back statewide tests for 3rd graders -- cutting history and science from the list and only requiring English and math exams to allow teachers to focus on improving proficiency in those subjects.
The move by the Virginia Senate comes after a draft of a Republican bill would eliminate the federal requirement for statewide science testing. The draft legislation, introduced by House Republicans led by Rep. John Kline (R-Minn.), chair of the House Education Committee, marks a reversal of provisions under the current No Child Left Behind Law, which requires science testing at least three times -- once each during elementary, middle and high school.
Popular in the Community