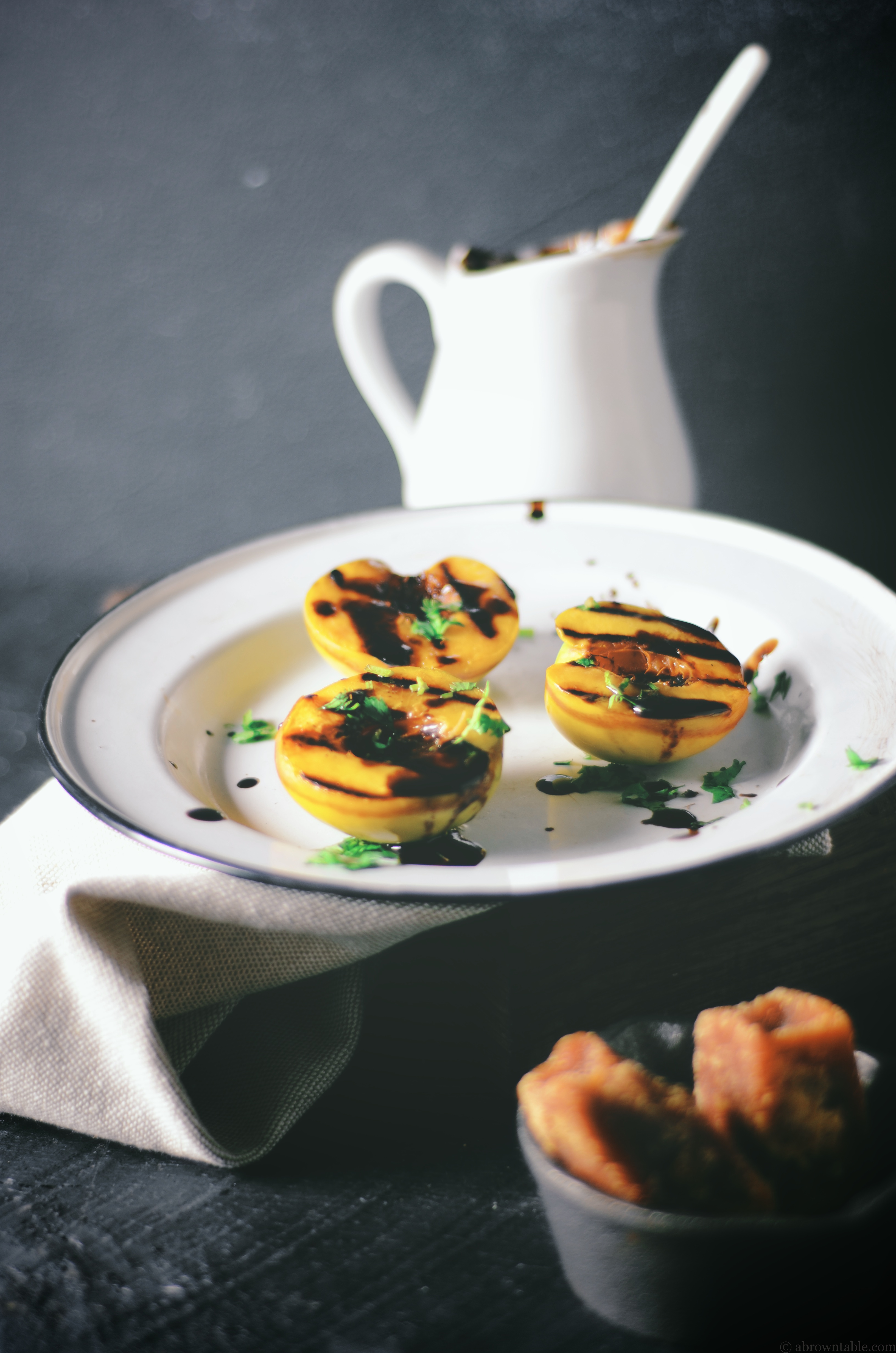 One of my favorite summer fruits are nectarines, the fact that they come in so many different varieties makes it even more exciting. I used mango nectarines in this recipe but any other nectarine will do, mango nectarines have a delicious light mango flavor and withstand grilling temperatures with ease.
"Chaat" is one of the most popular Indian street food snacks and includes an assortment of delicious savory and sweet items that are predominantly vegetarian. I've combined my love for summer grilling with this delicious Indian sweet and tart tamarind chutney that is often used in different chaat dishes. This recipe is easy and simple to make and is sure to provide a wonderful explosion of flavors in your mouth!
Note: Some of the ingredients like the tamarind paste concentrate, the dry mango powder, black salt (kala namak) and jaggery can be found at most International food stores and even on Amazon.
Sweet tamarind chaat chutney
Yields: approximately 2-2 1/2 cups
1/2 teaspoon cumin seeds,
1/2 teaspoon coriander seeds
6 black peppercorns
4 cloves
seeds from 3 green cardmom pods
1/2 teaspoon red chili flakes
1/2 teaspoon amchur or dry raw mango powder
1/2 teaspoon cinnamon powder
1/2 teaspoon ginger powder
1 cup tamarind paste concentrate
2 cups water
1 cup jaggery, crushed or raw brown sugar
1 teaspoon black salt, ground
1. Heat a skillet on a hight flame and toast the cumin, coriander, black peppercorns, cloves and cardamom for 1 minute until they just begin to smoke but not burn. Immediately transfer the spices to a coffee or spice grinder along with the chili, amchur, cinnamon, and ginger and grind them to a fine powder. Store the chaat spice mix in an airtight container until needed, it will keep fresh for up to six months.
2. In a thick bottomed saucepan, add 1 tablespoon of the ground chaat spice mix, the tamarind paste, water, jaggery(or brown sugar), and salt. Bring the contents to a boil on a high flame and immediately reduce to a gentle simmer and cook for another 5 minutes with constant stirring. Adjust the amount of salt if necessary. This sauce can be made in advance and stored in the refrigerator for up to 2 weeks or in the freezer for a month.
Grilled mango nectarine chaat
12 mango nectarines, firm and ripe
2 tablespoons canola oil, or any other neutral oil
2 tablespoons cilantro leaves, fresh and coarsely chopped
1 lime, fresh
1. Wash and dry each nectarine, slice each of the fruit in half and remove the stone. Reserve one tablespoon of the oil and use the rest to lightly brush each nectarine (you do not need to brush the nectarines with all the oil, just a little to prevent the from sticking). Keep aside.
2. Brush a cast-iron grill pan with the reserved oil and then heat it on a high flame until it begins to smoke. Place the exposed cut ends of the fruit facing downwards on the hot grill surface and allow them to sear for 3- 4 minutes. Remove immediately and transfer to a serving plate. Garnish with the fresh cilantro and squeeze the juice of the lime over the nectarines. Drizzle with a little or as much as you want of the tamarind chaat chutney before serving.